Diving Into the Future of Freshwater Forecasting
September 19, 2023
Can water quality be forecast just like the weather? For Dr. Quinn Thomas, a researcher at Virginia Tech, that is the ultimate goal. As a start, he and fellow researchers tested a model for forecasting lake temperatures at six NEON lake sites. Their results were recently published in Frontiers in Ecology and the Environment, Near-term forecasts of NEON lakes reveal gradients of environmental predictability across the U.S.
Thomas, an associate professor and data science faculty fellow at Virginia Tech in the Department of Forest Resources and Environmental Conservation and the Department of Biological Sciences, is also the Principal Investigator for the Ecological Forecasting Initiative Research Coordination Network (EFI-RCN) NEON Forecasting Challenge, funded through a National Science Foundation (NSF) grant. The Challenge seeks to create a community of ecological forecasters using NEON data to test forecasting models. The lake temperature forecasting project was funded by a separate NSF grant and uses similar methods for testing forecast accuracy.
Forecasting Lake Temperature and Water Quality
Thomas and his co-authors used a water temperature forecasting model to develop forecasts of temperatures at multiple depths in the water column for one to 35 days into the future. They developed the temperature forecasts using an open-source forecasting model (the "General Lake Model") at six different NEON lake sites: Crampton Lake and Little Rock Lake in the Great Lakes Domain (D05), Prairie Lake and Prairie Pothole in the Northern Plains Domain (D09), and Lake Barco and Lake Suggs in the Southeast Domain (D03). These three paired sets of lakes provide the opportunity to test the model at lakes representing different climate, morphology, and hydrology characteristics.
"One of the powers of the NEON program," Thomas says, "is the ability to test algorithms across environmental gradients really easily. So you can test the model in different locations and see, for example, does it work in both a shallow Florida lake and a deep, cool northern lake?"
The forecasting model uses weather forecasts from the National Weather Service along with a mechanistic model of each lake that represents physical characteristics such as water volume and depth, mixing, and other aspects of lake physics. With these inputs, the team attempted to predict water temperatures at different water levels in the lakes up to 35 days in advance. By comparing the advance forecast with actual sensor data from each of the NEON lake sites over the course of a year, Thomas and his collaborators were able to test the accuracy of the forecasting model.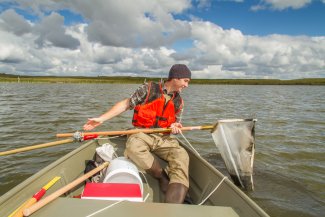 Their model was able to accurately predict surface water temperatures within 0.61°C at one day ahead. As with weather forecasts, the accuracy of the temperature forecasts declined the further out they went, to an uncertainty range of 2.17°C at 35 days ahead. The forecasting was better than the null model for at least 35 days out at the Northern Plains lakes, at least 30 days out at the Great Lakes lakes, and at least 5 days out at the Southeastern lakes. This difference between north and south may reflect the greater seasonality experienced in northern climates, which may make short-term weather variables more important in predicting lake temperatures. The researchers also discovered that water clarity was related to the accuracy of the forecasts; forecasts for the relatively clear Lake Barco were more accurate than for the nearby Lake Suggs, which is much cloudier.
Forecasting water temperature is an important element of forecasting overall water quality. "Water temperature is a key driver of other water quality variables," Thomas explains. "For example, warmer temperatures are associated with lower oxygen. Algal blooms tend to occur in warmer conditions, too. So if we can accurately forecast water temperatures, we can start to predict when conditions will be right for these other occurrences."
A FLARE for Aquatic Forecasting
The forecasting model used by the team was developed by the FLARE: Forecasting Lake and Reservoir Ecosystems project. The FLARE project develops open-source software and frameworks for ecological forecasting in lakes and reservoirs. Thomas is one of the lead faculty members for FLARE and developed the forecasting algorithms.
FLARE is a collaboration between researchers in the Virginia Tech Department of Biological Sciences, Virginia Tech Department of Forest Resources & Environmental Conservation, and the ACIS Lab Department of Electrical and Computer Engineering at the University of Florida; it is supported by several NSF grants. One of their main goals is to develop reliable near-term water quality forecasts that will help lake and reservoir managers make better decisions for managing drinking water resources.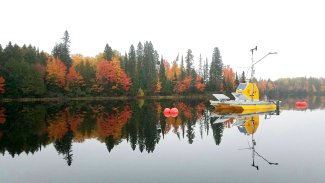 Thomas says, "We all use weather forecasts to help guide our day-to-day decisions, such as what to wear or whether to grab an umbrella. Our goal is to advance ecological forecasting so that it can be more integrated into decision-making for people managing our ecosystem services—for example, the reservoirs that provide our drinking water. To make forecasts useful for decision-making, they have to be reliable and accurate, so decision-makers can have confidence in the quality of the forecasts. This project isn't just about predicting the temperatures in lakes, but more broadly about what we are learning about the process of ecological forecasting. We're trying to get better at prediction, and this is one way we are doing that."
Predicting the Future of Drinking Water
The aquatic forecasting models developed by the FLARE project are already being put to use in the real world. Dr. Cayelan Carey, a professor in the Virginia Tech Department of Biological Sciences, led an experimental project to apply FLARE forecasting models at Falling Creek Reservoir, one of four reservoirs that distribute water to the city of Roanoke. Thomas led the temperature forecasting component of the project.
The Falling Creek Reservoir forecasting project is a partnership between Virginia Tech, the University of Florida, and the Western Virginia Water Authority. It was initially funded through a $1 million Smart and Connected Communities grant from the NSF. In addition to temperature, the water quality forecasting model incorporates a variety of other variables, such as algae and oxygen levels. The team has set up sensors at various depths of the lake to take precise measurements of factors like temperature, oxygen levels, concentrations of carbon, nitrogen, phosphorus, the growth of algae, and the presence of metals. These factors help predict how the lake will behave up to 16 days out.
Thomas says, "The Water Authority is really interested in predicting adverse water quality events. If you can forecast water quality in advance, you can make decisions such as which reservoirs to pull from, what depths to pull the water from, or how to adjust water treatment. Having this information will help reservoir managers ensure the continued quality of the drinking water they are distributing."
Validating the water temperature model through the NEON study will help researchers improve overall water quality forecasting. In a world where freshwater resources are under increasing pressure due to population increases and climate change, having reliable and accurate predictions of water quality could prove to be essential to ensuring the stability and safety of drinking water supplies.
Plans are already underway to expand the project in Roanoke, and other cities across the U.S. and internationally have also expressed interest. Thomas hopes to see other researchers extend this work through future NEON forecasting challenges and independent research. The next step will be to integrate other types of water quality data into the forecasts to build a more robust model. He says, "It's basically extending the underlying forecasting system to include the chemistry and biology of the lake. Because NEON already collects these data, it will be straightforward to evaluate these forecasts across all the NEON lakes."