Land Cover and Processes Data Theme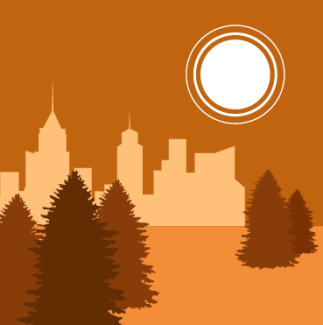 The study of land cover and processes examines land surface characteristics and change. Land cover refers to the vegetation, structures and other features distributed across the landscape. Land processes refer to the causes and effects that result in changes over space and time to land cover and associated ecosystems. NEON data support extensive local and continental-scale characterization of land cover and processes.
NEON land cover and processes data
NEON collects data ranging from plot level characterization of vegetation composition, chemistry and structure to slope, aspect and topography, mapped across an entire NEON site using airborne remote sensing data. These data support understanding of land cover and land processes, as they change over time across the continent. The project integrates ground and airborne derived data products with other existing data sources, such as satellite data, to produce a suite of regional and continental land data products. Long-term, consistent observations across NEON sites yield data products such as maps of vegetation height and biomass that characterize change at multiple scales. 
Ecological relevance
Observing land surface changes at different scales is critical to understanding the causes and effects of ecological change. For example, land use practices often lead to the conversion of forests to grasslands to support cattle farming, followed by conversion to intensive cropland farming to support corn and soybean production. These changes in land cover lead to changes in:
Carbon distribution;
Nutrient cycling and runoff affecting nearby streams and lakes;
Soil fertility; and
Species abundance and diversity.
NEON data support the characterization of these changes and the study of associated, and often complex, ecological impacts.
Research applications
NEON colocates land cover and processes measurements with other scientific measurements, providing a unique opportunity to examine ecological change across relevant space and time scales. NEON data may be used to address complex ecological questions, such as:
How are changes in land cover affecting forest ecosystem structure and composition across the United States? In turn, how do those changes affect carbon fluxes?
How do changes in spring snow cover due to dust deposition affect plant phenophase timing and local insect populations?
How do changes in grassland and shrub ecosystems from invasive species affect key wildlife species that depend upon those ecosystems?
Key categories of measurements
Land cover: site characterization, field spectra, vegetation health, distribution and composition, structure of plant communities, and physical geography and land surface characteristics, such as landforms, drainage features, climates, soil and albedo
Land processes: wildfire, drought and invasive species