Site Level Sampling Design

At each field site, NEON collects automated instrument measurements, remote sensing data, field observations and samples in close proximity to each other and at different temporal scales. Locations of instruments and observational sampling plots are strategically placed to maximize data capture to measure the representative ecosystem of each field site. These activities allow for the quantification of ecological parameters and the detection of multi-faceted ecosystem responses to drivers of change.
Aquatic Instrument Sampling Design
AIS sampling occurs in and adjacent to water bodies at the 34 NEON aquatic sites (24 wadable streams, 3 rivers and 7 lakes) using an array of sensors. Using automated sensors rather than relying on manual sampling provides a continuous record of high-frequency measurements. This enables a better understanding of the temporal dynamics, for example ecosystem response to diurnal cycles or storm events. While generally instrumented with the same sensors, the location, number, and sampling frequency varies depending on the type of site.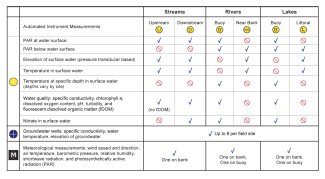 Surface water sensors
Surface water measurements collected with sensors include water surface elevation, photosynthetically active radiation (PAR), water temperature, and water quality including specific conductance, dissolved oxygen (DO), pH, turbidity, chlorophyll a, fluorescent dissolved organic matter (fDOM), and nitrate. Stream sites are instrumented with these sensors at an upstream and downstream location (with the exception of fDOM and nitrate which are only measured downstream). At river and lake sites, these sensors are deployed from a buoy moored close to the center of the river channel or in the deepest point of the lake. In the deeper lakes, a temperature chain is used to continuously measure temperature at specified depths in the water column, while the water quality sensors are periodic lowered through the water column to collect profiles.
Groundwater sensors 
The majority of aquatic sites feature a series of groundwater wells adjacent to the surface waterbody. Groundwater measurements collected with sensors include the elevation of groundwater, the temperature, and the specific conductance. Knowing these variables allows an understanding of how groundwater and surface water interact.   
Meteorological sensors
Meteorological measurements are also collected at most aquatic sites. These include temperature, relative humidity, barometric pressure, wind speed and direction and incoming radiation. At wadable stream sites these measurements are collected from a small (~2 m) tower located in a clearing near the bank. At river and stream sites, in addition to the measurements made along the bank, a second set of meteorological measurements are also made directly from the buoy.
Precipitation measurements for aquatic sites typically rely on sensors located at a nearby terrestrial site. Where no nearby terrestrial site exists, precipitation collectors are located at the aquatic site. This spreadsheet provides the quantity and type of precipitation collector(s) located at each NEON site, along with the nearby terrestrial site from which to download precipitation data for aquatic sites without precipitation collectors.
Terrestrial Instrument Sampling Design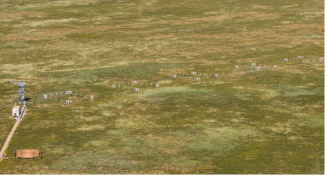 The NEON Terrestrial Instrument System (TIS) collects meteorological, soil, and phenology data at terrestrial field sites. TIS measurements are colocated and coordinated with NEON's terrestrial observation system and airborne observation platform.
Micrometeorological towers
Micrometeorological towers collect weather and climate data, including fluxes of carbon, water, and energy between terrestrial ecosystems and the atmosphere using a series of automated sensors. Towers are positioned to maximize data capture along the predominant wind direction and to measure the representative ecosystem at the site. Tower height is determined based on ecosystem characteristics, with the goal of capturing a full vertical profile of atmospheric conditions from the top of the vegetation canopy to the ground. Profile measurement levels are distributed based on the canopy structure of the site.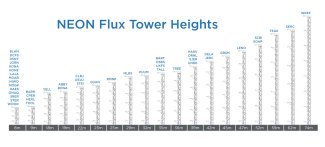 Soil sensor arrays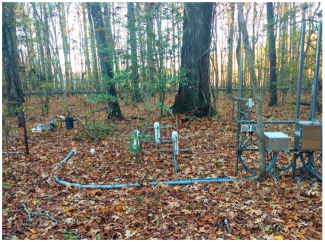 Each terrestrial site includes five sensor-based soil plots near the tower where a variety of soil and aboveground measurements are made. The exact layout varies from site to site, but the soil plots are typically arranged in a transect, spaced about 40 m apart, and placed in the locally dominant soil type immediately surrounding the tower. A variety of measurements are made including profiles of soil temperature and moisture below the surface and throughfall, relative humidity, and photosynthetically active radiation aboveground. A soil pit (the "Megapit") was dug nearby to characterize the soil where the sensors are installed, inform sensor depth placement, and collect soil for archiving in the Megapit Soil Archive. 
Precipitation gauges 
Precipitation is measured near ground level using a Double Fence Intercomparison Reference (DFIR) at many sites and measured using a tipping bucket at the tower top at the remaining sites. Throughfall sensors are also placed in the soil array at most terrestrial sites (typically excluding grasslands or sites with very low canopies). 
This spreadsheet provides the quantity and type of precipitation collector(s) located at each NEON site.
Phenocams 
A phenocam is mounted at the top of each meteorological tower to capture above canopy phenology. A second camera is located near the bottom of the tower to capture below canopy phenology.