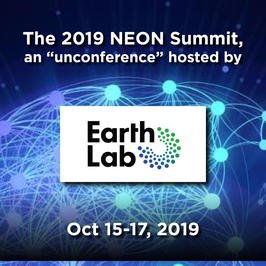 A NEON Science Summit was hosted by Earth Lab in October 2019. The meeting brought together NEON data users to share ideas and strategies for leveraging data from the NEON program. It was held in "unconference" style, with an agenda and discussions sessions driven bottom-up by participants.
The 2019 meeting was the very first NEON Science Summit. It was a great opportunity for the scientific community to dig into the data available from NEON and explore how these data can answer complex questions in ecology and earth science.
The summit was funded through a National Science Foundation (NSF) grant, which covered the cost of hosting the event and travel costs for many of the participants. It was geared towards graduate students and early career scientists, with the aim of increasing data literacy in the earth science and ecology community. Participant-led working groups explored ideas for using NEON data, and collaborative teams formed that carried these ideas beyond the summit.
Related links & work stemming from the summit
CU Earth Lab and NEON data revolution & Community Building
Automating Biodiversity Surveys at NEON Field Sites 
Want a Faster Way to Process Microbial DNA data? Try the neonMicrobe R Package
Publications
Standardized NEON organismal data for biodiversity research
NEON is seeding the next revolution in ecology
Leveraging the NEON Airborne Observation Platform for socio-environmental systems research
Harnessing the NEON data revolution to advance open environmental science with a diverse and data-capable community 
Expanding NEON biodiversity surveys with new instrumentation and machine learning approaches 
Six central questions about biological invasions to which NEON data science is poised to contribute 
Climate Effects on Subsoil Carbon Loss Mediated by Soil Chemistry 
Estimating individual-level plant traits at scale
Soil microbiome predictability increases with spatial and taxonomic scale