NEON's impact on science is largely understood through the lens of knowing whether people are using our data, samples, resources and infrastructure. Understanding our user community helps us assess how well we are providing services and where we can improve to best meet our users' needs. Because we allow users to download data without logging in, it can be challenging to collect robust analytics on the use of NEON. However, we feel strongly that our data platform should be open access and accessible to all, and we encourage rather than require regular users of NEON services and infrastructure to create a user account.
Become a Part of the NEON User Community
When you create a user account (vs. downloading data as a guest), we are able to aggregate anonymized user information to create reports on topics such as how many people are accessing data, which data products are most heavily accessed, and which field sites and date ranges are of most interest. NEON is fully funded by the National Science Foundation (NSF) and we make regular reports back to the NSF to communicate use of the observatory. The more data and demographics we can provide on how the observatory is being utilized, the more we can understand and optimize the utility of NEON. Please note that NEON user accounts are currently limited to the NEON general and data portals and can't be used on the NEON Biorepository portal. The Biorepository portal uses the Symbiota platform, which manages user accounts separately.
Account Services
When you have an account, we can provide customized services! You can currently:
Request and instantly receive an API token, which will reduce rate limiting on intensive queries to the API.
Sign-up for customized notifications on updates to the data products and field sites you are most interested in.
More benefits are under development!
Account Protections
NEON uses Auth0, a highly secure identity management platform to manage user account data. This means your information, including password, is completely encrypted. We will never give or sell your email address or other personal information to any person or organization. We report anonymized user demographic information and general website activity to NEON's sole funder, the NSF. We may use your anonymized account information to help us develop website usage metrics and to improve the quality of website services for all users.
As recommended by the European Union General Data Protection Regulation (EU GDPR) guidelines, we want to make it easy for you to manage your account and feel secure that your data belong to you. Therefore, we provide options to view, edit, download, and delete your user information. See Terms of Use.
Create Account
1. Click on the Sign In link in the top right corner of any webpage.
2. Scroll down to click the checkbox next to "I agree to the terms of service and privacy policy". Once this is checked, you can select one of the Sign Up buttons and fill out the form. 
3. You can either set up your account using credentials from a Google account or through the CILogon service by clicking on one of the buttons, or by entering your email address and preferred password below the buttons. CILogon provides access to many other account systems, including GitHub, ORCID, and many academic institutions. If you'd like to use your GitHub, ORCID, or university account, then click the "Sign up with CILogon" button and follow the directions in the CILogon webpage.
4. Once you finish the registration process, you will be redirected to your user account information page, where you can customize your preferences.
Using Your Account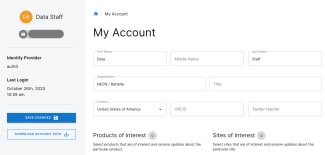 Update your preferences
Make changes to your preferences at any time and click the Save Changes button at the left of the page.
Download your account data
If you'd like to download a copy of all of your account information, click on the Download Account Data button.
Reset your password
Open the Sign In page and click on "Don't remember your password". Enter the email for your account, and click "Send Email". The system with send you an email with a reset link. If you don't receive an email, that means your email is not in our system and you will need to create a new account. If in doubt, please contact us.
Delete your account
You may delete your account at any time. You may wish to download your information before you delete your account - just click on the Download Account Data button to do so. Then click the red Delete Account button at the bottom of the page. Once your account is deleted, you will lose access to any services or privileges that were associated with your account, including API tokens and, for our partnering labs, access to our lab data ingest webpage.