Mosquitoes

NEON selects mosquitoes for data collection because of their ecological and epidemiological significance. Mosquitoes are not only a key food source for aquatic and terrestrial predators, but also serve as vectors for parasites and pathogens to humans, livestock, and wildlife. They have a wide geographical distribution allowing for standardized continental-scale monitoring and are sensitive to climate shifts. Monitoring how mosquito populations respond to climate shifts over time will provide insights into how the ecosystems they live in are changing, including how pathogen transmission cycles shift.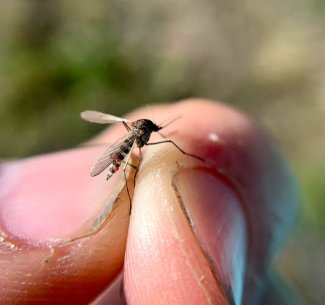 NEON samples mosquito populations at terrestrial field sites across the United States to characterize patterns of mosquito abundance, diversity, and phenology at continental scales. Collecting mosquito data can provide insight into how ecosystems respond to climate shifts and patterns in mosquito-borne pathogen behavior. NEON mosquito sampling produces three data products, with specific data products for mosquito taxonomy, mosquito-borne pathogen analysis, and DNA barcodes from vouchered mosquitoes.
Sampling Design and Methods
Mosquito specimens are collected at all NEON terrestrial sites. NEON collects mosquito specimens using Center for Disease Control (CDC) carbon dioxide (CO2) light traps. These traps have been used by other public health and mosquito-control agencies for a half-century, which allows NEON mosquito data to be used across field sites and in combination with existing long-term data sets.
A CDC CO2 light trap consists of a cylindrical insulated cooler that contains dry ice, a plastic rain cover attached to a fan assembly (battery powered), and a mesh collection cup. During deployment, the dry ice sublimates and releases CO2. Mosquitoes attracted to the CO2 bait are pulled into the mesh collection cup by the battery-powered fan, where they remain alive until the trap is collected.
Field Season Sampling
Mosquito monitoring is divided into field season and off-season sampling. Field season sampling takes place every two weeks at core terrestrial sites and every four weeks at other terrestrial sites within each Domain. Off-season sampling takes place weekly at core sites. 
| Sampling Types | Sampling frequency at core sites | Sampling frequency at other sites |
| --- | --- | --- |
| Off season | Weekly | N/A |
| Field Season | Every two weeks | Every four weeks |
The field season begins when the first mosquito is detected during off-season sampling. Sampling occurs at ten dedicated mosquito plots at each site over a 24-hour period, or one sampling bout. During the sampling bout, traps are serviced twice and yield one night-active sample, taken at dawn or about eight hours after trap is set, and one day-active sample, taken at dusk or about 16 hours after the trap is set.
A 24-hour sampling bout yields up to 20 "samples" from ten traps.
Mosquito sampling bouts separate day-active and night-active mosquitoes in order to capture a broader variety of species.
Mosquito traps are distributed throughout the site according to a stratified-random spatial design used for all Terrestrial Observation System (TOS) sampling.
Mosquito traps are typically located within 30m of a road to facilitate expedient sampling.
Off-season Sampling
After three consecutive zero-catch field sampling bouts at a core site, off-season sampling begins. The goal of off-season sampling is to rapidly determine when the next field season should begin and to provide mosquito phenology data throughout the lifetime of the Observatory. During the off season, overnight sampling occurs weekly at three dedicated mosquito plots spread throughout the terrestrial core site for each Domain, only if temperatures are above 10°C.
Three traps are set and checked once a week during the off season.
Traps are deployed at dusk and checked the following dawn. 
Weekly off-season sampling only takes place if the mean daily high temperature for the previous five days was above 10°C. 
The presence of a single mosquito (whether from core site sampling or personal observation) triggers the start of the next field season.
Processing and Lab Analysis
Once samples are collected from the field, NEON's field ecologists process, pack, and ship the samples to an external lab where mosquitoes are identified to species and sex (when possible). A subset of identified mosquitoes are tested for infection by pathogens to quantify the presence/absence and prevalence of various arboviruses (e.g., West Nile virus, Dengue virus). Some mosquitoes are set aside for DNA barcode analysis as well as long-term archiving. Particularly rare or difficult to identify mosquito specimens are prioritized for DNA barcoding.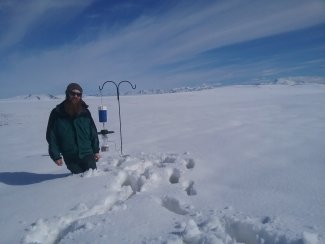 Data Products
Archival Samples
Mosquito specimens are archived at the NEON Biorepository. Mosquitoes are collected at terrestrial sites by NEON staff and identified by contracted taxonomists. Select mosquitoes are tested for pathogens; after pathogen analysis, any remaining genomic extract from mosquito pools are archived. Any mosquitoes that are not assayed for pathogens are either archived in groups of individuals of the same species and sex collected during the same collection bout or archived as individual voucher specimens. A subset of identified mosquitoes (up to 20 individuals of each species) are mounted on points as vouchers. Genetic analysis (DNA barcoding) is performed on some of these vouchers; any surplus genomic extracts from this analysis are also archived.
| Types of Samples | Storage Condition | Storage Container | Quantity Archived (Annually) † | Link to the Collection |
| --- | --- | --- | --- | --- |
| Genomic extracts, from pathogen testing | -80 °C | 2 mL cryovials | 4,500 to 7,500 extracts | Mosquito Collection (Pathogen Extracts) (NEON-MOSC-PE) |
| Identified mosquitoes, bulk | -80 °C | 2-15 mL cryovials | 2,500 to 3,600 pools | Mosquito Collection (Bulk Identified) (NEON-MOSC-BI) |
| Identified mosquitoes, vouchers | dry | individuals mounted on points | 2,000 to 2,400 individuals | Mosquito Collection (Pinned Vouchers) (NEON-MOSC-PV) |
| DNA extracts from vouchered mosquitoes | -80 °C | 96-well plates‡ | 1,850 to 1,950 extracts | Mosquito Collection (DNA Extracts) (NEON-MOSC-DNA) |
† Quantities represented in this table are annual quantities expected from sampling conducted throughout the observatory during full Operations. Actual quantities (particularly from years in early construction) will differ from these projections.
‡ Quantities are number of samples (not number of well plates); up to 96 samples are contained on the same well plate.
Although all identified mosquitoes are processed and/or archived at the NEON Biorepository, only 200 individual mosquitoes are identified from each collected sample. Approximately 25% of samples contain additional unidentified mosquitoes or bycatch (e.g., midges). These excess samples are typically discarded, but can be requested by researchers through the NEON Assignable Assets program.