Overview

Funded by the National Science Foundation (NSF) and proudly operated by Battelle, the National Ecological Observatory Network (NEON) program provides open, continental-scale data across the United States that characterize and quantify complex, rapidly changing ecological processes. The Observatory's comprehensive design supports greater understanding of ecological change and enables forecasting of future ecological conditions. NEON collects and processes data from field sites located across the continental U.S., Puerto Rico, and Hawaii over a 30-year timeframe. NEON provides free and open data that characterize plants, animals, soil, nutrients, freshwater, and the atmosphere. These data may be combined with external datasets or data collected by individual researchers to support the study of continental-scale ecological change.
Ecological relevance: why NEON, why now?
Natural systems are comprised of complex processes occurring over a range of scales, from the intricate composition of individual living cells to the dynamic interactions of the global ecosystem. The Earth and its ecological processes are changing at unprecedented rates due to human activity; the effects of these changes are uncertain. To address this uncertainty, the science, education, computing, and engineering communities provided input to NEON's design, with the shared goal of creating a long-term ecological observatory that collects and provides a diverse suite of comparable and consistent ecological data at multiple spatial and temporal scales.
Addressing challenges in environmental science
The Observatory is designed to measure the drivers of change and the ecological responses to change in the areas of biodiversity, biogeochemistry, ecohydrology, and infectious disease. The foundation of the NEON Observatory is to:
Observe the causes and consequences of environmental change to establish links between ecological cause and effect;
Detect and quantify ecological responses to and interactions between climate, land use, and biological invasions, which unfold over decades;
Provide information on biodiversity, biogeochemistry, ecohydrology, infectious diseases, biological invasion, land use change, and climate change to scientists, educators, students, the general public, and governmental and non-governmental decision makers
Address ecological processes at the continental scale and the integration of local behavior to the United States, and observe transport processes that couple ecosystems across continental scales;
Develop infrastructure to support community driven experiments that accelerate changes toward anticipated future conditions; and
Provide infrastructure and resources to scientific and educational communities to support the development or deployment of additional sensors, measurements, experiments, and learning opportunities.
Free and publicly accessible resources
NEON data and resources are freely available to enable users to tackle scientific questions at scales not accessible to previous generations of ecologists. The Observatory includes 81 field sites (47 terrestrial and 34 aquatic) located in different ecosystems across the United States (including Alaska, Hawaii, and Puerto Rico). Data collection methods are standardized across sites and include automated instrument measurements, observational field sampling and airborne remote sensing surveys. Field sites are strategically selected to represent different regions of vegetation, landforms, climate, and ecosystem performance. The NEON data catalog includes over 180 data products.
NEON's primary purpose is to provide:
NEON data and sampling: standardized, integrated, and open
Consistent, comparable, high-quality data
NEON assures high-quality, comparable data through standardized and quality-controlled data collection and processing methods. The Observatory employs a team of multidisciplinary experts to design and implement infrastructure that provides high-quality data and associated documentation to the community.
Integrated data collection
NEON collects integrated biological, physical, and chemical measurements and samples at all of its field sites using a combination of field-based protocols, as well as in situ and remote sensing methods and technologies, to support the study of complex ecological processes. This coordinated data collection strategy uniquely addresses ecosystem-level questions in several key themes, such as biogeochemistry and ecohydrology.
Open data and samples
All NEON data are free and open data to everyone. Our data products are downloadable in standard formats that are in general use throughout the scientific community. NEON also provides documentation and tutorials to support understanding and interpretation of our data products. The NEON Biorepository is built to house millions of samples collected at our field sites over the course of NEON's lifetime. These samples are available to be loaned to researchers for study, including for destructive purposes. Explore our Data Products and samples.
Building a community
Public engagement, education, and community participation are important to NEON's mission and design.
Engagement
NEON values our user community and strives to provide the services and resources that meet the community's diverse and evolving needs. This requires continuously listening to our users on ways we can improve, while also identifying opportunities to meet the needs of a broader community in order to grow our user base. All of our engagement, education, and outreach activities are guided by our strategic engagement plan.
Education
Education programs facilitate increased awareness and understanding of ecological change and familiarize people with large, complex datasets. Our Data Skills program include:
Community Participation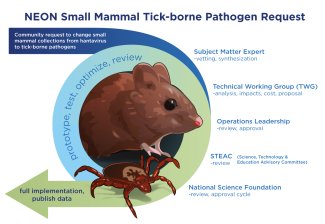 The science, education, computing, and engineering communities continue to provide input to NEON's design through our Science, Technology & Education Advisory Committee (STEAC) and our Technical Working Groups (TWGs). Input from scientists who are using NEON data in their research ensures that NEON data products fully meet the needs of our user community and beyond.
For example, in response to feedback from the ecology and public health communities, NEON updated its small mammal pathogen testing protocols in spring of 2020. Under the new small mammal pathogen testing protocols, blood and/or ear tissue samples collected from small mammals will be tested for a similar set of pathogens. Together, these two complementary data sets will provide researchers an enhanced opportunity to study novel linkages between hosts, vectors and pathogens. The new protocols were developed with input from the NEON Small Mammal TWG, from disease ecologists, and other researchers interviewed at conferences and over the phone.
Status of the NEON Program
The planning and design of the NEON program was completed in early 2012. Construction of the Observatory and field sites began soon after in Spring 2012. NEON went into full operations in 2019. The Observatory also archives over 100,000 biological, genomic, and geological samples annually. Archived samples are available upon request and curated by the NEON Biorepository at Arizona State University.
In summary, NEON is part of a bold effort to:
Understand and forecast continental-scale environmental change
Inform natural resource decisions
Engage the next generation of scientists