Mobile Deployment Platforms (MDP)

---
The temporary changes to NEON operations associated with COVID-19 may affect collaborative efforts involving Research Support/Assignable Assets and using NEON infrastructure. For more information, please see announcements in the Observatory Status webpage. 
---
What is a Mobile Deployment Platform (MDP)?
Mobile Deployment Platforms (MDPs) are configurable mobile sensor arrays designed for rapid deployment to sites to gather meteorological, water, and soil measurements for Principal Investigator (PI) led research. MDPs are designed for rapid deployment able to capture stochastic ecological events (e.g. fires, flood events, pest outbreaks) across the landscape, as well as the ability to bring NEON standardized measurements to researcher locations.
MDP campaigns may range in duration, but are envisioned to typically range between six months and two years. In essence, each MDP represents a mobile and requestable NEON site designed to collect automated measurements comparable to instrument data collected at NEON field sites (see below for sensor and infrastructure specifics).
The MDPs are not just a suite of sensors, but also a flexible tool by which the community can adapt NEON to their needs by bringing standardized scalable NEON measurement systems to planned or ongoing research projects, experiments, or other existing network sites (e.g. LTAR, LTER).
The MDPs use the same processing algorithms and data QA/QC criteria as standard NEON sites and allows individual research projects to integrate with NEON infrastructure to potentially expand elements of data synthesis and hypothesis testing across the continent.
Potential Use Case Scenarios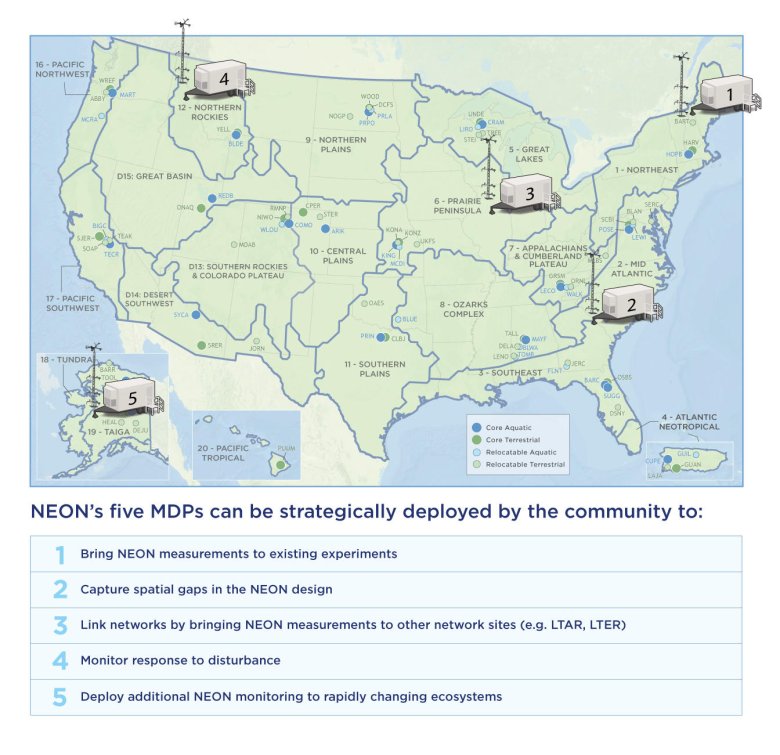 Infrastructure and Data Collection Capabilities
Each of NEON's five MDPs is comprised of a core supporting infrastructure featuring:
Rohn25G tower that can be configured for various heights up to 100 feet;
a mobile instrument support hut housed on a trailer;
a complete trailer-based generator power system;
capabilities of remote network communications (e.g. cellular network, satellite);
a configurable array of atmospheric, aquatic and soil sensors; and
ability to incorporate additional PI instrumentation.
Each MDP unit and its sensors are designed to fit on a trailer, making it easy to transport on roadways. To power the MDP equipment, a given unit may be connected to an available electrical grid or powered by an independent generator system supplied by NEON. MDP sensors are calibrated in the NEON Calibration and Validation Laboratory to collect continuous measurements of a variety of ecological variables.
When a MDP is deployed into the field, it is maintained by a NEON science and engineering team for the duration of the campaign. Data collected from the standard NEON sensors on the MDPs are processed by the NEON project and delivered to the research team. Data collected by PI-provided sensors will still be processed by the PI.
MDP Measurements and Sensors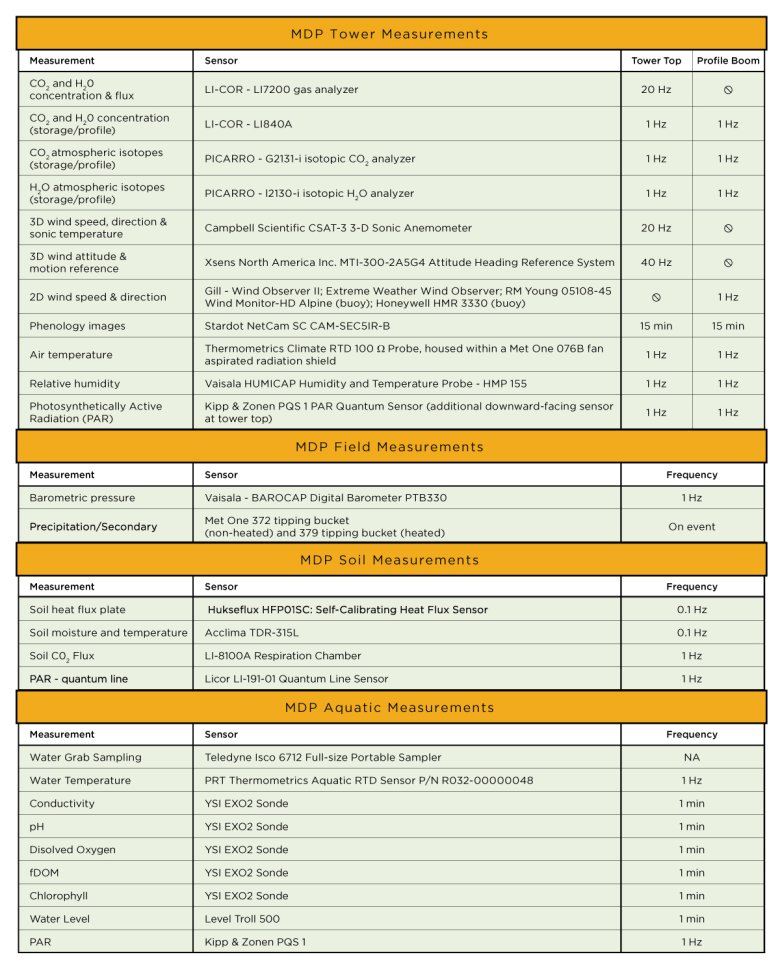 It is possible to add additional PI-provided sensors to the MDP infrastructure.
MDP Costs
MDPs are deployed on a cost recoverable basis. PIs interested in incorporating a NEON MDP into their research program will want to plan in advance to include MDP costs in their funding proposals. All PIs who are intending to submit funding proposals which include the MDP should coordinate with the NEON Assignable Assets Program to obtain an accurate project specific costing and a letter of support.
The table below provides rough estimated costs associated with a number of deployment scenarios based upon tower height, deployment locations, and deployment term. Note that these are rough approximations based upon a number of assumptions for use in initial planning and consideration.
Requesting an MDP
Prior to completing the request form for an MDP, all requestors should review the complete information on the NEON Assignable Assets Program.
MDPs are requested through the NEON Assignable Asset Program, which allows researchers to request the use of NEON infrastructure in support of their research programs.
To request an MDP, please complete an MDP Request Form (download link below).
Please use this form for all MDP Assignable Asset requests.
All MDP requests undergo a feasibility evaluation by NEON project scientists and staff prior to approval. NEON does not evaluate the scientific merit of requests; this is left to the funding agencies.
As with all of NEON's Assignable Asset requests, the investigators are responsible for providing funding to cover costs associated with each campaign. Research teams often secure such support through grant programs administered by the National Science Foundation and other
Prior to deployment, the requestor is responsible for obtaining all necessary landowner permissions and research permits for the MDP deployment at the site of interest.
Have additional MDP questions?
If you have questions regarding the MDPs before submitting a request, or other MDP related questions, please Contact Us.