Getting to Know the NEON Domains: The Northern Plains
January 16, 2020
This blog series explores each of the 20 NEON ecoclimatic Domains and the field sites within them.
West of the Mississippi and east of the Rockies lies a northern landscape dominated by wide-open spaces, prairie grasslands and an abundance of agriculture. Welcome to the Northern Plains Domain, NEON Domain 09.
Defining the Northern Plains Domain
The NEON Northern Plains Domain sprawls over North and South Dakota and parts of Montana, Wyoming, Nebraska and Minnesota. It encompasses 297,683 square miles (770,995 square kilometers), making it the second largest NEON Domain after the Taiga.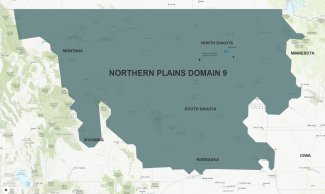 Much of the Domain is sparsely populated, but humans have had significant impact here, particularly in the last 150 years since European settlers arrived in the area. Large-scale agricultural activities—primarily corn, soybeans and cattle—have transformed the landscape. Larger cities include Fargo, Bismarck, Rapid City and Billings. The Domain is also home to several Native American reservations, including the Standing Rock, Cheyenne River, Pine Ridge, Fort Peck and Crow reservations.
These communities have been built within a prairie landscape Dominated by grasses. Most of the area is considered mixed prairie, with both short and tall grasses. The eastern part of the Domain tends toward tall grass prairie ecosystems and the western part features more short grass prairie. There are more than 50 species of grass native to the Domain, including bluestem, switchgrass, wheatgrass, needlegrass, blue gamma and buffalograss. The mix of grasses in each area is heavily dependent on soil type and precipitation patterns. In addition to grasses, low shrubs and pines dot the landscape in some regions. In many areas, the grasslands are scattered with small lakes and wetlands that grow and shrink with the seasons.
The Northern Plains Domain sees very hot summers and very cold winters, with summer highs topping 100° F (37.8°C) and winter lows hovering near 0° F (-17.8°C) and sometimes plunging as low as -40°F (-40°C) in the northern reaches of the Domain. Flora and fauna are adapted to survive these temperature extremes as well as variable precipitation patterns. Precipitation averages range from 25-30 inches (63-76 cm) annually in the eastern part of the region to 10-15 inches (25-38 cm) annually further west . Historically, annual precipitation has followed a roughly ten-year cycle of wetter and dryer periods, with occasional drought years.
While large herds of bison roamed here in days gone by, today the largest wild animal commonly seen in the Domain is the white-tailed deer. Coyotes, foxes, badgers, pronghorn and ground squirrels also make their homes in the grasslands. Large flocks of migratory birds—including cranes, ibis, ducks, geese, plovers and terns—come to the Plains to breed each summer. Roughly half of North America's waterfowl breed here. Habitat destruction has put a number of endemic mammal and bird species at risk, including the greater sage grouse, the pronghorn and the black-footed ferret.
The Northern Plains Field Sites
Domain 09 has five NEON field sites, including two aquatic sites and three terrestrial sites:
Northern Great Plains Research Laboratory
The Northern Great Plains Research Laboratory field site is located in the Missouri River drainage basin near Bismarck, North Dakota. It sits on the site of a U.S. Department of Agriculture research laboratory, which was established in 1912 to develop science-based agricultural methods suitable for the Northern Plains region.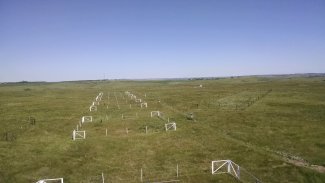 The field site encompasses 2.3 square miles (6 square kilometers) of highly managed agricultural land on the outskirts of the rapidly growing state capital, which recorded a population of around 72,000 in 2017. The central North Dakota landscape was formerly mixed grass prairie, but human activities have significantly reduced native grass biodiversity. The climate is relatively dry, averaging 16.8 inches (42.6 centimeters) of precipitation annually. Native species including deer, coyote, foxes and the occasional pronghorn live alongside humans and cattle in the area.
Agricultural research has taken place here on a continuous basis for more than 100 years, leaving a historical record for many data products that NEON can build on. The USDA research laboratory conducts research on both row agricultural products, such as corn and soybeans, and the impact of cattle grazing on grasslands. The NEON field sites are located on rangelands that have been used for cattle grazing for most of the last hundred years. They are heavily impacted by both agricultural activities and the encroaching sprawl of the suburbs surrounding Bismarck.
Woodworth and Prairie Pothole
The Woodworth terrestrial and Prairie Pothole aquatic field sites are located next to each other in eastern North Dakota on the Chase Lake National Wildlife Refuge. Woodworth covers 4 square miles (10.6 square kilometers) of wilderness area near Chase Lake. Prairie Pothole is a small terminal wetland lake, collecting water from surrounding areas without any streams carrying water out. The sites are hosted by the U.S. Geological Survey and U.S. Fish and Wildlife Service.
Chase Lake is one of the oldest wildlife refuges in the U.S., established in 1908 to study and protect breeding waterfowl. The wildlife refuge has supported research activities for more than 100 years, providing an excellent research base for the NEON project. Most of this research has focused on waterfowl and game bird preservation. The Woodworth Station Waterfowl Production Area (WPA) was established in 1963. The nearest town is Woodworth, a small community with just 50 residents.
The field sites are located in an area known as the Prairie Pothole Region, a band of tall and mixed prairie that stretches across parts of North and South Dakota, Minnesota, Iowa, Montana, and the Canadian provinces of Alberta, Saskatchewan and Manitoba. The land here is pocked by thousands of depressions left behind by glaciers 10,000 years ago, resulting in a series of small lakes and wetland areas known as prairie potholes. These waters and wetlands create prime breeding grounds for waterfowl and shorebirds. The Chase Lake wilderness area is home to more than 30,000 white pelicans, making it the largest pelican breeding habitat in the U.S.
The Dakota Coteau Terrestrial and Aquatic Sites
The Dakota Coteau Field School field sites covers 3 square miles (7.8 square kilometers) of grazing land. Prairie Lake is a small terminal wetland lake. The field sites were established on state trust land that has been leased to local farmers for grazing for more than 100 years. The surrounding area is changing rapidly, with more land being converted to corn and soybean farming.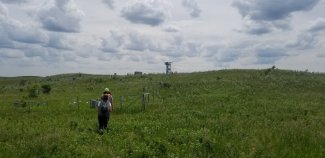 The Dakota Coteau is also part of the Prairie Pothole Region and shares similar topography to the Chase Lake area. Historically, this area supported tall to mid-height prairie grasses. The terrain is characterized by multiple depressions and wetland areas created by glacial activity. However, it has been reshaped by agriculture. Glaciers have also left behind large boulders known as buffalo rocks, which have been worn smooth by bison rubbing against them over thousands of years.
These sites are located just a few miles east of the Woodworth and Prairie Pothole sites in an agricultural area used primarily for cattle grazing. The location provides a clear contrast to the wilderness area at Chase Lake, which will allow researchers to better understand how grazing impacts prairie ecosystems and biodiversity. The NEON field sites represent the first formal research conducted in the area.
A Changing Climate, Invasive Species and Impact of Human Activities
Agriculture and other human activities have significantly changed ecosystems in the Northern Plains Domain over the last hundred years. While Native American tribes have lived in the region for thousands of years, large-scale agriculture and its accompanying impacts on native plant and animal species began in the late 1800s when large numbers of European settlers arrived on the plains. These changes have accelerated over the last several decades with the arrival of intensive industrial farming methods. As of 2012, agricultural activities—including grain production and cattle grazing—took up 80% of the total land area of the Great Plains.
Since 2000, North Dakota has also seen a boom in oil and gas production as new methods made it profitable to tap into the shale fields in the western part of the state. This has driven rapid population growth in some areas.
Monitoring the impact of these and other human activities will be of particular interest in the Northern Plains Domain. As more land is converted from native grasses to cropland, habitat loss is putting pressure on many plant and animal species, most notably the migratory birds that breed in the Domain. Agricultural runoff also impacts ecosystems far downstream from the fields where it originates. NEON project data will help researchers monitor the impact of human activities on water quality, soil chemistry, biodiversity and other measures of ecosystem health.
Invasive species of grass present another concern for the Domain. Kentucky bluegrass and other species favored by humans for lawns are encroaching on native grasslands in many areas. These non-native species are reducing the natural diversity of grasses in the prairies, which may make ecosystems less resilient to droughts and other climate extremes.
Monitoring changes in the climate will also be of particular interest. Over the last 30 years, the hydrological cycle in the plains has changed dramatically, trending wetter overall and diverging from the historical ten-year cycles. Temperatures are also rising, leading to changes in plant phenology cycles and species distribution that could negatively impact migratory bird populations and other animal species. These changes also have implications for agricultural yields and planting and harvest times.
NEON data will help researchers monitor changes in land use, invasive species and climate in the Northern Plains and build better climate models and forecasts for the region. These models will enable farmers, land use managers and policy makers to make decisions that will protect the long-term interests of both humans and native species in the Northern Plains.
Check out the accompanying ArcGIS Story Map