Getting to Know the NEON Domains: Southern Plains
August 18, 2021
This blog series explores each of the 20 NEON ecoclimate Domains and the field sites within them.
View the Domain 11 Story Map here!
The plains of Texas and Oklahoma are home to rolling grasslands, expansive croplands, and more than 10 million head of cattle. In the Southern Plains (Domain 11), agriculture reigns supreme. Understanding how land management decisions and agricultural practices impact ecosystems is key to both maintaining agricultural productivity and protecting native habitats.
Defining the Southern Plains
NEON's Domain 11 stretches from south and central Texas up through central Oklahoma and represents the southernmost range of the Great Plains region. The Domain encompasses 486,000 km2 (188,000 square miles) of grassland, rangeland, and cropland in the south-central U.S.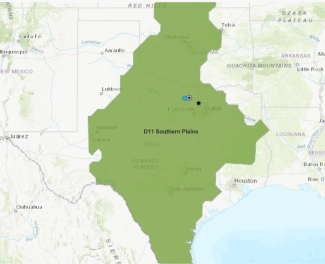 Most of the Southern Plains consists of oak-savanna ecosystems, with terrain ranging from flat to gently rolling hills. Grasslands feature tallgrass and mixed prairie species, including bluestem, buffalo grass, and switchgrass. Grasslands are interspersed with savannas, scrubland, and oak forests. Prickly pear and other cacti and succulent species can be found in drier areas.
Historically, bison roamed over much of the Southern Plains. Along with the bison, the prairie grasslands were maintained by a natural cycle of frequent, low-intensity wildfires, which discouraged encroachment of woody shrubs. Now, most of the landscape is dominated by agriculture, including cattle ranching and crops such as wheat, corn, feed grains, peanuts, and pecans. Grazing beef cattle now mimic some of the impacts of native bison, and prescribed burns are used in some areas to conserve native prairie.

Numerous wildlife species make their home in Domain 11, including white-tailed deer, black-tailed prairie dogs, coyotes, foxes, mountain lions, bobcats, and numerous small mammal species. Reptiles such as the Texas horned lizard and the threatened timber rattlesnake are also found here. Native bird species include bobwhite quail and the threatened prairie chicken. Many migrating bird species make their way through this region, which is at the northern end of the migratory range for many species coming up from Central and South America and the southern end of the range for species coming down from the northern U.S. and Canada. Oklahoma is also an important migratory stop for the monarch butterfly.
The Southern Plains are in a climate transition zone between the humid Gulf Coast states and the Southwestern Desert region, moving from semi-arid to arid from east to west. Summers are long and hot, with temperatures exceeding 37°C (100°F) 20-30 days in the northern portion of the Domain and sometimes exceeding 43°C (110°F) further south. The northern end of the Domain, where the NEON field sites are located, also experiences cold winters with temperatures dropping below freezing and the occasional ice storm. Weather events can be extreme, with dramatic storms (and sometimes tornados) rolling across the plains during the rainy season.
Domain 11 has four field sites: two terrestrial and two aquatic. The sites are located in the northern part of the Domain, in northeastern Texas and central Oklahoma.
Lyndon B. Johnson National Grassland and Pringle Creek
NEON's CLBJ site is on the Lyndon B. Johnson National Grasslands, managed by the U.S. Forest Service (USFS) and located northwest of Dallas-Ft. Worth near Decatur, Texas. It extends over 80 km2 (20,000 acres) of public land featuring a mosaic of grasslands and oak-dominated forest. Grasslands are typical of the Southern Plains, with a mix of big bluestem, little bluestem, Indiangrass, and switchgrass. NEON samples a 41.0 km2 (10,300 acre) area of the facility, including both grassland and oak forest plots.
Historically, this area was part of a large forest bordered by open prairie to the east and west. It was cleared for ranching, grazing, and crop growing in the 1800s by European settlers moving west as part of the "Homestead Acts." The U.S. government purchased lands from homesteaders in the 1920s and 30s and returned them to public land status. Since then, the USFS has focused on maintaining the native grassland and forest habitats for mixed public use, including recreation (primarily hiking, camping, horseback riding, hunting, and fishing), cattle grazing, and limited timber harvesting. Prescribed burns are used to encourage growth of native vegetation.
Pringle Creek (PRIN) is a small pool-and-run stream draining a 49 km2 (12,000 acre) watershed of mixed grassland, oak forest, savanna, and riparian woodland. It is prone to flash flooding in the rainy season. In the hot summer months, portions may go completely dry, leaving a series of disconnected pools behind. It supports a number of fish species including bullhead catfish, central stoneroller, and common carp, and three species of threatened freshwater mussels.
Marvin Klemme Range Research Station
NEON's Klemme Range Research Station field site (OAES) is located on the Oklahoma Agricultural Experiment Station, managed by the Oklahoma State University Division of Agricultural Sciences. The research station consists of 6.3 km2 (1560 acres) of upland prairie in the Rolling Red Plains, a region of flat to rolling mixed grasslands ranging across northern Texas and central Oklahoma. Much of this area was converted for agricultural use, primary wheat production, and cattle ranching when European settlers arrived in the mid- to late-1800s.
The Oklahoma Agricultural Experiment Station was established in 1887 as part of the Hatch Act, which set up a series of agricultural experiment stations across the U.S. The Klemme Range Research Station was established in 1990 on donated lands and is dedicated to improving range cattle production. OSU students and faculty conduct a variety of research and educational programs focused on cattle management and pasture and forage improvement. The site features shortgrass prairie dominated by buffalo grass and purple three-awn interspersed with patchy shrubs and short-stature oaks. Recently, the critically imperiled small Palafox (Palafoxia callosa) was discovered at Klemme. High-intensity cattle grazing takes place on some parts of the site.
Blue River
The Blue River winds through southern Oklahoma from its source near Roff, OK to the Red River, which serves as the border between Texas and Oklahoma. It is one of the last free-flowing streams in Oklahoma, flowing from its natural source without dams or other man-made structures controlling its flow. Draining a 322 km2 (~79,500 acre) watershed, the Blue River is wide and shallow, remaining wadeable at most places along its 241 km (150 mi.) length. At places, it is more than 9 m (30 ft.) wide.
The NEON sampling reach at the BLUE site is located on the Oka' Yanahili Preserve, which is managed by The Nature Conservancy and protects nearly 14.5 km2 (3600 acres) of native prairie. The surrounding landscape features a mix of bluestem grasses, oak, and cacti. The river is home to the most diverse range of fish in the Observatory, with 24 species including smallmouth, spotted and largemouth bass, crappie, catfish, and several species of panfish. Trout are stocked annually in designated fishing areas.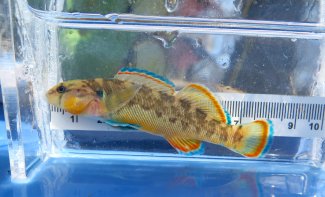 Examining the Ecological Impact of Land Use Modification
Some of the biggest scientific questions coming out of this ecoregion revolve around the impact of land management practices and agriculture. Intensive agriculture has transformed much of the land since European settlers arrived in the mid- to late-1800s. Poor land management practices resulted in widespread soil degradation and erosion during the 1920s and 1930s. Since then, more sustainable agricultural practices have been put in place to preserve the productivity of croplands and rangelands, and conservation programs have restored some of the native grasslands. The two NEON terrestrial field sites represent very different land-use models for the region, with intensive cattle grazing at Klemme Range and lighter grazing and recreational use at the LBJ Grasslands. The contrast provides researchers with an opportunity to look at the ecological impact of these different management practices.
Land use and management practices can have a big impact on invasive species, especially invasive plants that threaten native prairie and savanna ecosystems. At the LBJ Grasslands, thickets of greenbrier and woody invasives now fill the understory of many of the oak forest areas, crowding out native species. Fire suppression and a loss of native ungulate (hoofed mammal) grazers allows woody shrubs to encroach on prairie ecosystems. A better understanding of plant community dynamics and the impact of different land-use decisions is needed to determine how best to protect native habitats.
At the same time, the region is expected to be under intense pressure from climate change in the coming decades. Hotter summers, more frequent and intense droughts, and more frequent and intense extreme rainfall events leading to flooding could be seen in the coming years. Data from the NEON program will allow researchers to monitor changes in precipitation and temperature patterns over the 30-year life of the program, along with associated impacts on terrestrial and aquatic plant and animal communities.
Understanding these changes will be critical for land managers and policymakers in the coming years. Greater knowledge of how these ecosystems are changing will help support decisions on land-use practices that better meet the needs of both people and native plants and animals.