"Hacking Limnology" Workshop Explores Open-Access Aquatic Data
January 12, 2022
In July 2021, more than 680 people from 50 countries across six continents came together for a virtual summit on data science and aquatic research. The four-day "Hacking Limnology" Workshop Series, organized by the Aquatic Ecosystem MOdeling Network – Junior (AEMON-J) and Data Science and Open Science (DSOS), explored applications for remote sensing, machine learning, numerical modeling and "Big Data" in aquatic ecology. The NEON program put together a one-day workshop introducing researchers to our open data products in aquatics. Details about the workshops and virtual summit were recently published in a Limnology and Oceanography Bulletin article.
Big Data and the Aquatics Community
Dr. Kaelin Cawley, a Research Scientist on the NEON aquatics team, organized Day 2 of the Hacking Limnology conference, "Big (Ecological) Data." The day focused on NEON data, metadata and tools for aquatics research, along with other examples of open data programs in ecology. A keynote address by Dr. Ryan McClure, a researcher at Virginia Tech, highlighted the use of NEON aquatic data for an open-source forecasting workflow (Forecasting Lake and Reservoir Ecosystems, FLARE) to predict future water temperatures. Cawley and NEON's Dr. Bobby Hensley delivered the main workshop, which covered the NEON data portal, aquatic data products, the application programming interface (API), and the neonUtilities R package. Afterward, participants broke out into smaller working groups to network and discuss research ideas. About 60 people participated in the NEON workshop.
Cawley says, "The NEON program, and other open data projects like this, represent an important shift in how the aquatics community uses data. Now, it's not just about the individual sites your research group is studying, but how your data connect with findings from others across the continent or around the globe. This workshop was really about connecting people on a continental or global scale to use these big data sets. The NEON program is an important component of that in North America."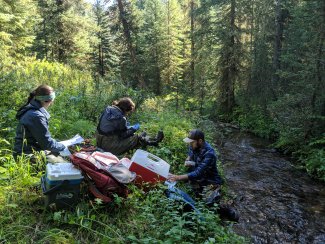 Open-access, continental-scale data allows researchers to explore a broader range of questions in aquatics, such as how water quality or aquatic organismal communities vary across regions and over time. Data from the NEON aquatic instrument systems and remote sensing platforms can be used to address many different research questions in aquatics and limnology. For example, Kelly Hondula, a NEON post-doctoral fellow, is working to link hyperspectral data from the NEON airborne observation platforms with water quality data, which would allow water quality to be extrapolated at large scales using remote sensing. Other researchers are evaluating the "River Continuum Concept" (a model for describing biotic and physical gradients across an entire river system) using data from the connected river system in D08 (Ozarks Complex).
Cawley says that "a challenge in aquatics research is scaling up from a point measurement to a larger scale. Without large open networks like the NEON program, it's hard to scale up those point measurements and understand whether what we're seeing is local variation or a larger trend." She also points to the potential of exploring relationships between aquatic, terrestrial and atmospheric data sets. "A lot of ecology research is really siloed," she explains. "Aquatic researchers aren't necessarily gathering meteorological data or looking at terrestrial systems. The NEON program can help integrate ecology and give aquatic researchers a broader data context. A lot of our terrestrial and aquatic sites are co-located, so we have measurements taken very near each other for the aquatic and terrestrial ecosystems. Then, we have the remote sensing data over each site that can be layered in. Putting all these datasets together allows researchers to explore some really interesting questions."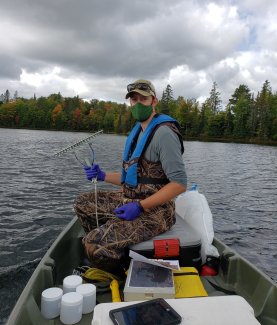 The workshop also underscored the need for continued work to connect datasets from large-scale networks, both in North America and on other continents. The NEON program is building strong connections with the building strong connections with the Long-Term Ecological Research (LTER) community and other NSF-funded open data programs. Workshops like this one are building relationships with the international LTER community and networks in the EU and other regions. Cawley says, "The future of ecology is in integrating these data sets around the world."
Supporting Early-Career Scientists Through Open Ecology
AEMON-J and DSOS are both grassroots, researcher-led organizations. The 2021 Hacking Limnology Workshop Series grew out of the 2020 Virtual Summit developed by DSOS. The virtual workshops were designed to connect researchers with each other and with open-source tools and data that can advance their work. Providing support for early-career researchers is an important part of the overall goal.
The program included breakout discussions to facilitate connections between early-career researchers and potential collaborators, mentors, or employers. They also had a Career Panel and a message board for posting job opportunities. Cawley says, "This kind of activity is really helpful for building the networks researchers need to advance their work and their careers."
She also points to the importance of the program for researchers who are starting their careers in the midst of a pandemic. "This has been especially critical for a lot of early-career scientists right now because a lot of traditional networking and research opportunities have been closed due to COVID. It's really made it hard for many researchers to get out into the field to collect their own data. So, understanding what data are available through these open networks can give people new avenues for research and prevent them from getting stalled in a post-doc program or dissertation. It's helping them to adapt to this very unusual situation we're in right now."
Many early-career researchers are enthusiastic about the potential for large-scale, open-source ecological data. Cawley explains, "A lot of NEON power users are early career researchers. They are already involved in modeling or with other data communities, and they are comfortable with code." As large-scale networks like the NEON program have sprung up in ecology, more universities are integrating data science skills into their degree programs. Workshops like this one help researchers understand where they can access large data sets, how to use and interpret the data and metadata, and which datasets are comparable across networks.
The NEON workshops were very well received, says Cawley. AEMON-J and DSOS are in early stages of planning for 2022; Cawley anticipates that the NEON program will continue to stay involved with future workshops. "Workshops like Hacking Limnology are really important to increase awareness of the resources available through the NEON program for a wider audience," she states. "This has been a really effective way to bring the aquatics community together and get more people involved with research using large-scale open data."