First buoy sensors installed at core aquatic sites
July 14, 2015
By Leslie Goldman
Last month, the National Ecological Observatory Network (NEON) in coordination with staff from Ordway-Swisher Biological Station installed in-situ aquatic sensors on to buoys at the core aquatic sites Suggs Lake and Barco Lake in Domain 3 (Southeast).
Installing and anchoring in-situ lake sensors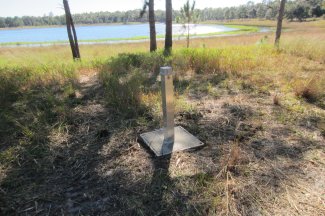 An orchestrated effort at Ordway-Swisher Biological Station (OSBS)
Successful installation at Suggs and Barco required a coordinated effort across much of NEON, including aquatic scientists, systems engineers and field staff, as well as significant collaboration with OSBS staff. NEON staff scientist and aquatic instrument hydrologist Charles Bohall stated, "This was truly a team effort within NEON, and we owe much to the Ordway Swisher Biological Station staff that supported us logistically, every step of the way."
Why Suggs and Barco Lake?

An integrated sampling design supports aquatic research
These deployments represent an exciting milestone for NEON aquatic site construction. Data streamed from these sensors will be collected continuously for the projected 30-year lifetime of NEON, providing high-quality, long-term data about aquatic environments. The in situ sensor data complement seasonal aquatic observations at these sites. In addition, a core terrestrial field site is colocated at OSBS, providing data for researchers to study linkages across atmospheric, terrestrial and aquatic ecosystems.