What Happens to Ecology When Humans Can't Get to the Field?
August 5, 2020
The COVID-19 pandemic has impacted nearly every aspect of human life, and ecology is no exception. Travel restrictions and health and safety concerns have limited the ability of NEON scientists to get to the field across much of the country. However, that doesn't mean that the Observatory has shut down entirely. Sample collection has resumed in some locations, and even where it has not, automated instrument systems—including tower instruments, soil sensors, and aquatic instrument arrays—are still collecting data.
Can technology fill in the missing pieces when humans can't get to the field? While there will almost certainly be data gaps for NEON and other large-scale ecological programs this year, automated instrument programs can still provide a lot of ecological insights. In the future, emerging technologies such as drones, smart sensors, and robots could help ecologists collect field data even under challenging circumstances. But no matter how much technology we deploy in the field, there will always be activities that require a human touch.
What's Happening (and What Isn't) at the NEON Field Sites for 2020
You might think that field ecology would be the ultimate social distancing job, but it's not easy to get ecologists to the field during a pandemic. Scientists and field technicians work in teams and congregate in field offices. They also may find themselves in close proximity to each other and to local community members while traveling to field locations. For these reasons, on March 23, 2020 the NEON program temporarily suspended all activities across the Observatory that required in-person or on-site work. Limited activities resumed May 18 at selected sites. As of August 2020, and for the foreseeable future, decisions about resuming on-site activities for each location are being made based on local conditions. That means many sites have resumed field sampling activities, some are only conducting high priority activities and maintenance for automated instrument systems, and a small number remain closed. Get the latest updates on Observatory Status during COVID-19.
At the NEON program, data collection falls broadly into three categories:
Automated instrument systems, which include meteorological and eddy flux data from the towers, phenocams, soil sensors, and ground and surface water sensors.
Airborne remote sensing using light aircraft carrying instrument payloads to gather photos, lidar and hyperspectral data.
Observational sampling, which encompasses all of the observations and physical samples typically collected by humans in the field. These include data products resulting from breeding landbird counts; small mammal trapping; tick, mosquito and ground beetle sampling; pathogen sampling; physical collection of water and soil samples; collection of herbaceous clips, leaf litter and root samples; phenological observations; and sampling of fish, macroinvertebrates and zooplankton at aquatic sites.
It is the last two categories that are most heavily impacted by COVID-19 restrictions. While the pandemic has limited the ability of technicians to perform standard maintenance on instrument systems, nearly all of the automated instrument systems in the Observatory are continuing to collect and transmit data. However, the timing of the pandemic meant that we missed spring sampling bouts at most of the field sites. For some sites, ongoing local surges of COVID-19 may result in missing an entire sampling season. The Airborne Observation Platforms (AOP) aircraft, which normally collect remote sensing data at "peak greenness" at the terrestrial sampling sites, have also been grounded for much of the season, and are only performing flights over a small subset of field sites for 2020.
Some NEON sites have been more disrupted than others. In Alaska, field sites for D18 (Tundra) and D19 (Taiga) are taking extreme precautions, despite the relatively small case load in the state. Domain Manager Chris Baird explains, "We are not working at the Utqiagvik site at all this summer. The risk of bringing COVID into a vulnerable rural community with an almost nonexistent healthcare system is just too high. For these communities, they can't just send people to other hospital systems if theirs is overloaded." For the three NEON Tundra field sites that are run out of the Toolik field station on the North Slope of the Brooks Range, all summer workers must spend two weeks in strict quarantine upon arrival in Alaska before going on to the station.
In D14 (Desert Southwest), a delayed start to the sampling season meant missing measurements for the start of the Monsoon season in July. The North American Monsoons, which run from mid-July through late September each year, drive much of the ecology of the deserts in the southwest. Sampling timing is usually tied to the Monsoon season, with sampling bouts before, during and after the Monsoon. This year, the D14 team was not able to collect the "before" samples in July, though they still hope to be able to sample later in the season.
What Technology Can Do – and What it Can't
The data products collected by the automated instruments allow analysis of many long-term ecological trends—such as changes in climate and carbon cycling—to continue without significant interruption. Automated instruments may also pick up interesting data during this time, such as changes in aerosol optical depth (which can be used as a proxy for particulate level) as a result of reduced human activity during the pandemic (this data is stored, processed, and made available by AERONET at NASA).
For 2020, sensor data will provide an largely-uninterrupted record of meteorological readings, eddy flux data, water flow and chemistry and other measurements. Phenocams will allow some remote observations of phenological events such as leaf out and blooming. In places where the AOP aircraft are able to fly, remote sensing data can make up for some losses as well. For example, hyperspectral data provides insights into canopy chemistry in the absence of ground observations and clip harvests. Hyperspectral and lidar data can also provide information on plant community composition and structure. These data sets can be used to extrapolate a lot of information about forest health, growth rates and other key ecological indicators.
Still, the automated data products cannot totally make up for the loss of physical samples and human observations. Dr. Mike SanClements, the Terrestrial Instrument System Lead for the NEON Program, explains, "Sensors collect data that show trends and patterns over time, but observational methods and experiments in the field are where we get an understanding of the mechanisms of ecology. It is the coupling of sensors and observational methods where the true power lies, so you can not only see the trends but start to understand the drivers behind those trends."
Missing a few sampling bouts—or even the entire 2020 season—won't be the end of the world for a long-term program like NEON. NEON is working to get ecologists into the field wherever it can be done safely this year to keep data gaps to a minimum. But even for those sites that will not have observational data this year, the loss will not be highly significant in most cases when looked at across the 30-year timeline of the program.
Looking to the Future: Pairing Technology and People
Could technology play a larger role in data collection in the future? Ecologists are already starting to use robot and drone technologies, such as the DeLeaves canopy sampling drone, to speed up physical sampling or collect samples from inaccessible locations. However, most of these technologies still require a nearby human operator to guide sampling efforts. Current robot and drone technologies are not yet capable of making the kinds of judgments that humans make when collecting physical samples in the field. Mike explains, "There is both an art and a science involved in many types of sample collection. For example, think about collecting soil samples. You have to be able to recognize where soil horizons begin and end as well as physical properties like texture and roots, rocks, etc. It's not just about sticking a shovel in the ground and digging up some soil. These kinds of problems, which require judgment as well as sensing, are still very difficult for robots to solve."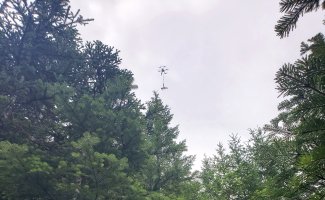 For the near term, emerging automated sensor and remote sensing technologies provide the most promise for expanding our perceptions in the field. For example, Mike believes that we could soon add artificial intelligence (AI) to automated sensors. He says, "Imagine automated technologies that can respond to their environment, such as a water sampler that automatically increases sampling rate in real-time when a sensor detects a probable flood event, or a camera that sends an alert and starts recording when it detects a plume of smoke for early wildfire detection. Real-time or near-real-time automated sensing and data collection could enable early detection of anomalous events and improve iterative forecasting models."
Drones are another technology that could play a larger role for the NEON program in the future. The NEON program has already done some work to correlate drone-collected data to AOP data so that data can be compared and analyzed together. Drones are not likely to fully replace the sophisticated (and heavy) instrument payloads carried by the AOP aircraft for some time, but they could enable ecologists to collect data when aircraft cannot be flown or expand remote sensing capabilities with a cheaper, more nimble technology. Because they are easier to operate by an individual or a small, socially-distanced team, it might be possible to fly drones even when the AOPs are grounded.
However, technology will never fully replace human presence in the field. Sensors, robots and drones may expand our ability to collect field data, but they still need to be maintained, guided and monitored by people. At the same time, all that new data will create many more opportunities to ask and explore ecological questions—work that will always involve humans.
Mike says, "The coupling of sensors and observational data and physical samples is what makes the NEON program so powerful. We are always going to need hands-on samples, and we are always going to need humans to ask the right questions, conduct experiments and interpret results. When we bring the technology and people together, that is where the truly interesting advances in ecology are being made."