Domain Digest No.1: In the Field with the NEON Program
November 4, 2021
Sam Preer, Lead Field Technician for the National Ecological Observatory Network (NEON) Domain 20 in Hawaii, starts most days of the sampling season from the surfside town of Hilo. From there, he drives up to an elevation of around 5000 feet, decontaminates his boots and vehicle tires, and enters the Pu'u Maka'ala Natural Area Reserve for another day of plant diversity sampling. Heavy rain and mud can make for tough going some days, but he says, "the possibility of a rare bird or plant sighting adds an element of enchantment to the duty of working in this field site."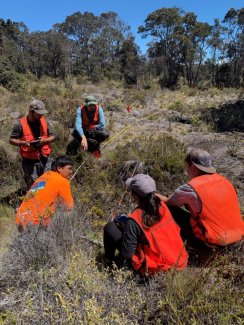 Of course, not everyone can work in Hawai'i, but every NEON field site has its enchantments—and its challenges. The NEON program, which is funded by the National Science Foundation,​ keeps nearly 140 field scientists and technicians busy year-round and hires another 240 seasonal technicians each year to collect data during the growing season at each site. The field sampling teams are the backbone of the observational sampling protocols for NEON's 47 terrestrial and 34 freshwater aquatic field sites. These intrepid scientists and technicians brave the elements, biting insects, poison ivy and the occasional wildlife encounter to gather observational data, maintain instrument systems and collect physical samples or specimens from the field.
While each site has unique characteristics, sampling activities are largely the same across the country. That's part of the value of the NEON program: maintaining identical observational sampling protocols and instrument systems across all of the field sites in the Observatory ensures data quality and comparability. At terrestrial sites, field teams collect data on plants (e.g., phenology, diversity, biomass and productivity), small mammals, birds, insects (ground beetles, ticks and mosquitos) and soil microbes. Aquatic site observations include aquatic organism abundance and diversity, biogeochemistry, stream and lake morphology, and riparian phenology. While many technicians specialize in specific areas, most are cross trained in sampling protocols for other areas so teams are flexible and can respond to different sampling needs at different times of the year. (Read more about training at the NEON program.)
Samantha Matlick, Lead Field Technician for Domain 03 (Southeast), loves the diversity of her days. "Every day and even the weeks are always different," said Samantha. "The sites and activities depend on the schedule, but generally, if you're not out in the field collecting data, then you're in the lab processing samples." She especially loves the small mammal protocol, which involves humane live trapping of small furry creatures such as mice, rats, moles and voles. Because small mammal populations respond quickly to changes in climate and habitat, studying the abundance and diversity of small mammal species provides important clues into ecosystem change. Small mammals are released after they are identified, evaluated for reproductive status, weighed and measured; a subset has blood drawn for pathogen testing.
"My background is in wildlife, so naturally, I'm always on cloud nine when I get to work on small mammals," said Samantha. "I also love operating the DSLR camera for our Leaf Area Index protocol. I even bought my own DSLR camera."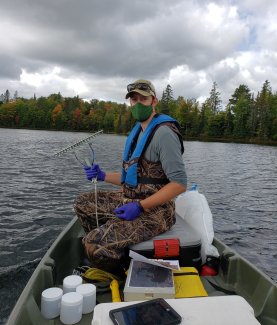 Maintaining instrument systems is also an important part of the job. Hannah Beeler, Senior Technician in Domain 05 (Great Lakes), works primarily with the NEON Aquatic Instrument Systems. "The busiest part of our sampling season starts when ice comes off the lakes," said Hannah. "Once this occurs, our goal is to launch our instrumented buoy as soon as possible so data collection can begin. In addition to year-round remote data monitoring for all on-site sensors, the buoy houses sensors require monthly calibration. We conduct preventative maintenance site visits every other week at each of our two lakes, where we clean and calibrate the sensors and then troubleshoot any that are not functioning properly."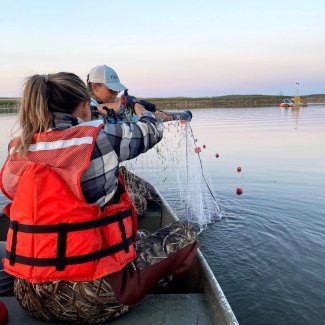 The job involves a fair amount of administrative work, too—and a whole lot of cleaning. Danielle Farkas, Technician for Domain 09 (Northern Plains), says scheduling personnel, vehicles and other shared equipment to ensure that sampling protocols are completed within the sampling windows is the hardest part of her job. "Crews typically go out to do field sampling first thing in the morning," said Danielle. "For the aquatic observational system, we typically have lab processing or shipping that should happen right after sample collection, so it's best to collect samples as early in the day as possible. When we aren't sampling or processing or shipping, we're cleaning. Frequent washing, decontamination and tidying make for a happy field ecologist."
Kirsten Ruiz, Manager for the NEON program, believes it takes a special kind of person to be a NEON field technician. "You have to really love being outside," said Kirsten. "They are outside in all weather conditions—nice and not-so-nice, at all times of day and all times of the year. You have to really enjoy the nature that's surrounding you, even when it's pokey or sticky or too hot or too cold. And it takes a certain amount of physical endurance. But you get to see parts of the planet that very few people see. Many of our field sites are in remote areas, and the plots are frequently off-trail. Even within a single field site, there is a lot of variety among the plots, so you get to see the full scope of different landscapes and habitats found within an area."
Kirsten also stresses the importance of finding people who understand the science. Most of the temporary field technicians hired each year are recent undergraduates, graduate students or early-career scientists. For these seasonal hires, working with the NEON program provides an introduction to large-scale ecology and the strict sampling regimes required to ensure cross-site data comparability.
"They are getting exposure to a large variety of science protocols within the Observatory," said Kirsten. "The NEON program has such a large scope and scale, so you really get to see a lot of different kinds of ecology that you wouldn't see through smaller research programs. We try to give them opportunities to see different observational protocols in action and, if they return in multiple years, to see different parts of the Observatory. We make every attempt to match them with their passions and let them work in the ecosystems they are most interested in."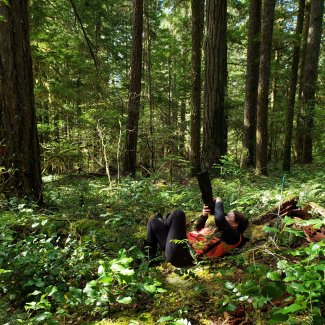 For the people in the field, knowing that they are part of one of the largest-scale ecological Observatory programs ever attempted is an inspiration. "I love thinking about how one seemingly small bit of information that I record will travel," said Danielle. "For instance, this one weight on this one tiny fish that I record today could be seen by researchers around the world and be used to answer larger scientific questions."