Celebrating Phenology Week with Our Friends at USA-NPN
March 21, 2023
Happy spring! It's Phenology Week at the National Phenology Network (USA-NPN), and the NEON program is here for it. The progress and signs of spring across the NEON network are apparent through our phenocams and direct observations. Researchers and citizen scientists can also track spring by participating in USA-NPN's Nature's Notebook program and special campaigns.
Ah, Spring…Three Ways to Look at the Season
"Blossom by blossom the spring begins." — Algernon Charles Swinburne
Most of us identify spring by our senses: warmer days, a certain feel and smell to the air, new leaves and blossoms on plants, and the movement of migrating birds and animals. The signs and timing of spring can vary quite a lot across locations and will look very different in the southwest desert, for example, compared to the northern plains or forests. But what does spring actually mean, scientifically speaking?
Theresa Crimmins, the Director of USA-NPN and Research Professor at the University of Arizona, explains that there are actually three definitions of spring.
Astronomical spring is based on the movement of the Earth around the sun and arrives with the spring equinox. In the Northern Hemisphere, the start of spring arrives on March 21 this year.
Climatological spring is based on the calendar and is simply the three-month block starting March 1 and ending May 31.
Biological spring is what USA-NPN and the NEON program data are tracking, and what most of us mean when we talk about spring. Biological spring is defined by the timing of natural events in the lifecycles of plants and animals, such as plant leaf-out and blossoming and animal migration or breeding.
Crimmins says, "This last definition, biological spring, is what resonates with us most as humans. Our definition of spring is shaped by our experiences. It's the local signals, like the blossoming of a certain flower or the return of a favorite bird, that signal 'spring' for most of us."
By this definition, the start of spring varies by geography, with spring arriving sooner, on average, for locations closer to the equator compared to areas closer to the poles. Phenology is the science of observing the timing of biological events. Careful observation of signals such as budding, leaf out, and the emergence of blossoms can tell us when spring has arrived, biologically speaking.
Is It Spring Yet? Depends on Where You Are
USA-NPN tracks the status of spring each year with maps generated by data from citizen scientists via Nature's Notebook along with data from scientific organizations like the NEON program. The maps are based on data from a cloned lilac cultivar and two cloned honeysuckle cultivars that have wide distribution across the country. The leaf index (a synthetic measurement of early season events in plants, based on recent temperature conditions) for these species represents the leading edge of spring, and the bloom index (about 4-6 weeks later) shows that spring is in full swing.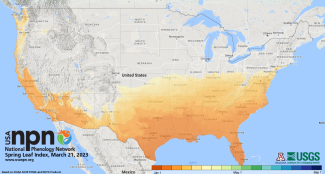 Phenology data at NEON field sites is collected both by phenocam and via direct observations by researchers in the field, using the phenology protocols developed by USA-NPN. Crimmins says, "One of the real strengths of our program is that we have both types of data: broad data collected by our local phenology groups and individual participants for thousands of locations, layered on top of more rigorously collected data from partners like NEON. The NEON field sites act as anchors for us."
The phenology maps show the progress of the spring indices over time, starting in the southern states and marching northward day by day. They also have maps showing how early or late the arrival of spring is this year compared to averages.
Phenology data from USA-NPN is valuable not only for ecology but also for conservation, agriculture, allergy season predictions, pest control, and more. In addition to the spring indices, they track phenology data year-round for more than 1700 observable plants and animals.
Join the Celebration for National Phenology Week
USA-NPN is celebrating Phenology Week March 20-24, timed to coincide with the arrival of the spring equinox. They have local activities planned at their headquarters in Tucson as well as fun virtual activities and campaigns that anyone can join. This year, they are also celebrating their 15-year anniversary.
Samantha Brewer, the Volunteer Engagement Coordinator, says, "Our organization has changed and grown a lot over the last 15 years. We really wanted to do something to celebrate the efforts of our volunteers and partners. What we do is only possible with the data collected by our network of observers."
You can get involved by attending virtual events this week and participating in campaigns and challenges on social. One that Brewer would like to see everyone try: get to know a local plant. "Taking the time to make deep observations about the world around us can really help to connect us back to the natural world. We're encouraging readers to find a plant that they see every day but don't know much about and learn something about it. Then continue to observe your plant over time." Participants can post their plants on social using the hashtag #PhenologyWeek.
Spring Across the Observatory
Here at NEON, we're excited to see the progress of spring at our field locations. Pictures from across the Observatory taken on March 17 show patchy snow in some locations and lots of new green in others. Even just travelling down the east coast from D01 to D03, the differences are apparent. Here are a few glimpses of spring from our NEON phenocams.
D01, Northeast
Bartlett Experimental Forest (Upper)
D02, Mid-Atlantic
Smithsonian Conservation Biology Institute (Upper)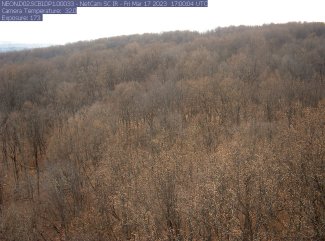 D03, Southeast
Ordway-Swisher Biological Station (Lower)
D05, Great Lakes
Steigerwaldt-Chequamegon (Upper)
D06, Prairie Peninsula
Konza Prairie Biological Station (Lower)
University of Kansas Field Station (Lower)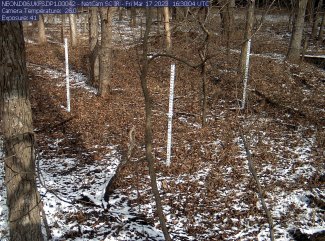 D08, Ozarks Complex
Dead Lake (Upper)
Lenoir Landing (Lower)
D09, Northern Plains
Dakota Coteau Field Site (Lower)
D14, Desert Southwest
Santa Rita Experimental Range (Lower)
D17, Pacific Southwest
San Joaquin Experimental Range (Lower)
Soaproot Saddle (Upper)