Forecasting More Than Just the Weather with NEON and USA-NPN
March 15, 2021
Phenology, or "the science of appearance," observes and records the timing of seasonally recurring events in the lifecycles of plants and animals. Most of us look forward to the emergence of the first blooms of spring. We may not be as enthusiastic about the first mosquito sighting—but observing (and eventually predicting) mosquito phenology could answer important questions about relationships between climate, insect activity, and the spread of mosquito-borne diseases.
This is just one example of the types of questions that can be explored with phenology data from the NEON program and the National Phenology Network (USA-NPN), a data hub with visualization tools for phenology data collected by researchers, organizations, and citizen scientists alike. NEON partners with USA-NPN to make plant phenology data available to scientists and the public through the NEON Data Portal and the USA-NPN Data Portal.
Forecasting Phenology in a Changing Climate
Phenology includes observations of many different types of seasonal events, such as budding, blooming, and leaf drop (for plants) and mating, migration, or emergence from hibernation (for animals). Understanding—and eventually predicting—the timing of these events could help researchers understand the effects of climate change and other ecosystem shifts.

The timing of key events in the seasonal lifecycle of a plant or animal can be impacted by many different factors, including temperature, precipitation, the availability of food or nutrients, or the length of the day. Environmental cues such as rising temperatures or lengthening hours of daylight may act as triggers for certain phenological phenomena, such as plant budding or insect emergence. Data from the NEON program and USA-NPN could help researchers better understand the specific drivers for phenological events in the lifecycles of different species.
Over the last several decades, phenologists have observed changes in the timing of some of these events. For example, many plant species appear to be highly responsive to changes in temperature. Rising temperatures due to climate change have resulted in earlier leafing and flowering for some plant species. In some parts of the country, there is concern that this shift may put plants out of sync with pollinators that may be responding to an entirely different set of environmental cues.
Understanding how climate change is impacting phenology for both plant and animal species—and forecasting how the timing of key biological events may change in the future—requires large-scale, long-term environmental data of the type collected by both the NEON program and USA-NPN. Natural fluctuation in weather changes the timing of many phenological events from year to year. Only by looking at long-term trends on a continental scale and across the decades can we start to understand how climate variables drive phenology for different species.
USA-NPN has been collecting phenology data since 2008 through both researchers and citizen scientists, who contribute phenology data for plants and animals each year through their Nature's Notebook program and app. The NEON program uses the USA-NPN plant phenology protocols so that plant phenology data can be easily compared across both networks.
Data from the two networks are complementary, marrying consistent, intense continental-scale data from the NEON field sites with less consistent but much broader data collected by USA-NPN's army of citizen scientists. Dr. Katherine LeVan, a NEON ecologist, finds great value in the partnership. "It's great to have the different breadths and depths of datasets available through NPN and the NEON program," says LeVan. "For instance, we have very intensely studied sites that can be compared with the community-contributed data in the NPN visualization tool. NEON has a higher intensity sampling standard for its observations, but combining community observations means that NPN shows the big picture."
NEON data users can also greatly benefit from USA-NPN's forecasting tools and maps through their user-friendly data interface. "It's a very approachable platform," explains LeVan. "They are able to take those non-NEON datasets and create stunning visualizations. And they continue to improve it all the time."
Enter the Mosquito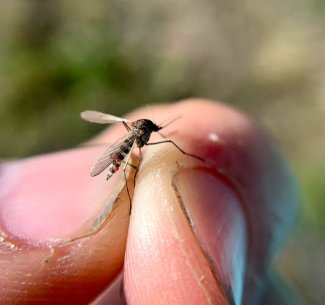 While the initial partnership between NEON and USA-NPN focused on plant phenology data, recently, more attention has turned toward insect phenology forecasting – predicting populations and dynamics. Insect forecasting has interesting research and land-use implications, especially for pest insects like gypsy moths or emerald ash borers. Being able to predict accurately where these species will be in abundance—and when—could help decision-makers mitigate the damage done by these species.
Seeking forecasting answers like these for mosquito populations, principal investigators (PIs) from NEON, USA-NPN, and USGS received funding in October 2020 and kicked off a project to explore the future of mosquito phenology forecasting. The effort is funded through the USGS John Wesley Powell Center for Analysis and Synthesis, which awards grants for projects using existing datasets—like those of USA-NPN—to solve big, pressing Earth-system problems.
"The goal is to be able to answer questions such as, 'is it going to be a bad year for mosquitos?'" says LeVan, one of the NEON PIs. "Where might the activity be the worst in the U.S.? With NPN, we aim to make phenology forecasts and maps of mosquito activity, like those NPN built for gypsy moths and the emerald ash borer, and to get that forecast included in NPN's visualization tool for easy community use."
Not only does the grant involve funding for a postdoctoral fellow, but also for a working group of 16 people. In normal years, the funding would go towards in-person workshops based at the Powell Center in Fort Collins, but due to the pandemic, they are currently staging virtual monthly meetings. The project is now in the early stages.
Combined data from USA-NPN and the NEON program will enable researchers to answer similar questions about the phenology of other plant and animal species in the future. Forecasting how phenology for different species may be impacted by climate change has large implications for agriculture, land management, public health, and pest control. Understanding and predicting how species are responding to a changing climate will be critically important to help us make effective management decisions in the decades to come.