NEON Plant Phenology Data Now Available Through USA-NPN
May 6, 2020
The NEON program collects plant phenology data—that is, observations about the timing of biological events—at terrestrial and aquatic field sites across the continent. A partnership with the USA National Phenology Network (USA-NPN) has through the USA-NPN data access and visualization tools.
More than 2.6 million NEON plant phenology data records, representing observations of 5,000 individual plants at 47 NEON field sites, have already been ingested into the USA-NPN database. The data integration project allows scientists to conduct combined analysis of NEON and USA-NPN data and analyze NEON data using USA-NPN's data visualization tools. The collaboration expands the scope of data available through USA-NPN and makes NEON phenology data more accessible for the science community.
What Is Phenology, and Why Do We Care?
What makes the cherry blossoms emerge in the spring? How do hummingbirds know when to migrate? What factors influence when maple leaves will turn red and drop from the trees?
The timing of biological events such as flowering, leafing, and leaf drop (in plants) or migration, hibernation, and reproduction (in animals) is known as phenology. Literally "the science of appearance," phenology observes and records the timing of seasonally recurring events in the lifecycles of plants and animals.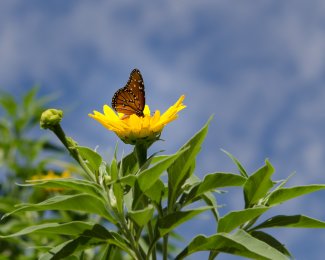 Plant phenology is typically quantified by observing the date of onset and the duration of particular phenophases, or observable stages in the annual lifecycle that can be defined using clear start dates and end dates. These phenophases are related to the vegetative and reproductive life of the plant and may include leafing, flowering, fruiting or pollen production.
The timing of these events can be influenced by temperature, length of day, precipitation, nutrient availability and other elements of the plant's climate and habitat. For example, plants of the same species typically develop their first leaves a few days to a few weeks earlier in the southern U.S. than in northern states due to the warmer temperatures. A drought may delay the timing of leaf-out or hasten leaf drop for some species.
Studying phenology can help us understand how these different factors influence the timing of events for different species. Phenology can also tell us how plants are responding to changes in climate over time and make better predictions for the future. This knowledge will be critical for farmers and conservationists in years to come.
Partnering with USA-NPN to Bring Phenology Data to the Masses
USA-NPN has been collecting plant and animal phenology data since 2008. They act as a central repository for phenology data collected by individual researchers, conservation organizations, ecological networks and citizen scientists. Thousands of citizen scientists contribute phenology data each year through their Nature's Notebook program and app. Their database now includes records for nearly 1,400 taxa of plants, insects, fish, amphibians, reptiles, birds and mammals.
The NEON program collects plant phenology data using the same data collection protocols used by USA-NPN. These protocols describe how phenophases for different taxa of plants are defined and observed. USA-NPN has defined protocols for more than 1,000 individual plant species within all major plant taxa, including grasses, herbaceous plants (forbs), deciduous and evergreen trees, and cacti. Katie Jones, a Plant Ecologist for the NEON program, says, "We chose the NPN protocols because their status-based monitoring approach allows us to record everything a particular plant is doing, or not doing, every time we observe it. This leads to better estimates of the precise date a phenophase transition occurs, making it easier to detect differences between years." Read more about the NEON program's plant phenology protocols.
The relationship between the NEON program and USA-NPN goes back to the early phases of NEON when the Observatory adopted the USA-NPN plant phenology protocols. In 2012, the two programs launched a formal working group to coordinate on protocols, data collection and product development efforts. Dr. Katharine Gerst, the Data Product Coordinator for USA-NPN, says the data integration project has been a long time coming. "We recognized from the beginning that there would be tremendous value in bringing our datasets together. Much of the data we have from citizen scientists and individual researchers can be considered somewhat opportunistic, but it is widespread across many sites. The NEON program has data over a smaller number of sites, but it is really rich and precise data collected at regular intervals, and it will be collected in the same way over a very long time period." 
Dr. Theresa Crimmins, Director of USA-NPN, adds, "This collaboration provides a really strong value to the entire scientific community. The richness of the NEON data brings a huge strength to the already broad and extensive data being collected by our Nature's Notebook volunteers. NEON gives us consistent, taxonomically rich data collected on a continental scale."
Plant phenology data from the NEON program will now be available on both the NEON Data Portal and the USA-NPN Data Portal. Going forward, data will be uploaded from the NEON program to the USA-NPN database monthly. Katie says, "Coding a system that would create a link between our data fields and their data fields and automatically pull and ingest our data into their portal was no small task. Now that it is complete, it will make it easier for researchers to conduct cross comparisons between the datasets."
Researchers will also be able to apply USA-NPN's data analysis and visualization tools to NEON data. These tools enable the creation of derived data products not currently available on the NEON Data Portal, such as summary information by site, season, or species. USA-NPN's data visualization tools allow researchers to create maps, scatter plots, calendars and other visualizations of phenology data.
"The collaboration with USA-NPN will make our data more accessible for researchers who are not as familiar with the complex code required to generate derived data," says Katie. "Their data tools are very easy and intuitive to use. Their visualization tools allow the data to tell a story."
Observing Phenology in a Changing World
Many studies have observed changes in plant phenology over recent decades. Historical records indicate that spring (defined by first leaf-out and blossoming of key species) now arrives earlier in many regions compared to historical averages. USA-NPN's "status of spring" report shows that spring leaf-out for 2020 in the southeast U.S. arrived more than three weeks earlier than historical averages in some locations. This is likely due to a warming climate, but more research is needed to define exactly how climate, plant and animal phenology, and other factors are intertwined.
Rapid changes in plant phenology are concerning because different species of plants and animals may not respond to changes in climate in the same way. While many plants seem to respond primarily to shifts in temperature, pollinators such as insects and birds may be responding to different signals entirely, such as day length. If their migration or spring emergence timing remains closer to historical averages while plant phenology shifts "spring" back by days or weeks, plant blossoming could become out of sync with the arrival of the pollinators the plant depends on.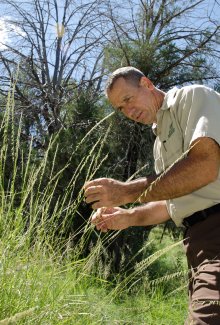 Observations by the NEON program and USA-NPN's network of researchers and citizen scientists will help the science community monitor changes in plant and animal phenology and make better predictions for the future. Theresa explains, "It's important to study phenology because it helps us to understand the impact of rapidly changing climate conditions. Knowing when things happen biologically, and when they are likely to happen in the future, will help us make better management decisions. Phenology can help us decide when to plant crops, predict when seasonal allergies will be a problem, and determine the best times to take mitigating actions to control invasive species."
Researchers, students and citizen scientists wishing to contribute to our understanding of phenology can download the Nature's Notebook app from the Apple App or Google Play stores or upload data directly at naturesnotebook.org.
The collaboration between the NEON program and USA-NPN will provide researchers with a rich trove of new data to complement the data collected through Nature's Notebook. Theresa says, "We are truly enthusiastic to be partnering with NEON. It's a great relationship and stands to benefit the science community broadly for years to come."