Building Regional Research Connections with the Great Lakes User Group (GLUG)
November 16, 2023
Each environmental region has its own unique ecological challenges, questions, and issues. Researchers in the Great Lakes Domain (D05) united to establish the NEON Great Lakes User Group (GLUG) to bring people together to foster collaborative research opportunities. That vision came to life in September with the first in-person meeting of GLUG at workshop supported through a National Science Foundation (NSF) award - and it resulted in several developing research proposals. 
Peter Weishampel, the D05 Manager and one of the co-organizers of the workshop, said, "I'm thrilled with the outcomes. There was lots of positivity around the ideas presented, and many new connections formed. There are already two or three really solid proposals or papers that may come out of this, I think that's a really good value from a workshop."
A Gathering in the Great Lakes Region
The 2023 GLUG Workshop was held September 28-30 at the University of Wisconsin – Madison's Kemp Natural Resources Station near Minocqua, Wisconsin. Twenty-six GLUG members from across the Great Lakes region gathered for a two-and-a-half-day meeting that included field trips to some D05 field sites, whole-group presentations, and breakout sessions to discuss shared research interests and opportunities.
Dr. Luke Nave, a Research Associate Professor at Michigan Tech University and Northern Institute of Applied Climate Science, said, "The workshop was one of the best I've been part of. It was the ideal size, setting, and agenda—big enough to span a diverse range of people and backgrounds and interests, yet small enough to be able to talk to every person at some point."
Most of the attendees were professors and researchers – several early-career – from universities in the Great Lakes region, joined by a few government agency researchers and one undergraduate student. On day one, many participants gave five-minute talks focused on how they use NEON data, with topics ranging from nitrogen fluxes in streams to the dynamics of tree reproduction, seed consumers, and ticks.
Seven breakout groups were formed to discuss shared research interests and opportunities for future collaboration, including potential grant proposals and papers. One group is already planning to submit a proposal involving NEON Assignable Assets to add instruments to the NEON towers in D05 to collect soundscape data that could be used to identify bird species. Another group is interested in using NEON data to explore how climate predictions match up to observations during the current El Niño event (predicted to be particularly strong this fall and winter). A third group plans to link NEON phenology data with soil biochemistry data. Several participants are working on a joint workshop report, which they plan to submit for publication. The paper is envisioned as a methods document on how to organize and grow regionally-focused networks for collaborative ecology research.
The workshop was the outcome of months of planning and virtual meetings of the GLUG group and NEON staff. GLUG began bimonthly virtual meetings in early 2021. After a few regular participants toured one of the D05 field sites in 2022, the idea came together to apply for an NSF grant to support an in-person meeting of the group. Most of the agenda was driven by GLUG members, including GLUG co-chairs Nave and Dr. Alison Donnelly (University of Wisconsin – Milwaukee) and members Dr. Ankur Desai (University of Wisconsin – Madison) and Dr. Katherine Heckman (USDA Forest Service).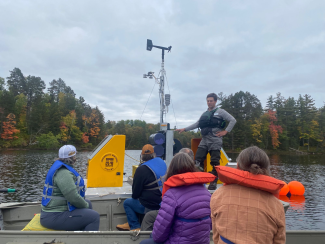 On the NEON side, the workshop was spearheaded by Weishampel, Caleb Slemmons (Senior Field Ecologist and Outreach Liaison for D05), and Marie Faust (NEON Science Outreach Specialist). Field site tours provided opportunities to see NEON in action, with demonstrations by the D05 field staff (including Slemmons, Ashley Spink, Jill Pyatt, Aaron Schoofs, and Andrew Stimetz) along with Ed Ayres (NEON Research Scientist, Soil Ecology). Mike SanClements (NEON Research Initiatives Lead) gave the keynote (virtually) for the workshop.
Slemmons noted, "It was really gratifying to meet with researchers interested in the data that we work so hard to collect. Opportunities like this have been relatively few, so being able to show them the sites, sensors and discuss our different data products was really impactful."
For many, the most valuable and rewarding aspects of the program were the relationships formed. Donnelly, a Professor in the Department of Geology at UW-Milwaukee, said, "The best outcomes will be the relationships I developed and people I met. I knew several of the delegates by name only, but it was great to meet them in person, which will hopefully lead to more lasting professional collaborations."
"I have made several new connections with scientists in my region," agreed Heckman, a Research Biological Scientist for the USDA Forest Service Northern Research Station. "I will have greater access to complimentary skillsets and great new collaborators. Face-to-face interaction is an extremely important part of relationship building. Bringing scientists together from a wide range of scientific disciplines is additionally important, but usually difficult to orchestrate."
The Power of Regional Connections
GLUG grew out of a community recognition of the importance of fostering regional connections and collaborations among NEON data users. Desai, a long-time former member of the NEON Science, Technology & Education Advisory Committee (STEAC), was an early proponent of regional user groups and one of the drivers behind the GLUG initiative. At D05, Slemmons was instrumental in conducting the initial outreach and orchestrating the first GLUG virtual meetings.
While NEON is focused on continental-scale ecology, with comparable standardized data collected across 20 ecoclimate zones, each Domain has regionally-specific ecological questions and challenges. In the Great Lakes region, urgent concerns include nutrient runoff and pollutants in aquatic ecosystems and sediments, the impact of invasive species on aquatic and terrestrial environments, and how changing temperature and precipitation patterns are impacting species.
Nave says, "In terms of the Great Lakes, we live in a region that is unique for the abundance and intermingling of water with land. I hope that as a result of this working group, we'll be able to explore ideas about how terrestrial and aquatic ecosystems interact that we can offer to people from other regions, whether they are the same or different."
Another goal of GLUG is strengthening connections between NEON and other ecology networks with a regional presence in the Great Lakes. "NEON protocols are great because they allow for comparability across sites, regions and the continent, but these methods are not necessarily designed to detect certain things that may be of regional importance," explains Weishampel. "There may be regional networks that are in a better position to fill in some of these gaps. If we can start linking NEON data with data from other networks, important patterns may emerge."
While GLUG is the first regional group for NEON data users, more such groups may form in the future. The workshop paper is planned to provide a roadmap for potential user groups in other NEON Domains or regional research networks. Desai, one of the paper co-authors, says, "Domain-wide interactions and engagement build the network of researchers who end up becoming ambassadors of NEON data and science, and lead to new ideas, collaborations, theory, education, research proposals, and papers that address regional to global perspectives on the macrosystem and ecological grand challenges. That is the ultimate goal of NEON, after all."