Branching Out Again with Remote Controlled Canopy Sampling
September 22, 2021
The National Ecological Observatory Network (NEON) samples sunlit foliage from each of its 47 terrestrial sites on an every-five-year basis, in parallel with remote sensing collection by the NEON Airborne Observation Platform (AOP). The resulting measurements of foliar traits (leaf mass per area, moisture content, and chemistry) help researchers use AOP data to map foliar traits over large landscapes and monitor change in foliar properties over time.
Sampling foliage from tall-stature, closed-canopy forests is no easy task. In 2019, NEON partnered with DeLeaves, a startup company that specializes in aerial robotics, to sample at the Wind River Experimental Forest (WREF) NEON site. A robotic sampler device attached to a drone allowed remote collection of sunlit canopy samples from trees up to 150 feet tall. This campaign demonstrated the potential to reduce complexity and increase the efficiency of sampling operations, with increased safety and access to previously unreachable areas of the trees.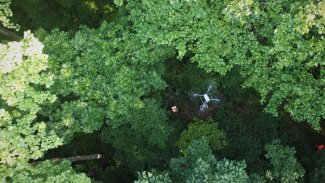 Since then, the DeLeaves sampling system has been commercialized, and major improvements have increased ease of use, efficiency, and range. In August 2021, NEON again partnered with DeLeaves for a campaign at the Smithsonian Environmental Research Center (SERC) field site to validate the scalability of the drone sampling technique.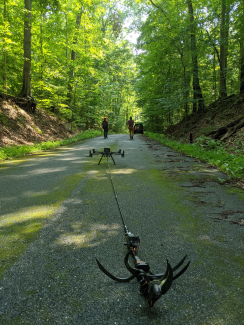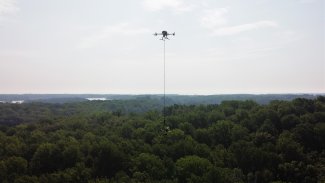 During a 4-day period, a total of 40 trees from 18 different species were successfully sampled. The majority of these samples were collected by David Durden, a NEON research scientist who is also a trained drone pilot. "The DeLeaves sampler improvements over the last two years made the sampling process more safe and efficient through a simplified interface and improved obstacle avoidance features," said Durden. "I was comfortable flying missions after one day of training."
Using the coordinates of the target trees, the drone was programmed to fly autonomously to each target, significantly reducing sampling times. "I was impressed with how quickly we were able to obtain samples that were of a higher quality than those we've retrieved with other methods in the past," said Greg Chapman, a NEON field ecologist who leads the plant sampling in Domain 02 region. "It easily reduced the amount of time needed to complete our field campaign by at least half, and removed the frustrations we experience when using line launchers to target tall canopy trees through thick understory and brush, which is an issue at most of our sites." Using the drone altitude also makes it easier to determine the exact height of the sample being collected, further increasing efficiency.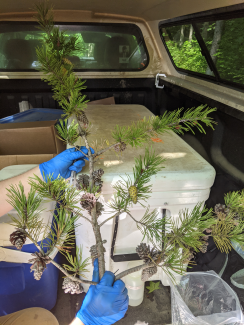 NEON is excited to continue exploring how autonomous samplers can improve sampling quality, efficiency, and safety, for canopy foliage applications and beyond. The future of cross disciplinary autonomous observations in Earth science will be explored during the "Autonomous Scientific Observations: Building reproducible research today and into the future" town hall, co-chaired by Durden, at the 2021 American Geophysical Union (AGU) Fall meeting.