NEON and Battelle at AGU
NEON and Battelle are excited to join in the virtual AGU 2020 Fall Meeting - one of the world's largest virtual scientific conferences - from December 1-17. We will join with attendees from across the globe to share and take part in over a thousand hours of virtual content.
Open data = science for all
The National Ecological Observatory Network (NEON) is a continental-scale ecological observation facility fully funded by NSF and operated by Battelle. NEON collects and provides open data and samples from field sites across the United States to characterize and quantify how our nation's ecosystems are changing. The comprehensive data, spatial extent, and remote sensing technology provided by the NEON program contribute to a better understanding and more accurate forecasting of how human activities impact ecology and how we can more effectively address critical ecological questions and issues.
NEON data and resources are freely available to enable users to tackle scientific questions at scales not accessible to previous generations of ecologists. The Observatory includes 81 field sites (47 terrestrial and 34 aquatic) located in different ecosystems across the United States (including Alaska, Hawaii, and Puerto Rico). Data collection methods are standardized across sites and include automated instrument measurements, observational field sampling, and airborne remote sensing surveys. Field sites are strategically selected to represent different regions of vegetation, landforms, climate, and ecosystem performance. The NEON data catalog includes over 180 data products. The Observatory also archives biological, genomic, and geological samples, available upon request and curated by the NEON Biorepository at Arizona State University.
NEON is part of a bold effort to:
Understand and forecast continental-scale environmental change
Inform natural resource decisions
Engage the next generation of scientists
Join us! What questions will you answer?
data experts
Data Help Desk
NEON will be participating as data experts for the virtual AGU Data Help Desk! We will be monitoring twitter for your data-related questions the week of December 7-11, as well as December 14-16. Tweet your data questions at #DataHelpDesk and #AGU20.
NEON will also be providing recorded demos of some of the tools and resources you can use to manage your data and enhance your research. Follow #DataHelpDesk to hear about these!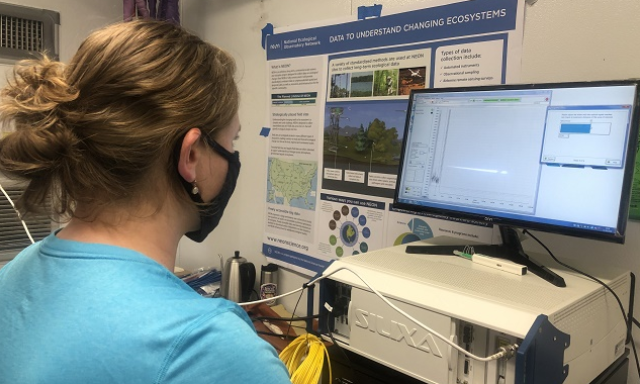 neon-led
Event schedule
This list was last updated on December 4, 2020. All times are Pacific Standard Time (PST) (UTC-8).
Workshop
*Access and Work with NEON data
Wednesday, 2 December, 2020; 11-12:30 
Learn more and register here.
*Not officially a part of AGU, but running concurrently with their workshops. All are welcome to register and participate; no need to be registered with AGU conference.
Oral Sessions
The impact of spatial and temporal aggregation on the relationships among SIF, GPP, and hyperspectral reflectance using airborne data - Abstract
Monday, 7 December; 06:46 - 06:50
Water Quality Dynamics of Aquatic Ecosystems at Fine Timescales I - Session
Wednesday, 9 December; 20:00 - 21:00
Representativeness of surface heterogeneity induced secondary atmospheric circulations in Large Eddy Simulations - Abstract
Thursday, 10 December; 17:32 - 17:36 
Soils in the Anthropocene: Mechanisms of Stabilization and Change (Big-Data Syntheses) II - Session
Tuesday, 15 December; 18:30 - 19:30
Surface–Atmosphere Interactions: From Single Flux Measurements to Integrated Synthesis I - Session
Tuesday, 15 December; 21:30 - 22:30
Continental scale patterns of soil nitrogen pools and transformations - Abstract
Wednesday, 16 December; 20:30 - 21:30 
Town Hall
Methods and Processes Using small UAS: Sharing and reusing lessons learned across scientific disciplines - Synopsis
Wednesday, 9 December; 17:00 - 18:00
eLightning
Open source data enhances water quality assessment: Examining coupled hydrologic and biogeochemical processes at aquatic sites across the National Ecological Observatory Network - Abstract
Wednesday, 9 December; 07:24-07:27
Posters
Characterization of NEON Imaging Spectrometer (NIS) and its Radiometric Stability Analysis - Abstract
Tuesday, 8 December; 05:00 - 21:59
Comparing Applanix SmartBase and PP-RTX Processing Modes for Generating Smoothed Best Estimate Trajectories for NEON Airborne Missions - Abstract
Wednesday, 9 December; 05:00 - 21:59
Water Quality Dynamics of Aquatic Ecosystems at Fine Timescales II Posters - Session
Wednesday, 9 December; 05:00 - 21:59
Surface–Atmosphere Interactions: From Single Flux Measurements to Integrated Synthesis II Posters - Session
Tuesday, 15 December; 05:00 - 21:59
 
More science videos
These videos give a better understanding of the NEON program, explain data collection techniques, and explore scientific concepts related to ecological data. Many of them are short, engaging animated videos that teach key data concepts and tell ecological stories using data and are perfect for adding to presentations and classroom discussions.
neonscience youtube
Explore NEON resources
NEON provides a variety of resources to support researchers, educators, and students in using NEON data including: