A Test Bed for Digital Agriculture Technology
March 28, 2023
In a changing climate, agriculture is extremely vulnerable to invasive species (pests and plants), extreme temperatures, variable weather, and more. Innovations and investments into resilient technology and practices are needed to avoid lowered production and nutrition. Thankfully, high-tech sensors and monitors are transforming agriculture, enabling farmers to optimize yields and improve efficiency. Arable, a provider of smart digital agriculture solutions, is using the NEON program infrastructure through a NEON Assignable Assets project to calibrate and validate their sensor technology in various climate zones and ecosystems across the U.S.
Empowering Farmers with Precision Data
Kristie Jones, vice president of marketing for Arable, explains, "Our business is about providing accurate crop intelligence so users have deeper insights and can make smarter, more informed decisions. We're helping farmers drive efficiencies and respond to changing climate conditions such as drought, all while providing high-quality food and beverage products."
Arable's collected data start with an in-field sensor and monitoring device—the Arable Mark. The Mark device collects a wide range of data points on weather and plant health, as well as on soil and irrigation. Data collected by the Mark is automatically transmitted to the cloud, where it is calibrated and synthesized. Arable then transforms the data into insights relevant to agriculture using agronomic models specific to each use case, such as when and where to apply irrigation. Jones says, "We can provide our users with visibility into everything going on with the crop, including current weather conditions and forecasts, plant health, as well as soil and irrigation information. Using Arable, our customers get the advantage of total crop intelligence from one easy-to-use, fully integrated system."
To ensure the data is accurate, Arable validates and calibrates their sensor-collected data against gold-standard equipment. Loreli Carranza, field operations manager for Arable, leads the field testing and calibration. She says, "None of this is possible if we don't prove our data accuracy. The way we validate our sensor accuracy is by colocation with research-grade instrumentation."
Using NEON Sites for Tech Validation and Calibration
"We can place our sensor technology alongside the NEON tower sensors to see how the data compares. It's great knowing that we are getting the highest accuracy possible from the NEON instrumentation." - Loreli Carranza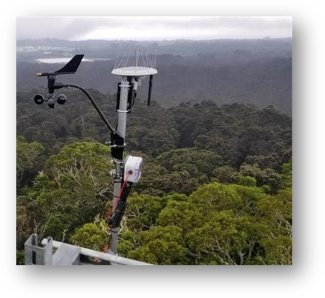 Arable works with a worldwide calibration network (the Cal/Val network) of 50+ sites run by research partners including AmeriFlux, the National Renewable Energy Laboratory (NREL), USDA, the U.S. Forest Service and academic institutions in the U.S. and globally. An Assignable Assets project with the NEON program allows them to fill in some gaps in their ground-truthing programs.
It all started in Hawaii. Arable already had a research site established with the U.S. Forest Service on the "Big Island." One of their technicians suggested that it would be interesting to also test the technology at higher elevations in the Pu'u Maka'ala Natural Area Reserve, where NEON's PUUM field site is located. The project started with a phone call in the midst of the COVID-19 lockdowns. After determining that the site would be a good fit for their calibration network, Arable submitted an Assignable Assets project proposal to NEON.
"NEON goes through strict quality assurance for all of their instrument systems," Carranza notes. "That commitment to quality makes NEON field sites a great fit for our Cal/Val network. We can place our sensor technology alongside the NEON tower sensors to see how the data compares. It's great knowing that we are getting the highest accuracy possible from the NEON instrumentation."
The initial Assignable Assets project started in 2020 to validate Arable's Mark 2 sensors at PUUM in Hawaii, Guánica Forest (GUAN) in Puerto Rico, Chase Lake (WOOD) in North Dakota, and Santa Rita Experimental Range (SRER) in Arizona. The sites were chosen to represent climate zones and landscape types where Arable needed more data. They started a second deployment in 2022 to test their new Mark 3; this project will extend through 2024. The Arable Mark sensing device is mounted directly on the NEON flux towers, which allows data comparison for temperature, wind speed and direction, relative humidity, solar radiation, and other variables.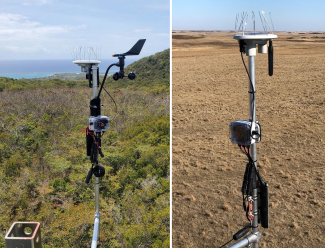 Carranza says that working with the NEON program has been a very positive experience for Arable. "The response time from the NEON team has been outstanding," she says. "They have helped us with sensor placement and troubleshooting at all of the locations. They've really gone above and beyond. Even after the hurricane in Puerto Rico, the first thing they did after checking their own tower equipment was to make sure the Arable devices were OK."
Arable also appreciates the open access to NEON data. Instead of requesting data to be sent manually, they can pull the data they need independently through the NEON Data Portal and API. They also know that the data they are using have already gone through QA/QC, so they can trust the results.
Preparing for the Future of Farming
Accurate, high-quality data is essential to Arable's mission. Data-driven decision-making helps farmers grow healthier crops and get higher yields out of their land while optimizing the use of water, nutrients, and pesticides. Arable's data are also used by agrochemical companies for research and development of new, more sustainable products. Good data will help the agriculture industry prepare for and respond to challenges posed by climate change, water shortages, invasive plants and pests, soil degradation, and changes in land use.
Arable would like to see the work with NEON continue past 2024 and perhaps expand to other locations in the future. "We're always working to make our data better," says Carranza. "We have a product that provides highly accurate measurements for growers. By working with a facility like NEON, we can continue to improve our products and make our models more accurate and precise."