"Relocatable" NEON Field Sites to Be Renamed "Gradient" Sites
August 11, 2021
What's the difference between NEON "core" field sites and "relocatable" field sites? It's been a common question from NEON data users. The term "relocatable" is not entirely accurate for our non-core field sites and has been a source of confusion for users of our resources. To better reflect the scientific intent of these sites and with the concurrence of NSF, the NEON program is changing their name to "gradient" sites.
From "Relocatable" to "Gradient": Why Are We Changing the Name?
When the original plans for the NEON program were developed circa 2000-2006, the vision was that relocatable sites would be, well, relocatable…that is, modular, mobile, and more temporary in nature. While the core sites would be maintained for the entire 30-year duration of NEON operations, the relocatable sites would provide flexibility, allowing the NEON program to move sites every 5-10 years in response to emerging scientific questions or changing ecoclimate conditions within a Domain.
By the time the NEON program went into full operations in May 2019, the plan had changed—for both practical and scientific reasons. In 2006, a Request For Information (RFI) from the ecological community resulted in several conceptual and site-specific questions that could be addressed using gradient sites, which were then evaluated during a weeklong workshop. Key takeaways from this workshop and subsequent data analysis were that relocatable sites should allow for the evaluation of "cause and effect" and thus should have the same instrumentation and observational sampling as the NEON core sites. Instead of creating mobile, stripped-down versions of our instrument systems for the non-core sites, NEON's final approved design in 2009 indicated that these sites were to be equipped with instrument systems nearly identical to those found at the core sites, including full instrument towers for the terrestrial sites. As a result, these sites are not any more "relocatable" than the core sites. However, the name stuck through the transition to operations and first few years of data collection.
Now, we're changing the name to "gradient" sites to better reflect their scientific purpose. Allowing collection of data along various types of gradients (e.g., climate, elevation, or land use) within a Domain was always part of the vision of the NEON program. In fact, "gradient" was one of the original suggestions for naming these sites. Changing our terminology from "relocatable" to "gradient" better represents how these sites will actually be used over the next three decades. This change was made with input from our Science, Technology, and Education Advisory Committee (STEAC) and with the concurrence of NSF.
What is the Difference Between a Core Site and a Gradient Site?
The spatial design of the NEON program includes one core terrestrial and one core aquatic site in each of the 20 ecoclimate Domains (with the exception of D20, in Hawaii, which only has a core terrestrial site). These core sites were selected to represent wildlands or more pristine ecosystems with relatively limited human influence within each Domain. As such, many of these sites are in conservation areas or national parks.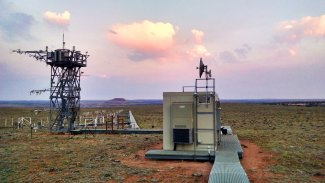 The gradient sites were selected to provide contrasts with the core sites and enable exploration of scientific questions of cause and effect specific to each Domain. A "gradient," in this case, is a range in a driving variable of ecological change that can be measured across a Domain, such as a gradient of nitrogen and dust deposition, permafrost, invasive species, precipitation, or land use. The gradient sites allow us to evaluate how these differences impact ecosystems within a Domain by comparison with the core wildland site.
Aquatic instrument and observation systems are virtually identical between core sites and gradient sites. There are some differences in terrestrial instrumentation between sites (e.g., primary precipitation using a Double Fence Intercomparison Reference (DFIR), shortwave radiation, water vapor isotopes, and sun photometers), which are documented in each of the Data Product Page Descriptions on the NEON Data Portal. More site-specific details are included in the Sensor Position files associated with the data download expanded package. Some terrestrial observational sampling designs (e.g., mammal and mosquito sampling) differ between the core and gradient sites, which are documented within the associated data products' Science Designs and Protocols and Procedures, located on the data product landing pages of the NEON Data Portal.
Some of the gradients represented across the NEON program include:
Rain-snow transition zones (D17, Pacific Southwest)
Agricultural use (D04, Atlantic Neotropical, D06, Prairie Peninsula, D09, Northern Plains, and D10 Central Plains)
Forest Management (D03, Southeast, D05, Great Lakes, and D16 Pacific Northwest)
Permafrost (D18, Tundra, and D19, Taiga)
Nitrogen deposition [D01, Northeast, D07, Appalachian/Cumberland Plateaus, D10, Central Plains, D13, Southern Rockies]
Ecohydrology (D08, Ozarks)
What if Researchers Believe a Site Should Be Added or Moved?
There are currently no plans to relocate core or gradient field sites. Researchers with questions or concerns about the NEON spatial design, however, can always feel free to contact the NEON Science team.
If researchers want to collect data in a place where there is no NEON field site, they can request a Mobile Deployment Platform (MDP)! The MDPs are mobile, highly configurable sensor arrays that can be deployed for Principal Investigator (PI)-led research through our Assignable Assets Program. MDPs can be quickly deployed for specific projects, such as monitoring an environment after a disturbance, collecting data in a rapidly changing ecosystem, or looking at gradients that are beyond the scope of the NEON field sites. The MDPs are typically requested for time periods of a few months to two years.

The MDP instrument systems fit on a trailer for easy transport and can be powered by plugging into the electric grid or hooking up to a mobile generator. Standard instrument systems include:
a 100-foot tower instrument tower;
a configurable array of atmospheric, aquatic and soil sensors (with the ability to incorporate additional instrumentation provided by the PI);
a trailer-mounted mobile instrument hut and power system; and
remote network communication capabilities.
The MDPs use the same instrument systems, processing algorithms, and data quality criteria as the NEON core and gradient field sites, allowing individual researchers to integrate data collected from the MDPs with data from the NEON data portal. Many of the scenarios envisioned for a relocated field site could potentially be supported by use of a MDP.
Will This Change Impact Access to NEON Data Products or Existing and Pending Grants?
We will be taking steps in the coming weeks to remove the term "relocatable" from NEON documentation and data products and replace it with the term "gradient." The names and four-letter abbreviations for the individual field sites will not change. Your access to data from the NEON Data Portal and ability to use data already downloaded from the Portal will not be impacted.
If you have questions about this change, please contact us.