Getting to Know the NEON Domains: Southern Rockies & Colorado Plateau
December 17, 2019
This blog series explores each of the 20 NEON ecoclimate Domains and the field sites within them. Watch for news from our other Domains coming soon!
The Southern Rockies and Colorado Plateau field sites offer some of the most stunning views in the Observatory. But these fragile alpine, subalpine, and high desert ecosystems are also threatened by climate change, pollution and invasive species. The NEON program has teamed up with the Mountain Research Station at Niwot Ridge and other partners to provide new insights into these changing environments.
Defining the Southern Rockies & Colorado Plateau Domain
D13 sprawls across 571,000 km2 (220,000 square miles) of the Southern Rocky Mountains and the Colorado Plateau. The domain includes the mountainous western half of Colorado, southeastern Utah, northeastern Arizona and northwestern New Mexico. This area encompasses two major geologic formations with their own distinct characteristics.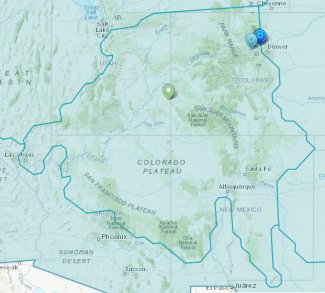 The southern ranges of the Rocky Mountains have the highest mountain peaks in the Rockies, including the dramatic Sawatch, Sangre de Cristo and San Juan ranges of Colorado. The Front Range, where the NEON field sites are located, spans elevations from 5,000 to 14,000 feet (1500 to 4300 m). This rugged region features Alpine Tundra at the higher elevations. The treeless peaks support a variety of grasses, sedges, wildflowers and lichens adapted to the harsh climate, which is cold, windy and covered in snow for much of the year. The high peaks are home to bighorn sheep, pikas and coyotes. A bit further down, the Subalpine ecosystems feature forests of lodgepole pine, subalpine fir, Engelmann spruce, Rocky Mountain juniper and aspen. Elk, mule deer, black bear, snowshoe hares and numerous small mammals live here.
The Colorado Plateau is south and west of the Rocky Mountains, roughly centered on the "Four Corners" region where Utah, Colorado, Arizona and New Mexico meet. The formation covers 336,700 km2 (130,000 square miles) of the southwestern U.S., from the Grand Canyon to the western edge of the Rockies. It is formed by several plateaus of varying elevations, broken by canyons and dramatic rock formations. Most of the region is characterized by a high desert ecosystem with scattered forests and grasslands. Native animals include mule deer, mountain lion, coyote, bobcat and pronghorn antelope.
The Southern Rockies & Colorado Plateau Field Sites
Domain 13 has three terrestrial and two aquatic field sites. (Note: Rocky Mountain National Park (RMNP) is administered within D10/Central Plains, but is included here because it is within the Southern Rockies ecosystem.)
Niwot Ridge and Rocky Mountain National Park are situated along an elevation gradient that also extends down to Central Plains Experimental Range (CPER), part of the Central Plains domain. These sites provide an opportunity to study ecosystem change and monitor the movement of plant and animal species across elevations.
Niwot Ridge Mountain Research Station and Como Creek
Niwot Ridge is the highest field site in the gradient, at 3,500 m (11,500 feet). The sampling plots at the upper elevations of the site are in alpine meadow and tundra. A bit lower down, a few sampling plots are in subalpine forest. The climate here is cold and harsh, with long winters and plenty of snow and wind. Winter snowpack feeds into the watershed for Boulder and other Front Range communities. Como Creek is a headwater catchment stream flowing into Boulder Creek. NIWO is hosted by the University of Colorado-Boulder Mountain Research Station on national forest land. It is collocated with other long-term research programs, including a Long-Term Ecological Research (LTER) network site and a National Critical Observatory Zone (CZO) site.
Rocky Mountain National Park
RMNP is down the elevation gradient from NIWO, at 2,750 m (9,000 feet). CPER lies in the plains below. This is a forested subalpine ecosystem, featuring lodgepole pine, subalpine fir, Ponderosa pine and Rocky Mountain juniper along with aspen, willows and a variety of shrubs, flowers and herbaceous plants. At this elevation, the weather is a bit warmer and the forest habitat supports a different mix of plant, mammal, bird and insect communities. RNMP is hosted on land owned by (but not contiguous with) Rocky Mountain National Park, with distributed field sites located within the Roosevelt National Forest.
West St. Louis Creek
West St. Louis Creek is a mountain stream near Arapaho National Forest, southwest of the NIWO and COMO sites. WLOU is at 3,100 m (10,000 feet) in rugged mountainous terrain near the continental divide. The site is hosted by the U.S. Forest Service at Fraser Experimental Forest, which is used for a variety of research programs focused on forest management, water yield and physical and biological processes in high-elevation subalpine watersheds. The stream flows through a subalpine landscape dominated by aspen.
Moab
MOAB is the Colorado Plateau field site, in southeastern Utah. At 1,770 m (5,800 feet), this is a high desert ecosystem featuring drought-tolerant grasses and shrub-scrub habitat. Pinyon pine and juniper are found at higher elevations. Dramatic sandstone formations punctuate the landscape, including Wilson's Arch and Looking Glass Rock. This is a popular recreation area, drawing more than three million people each year to camp in the desert and hike the canyons. MOAB is open to the public. Cattle are also grazed on parts of the site.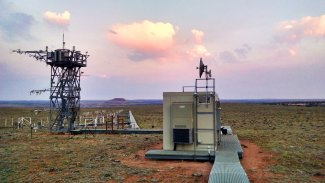 A Mountaintop View of Climate and Environmental Change
The Southern Rockies is an excellent place to study changing climate and environmental conditions. As the climate warms, higher elevations may become more hospitable for plant and animal species from lower elevations, allowing them to move into new territories. A warming climate also impacts the amount of snowpack that accumulates and the timing of snowmelt, with cascading effects all through the watershed. The rugged terrain of the Southern Rockies, which features dramatic elevation differences within a small geographic area, is an excellent place to observe these changes.
The Southern Rockies also provide an opportunity to study other kinds of global changes, such as pollution. Bill Bowman, the Director of the Mountain Research Station at Niwot Ridge, explains, "Alpine systems don't receive a lot of direct human impact like you see in areas with lots of farming or mining. That makes this a very good system for detecting effects of things like climate change or air pollution." For example, nitrogen pollution and acidification are changing the chemistry of alpine lakes and the watershed as a whole. This change reflects a global pattern rather than impacts from local activities.
The region faces another unique environmental challenge: dust. Wind patterns bring in dust made of topsoil and other particulates from the Great Basin and deserts to the west. Disturbances caused by human activities—including construction, recreation, cattle grazing, cropping and oil & gas activity—have greatly increased the amount of dust that settles on the peaks of the Southern Rockies. This in turn changes the albedo (amount of light reflected) of the snowpack, causing the snow to absorb more energy from the sun and melt faster. The NEON project has added dust monitors to the usual array of instrumentation on the towers at NIWO, RMNP and MOAB, along with select sites in the Central Plains and Great Basin domains. 
The NEON field sites in this domain build on decades of research on alpine and subalpine ecosystems. CU's Mountain Research Station, where NIWO is hosted, has supported a variety of alpine research programs since the 1920s. Research spans a broad range of scientific disciplines, including ecology, geology, hydrology and astronomy. LTER established their Niwot Ridge field site in 1980, focused on nutrient cycling, trace gas dynamics, plant productivity and species composition. The Boulder Creek CZO site studies the impact of erosion and weathering on ecosystems and rock properties.
Dr. Bowman says the NEON project adds a much-needed element to the research already conducted at Niwot Ridge. "NEON provides a broader look at some of the things we have been doing for a long time, and adds new types of data," he says. "For example, we have long climate records, but we don't have records on insect or mammal populations. NEON's spatial design and sampling methods also enable us to compare what is happening here to other parts of the country, so we can determine whether our observations are just a local phenomenon or something more regional or global." He says that the NEON project has been a magnet for other researchers interested in exploring the dynamics of alpine ecosystems.
Research on alpine ecosystems is urgent—not only because of the window into global change these systems provide, but because of their direct impact on the surrounding regions. More than 40% of the western U.S.'s water comes from Rocky Mountain snowpack. Changes in snow accumulation and melt timing could impact millions of people who depend on water from the mountains, including the cities of Denver, Phoenix and Los Angeles. Data from the NEON project will help researchers monitor changes in this fragile and critical system.
Check out the accompanying ArcGIS Story Map