Data Impacts for NEON's Sierra Nevada Sites (D17 BIGC, SOAP, TEAK, TECR) due to Excessive Snowpack and Unsettled Spring Weather
June 22, 2023
The winter of 2022-23 brought above average precipitation to all of California, starting in early November (Figure 1). In Sierra Nevada, much of this precipitation fell during atmospheric river events that dropped four to six inches of water (two to six feet of snow) in no more than a few days, with most precipitation falling as snow above 6000 ft. The storms caused extensive damage to roads and buildings, road closures due to excessive snow accumulation or washouts, and low and mid-elevation flooding. High elevation snowpack in the central Sierra is expected to persist into July or later, leading to higher and later than usual peak meltwater runoff, and spring weather has been cooler than average and unusually unsettled. Sierra National Forest roads, where 4 of NEON's sites are located, sustained tens of millions of dollars in damage, and repairs will be ongoing through the summer (Figure 2).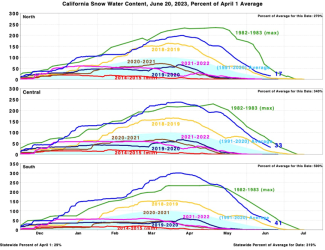 Beginning the last week of December, a series of storms cut off access to all four D17 mountain sites. Above 4000', excessive snow accumulation closed California Highway 168 to all traffic for over a week, cutting off the communities of Shaver Lake and Huntington Lake as well as access to TEAK and TECR. Below 4000', heavy rain caused rockslides that led to the closure of the lower portion of California Highway 168 in early January, also cutting off access to BIGC and SOAP. The lower section of the highway was closed intermittently into early March due to continued slope instability and additional rockslides.  
In February, staff were able to briefly visit BIGC and SOAP and make necessary repairs to infrastructure when the highway reopened during a short window of better weather, but the road to TEAK and TECR remained closed due to avalanche danger and accumulated snow. Subsequent weather and more road closures, as well a complete washout on the access to SOAP and BIGC, cut off access to all sites again from late February until mid-May when staff were able to obtain a road use permit from the Sierra National Forest to access closed roads and begin to assess site damage.  
Many roads continue to be closed to the public, and TEAK is still mostly covered in several feet of snow. We expect road work to intermittently prevent access until repairs are complete. Staff are performing only high priority instrument maintenance, sampling plot maintenance, and observational sampling, to the extent possible. Over the course of the winter, D17 staff have consistently identified priorities, quickly pivoted to address new concerns, and worked under incredibly challenging conditions to deliver as much data as possible. Please see below for additional details, and we will provide an update to this notification once we are able to fully assess damage and resume regular operations. 
Aquatic Observation System (AOS) Data Impacts 
All AOS sampling at TECR was cancelled due to site inaccessibility from December 27, 2022, to May 30, 2023. Upon regaining access to the site, staff found that flows were too high due to snowmelt to safely get into the creek or conduct most sampling, except for collecting a surface water chemistry and microbe grab sample. Flows are forecast to remain too high to conduct our spring biological sampling before the end of the prescribed sampling window in early July. 
At BIGC, all work was cancelled from December 27 to May 10, except for surface water chemistry and microbe samples, a stream discharge measurement, and a reaeration bout collected during a brief window when the site was accessible from February 8 to 20. Flows are also forecast to remain too high at BIGC to conduct the spring biological sampling before the window's end in late June.  
Terrestrial Observation System (TOS) Data Impacts 
Sampling at SOAP typically occurs year-round. Except for a few plant phenology bouts completed during the brief respite in February, all sampling was canceled from December 26 to late April due to site inaccessibility caused by snow and then the complete road washout. The washout became passable in late April to small trucks only, but TOS sampling continued to be cancelled or delayed while we addressed higher priority aquatic and instrumentation work. Sampling finally resumed in early June, coinciding with a later than normal green-up. We have delayed our 5-year chemistry sampling (including roots, soils, litter, and foliage) coordinated with Airborne Observation Platform (AOP) flights at SOAP to 2024, due to the sampling opportunities already missed and continued high risk of road maintenance causing additional cancellations. AOP collected only limited data from SOAP this year due to persistent cloud cover during their scheduled deployment. 
During a typical year, TEAK sampling largely ceases during the winter and commences in early May. Early-season phenology was missed this year since the tree tags were buried, and the first bouts of all other protocols have been cancelled due to several feet of snow covering the plots and only one plowed, paved road being accessible (Figure 3). We expect to cancel or delay most sampling into at least early July and delay seasonal protocols as appropriate. 
Aquatic Instrumentation System (AIS) Data Impacts 
The last successful calibration before the storms hit occurred on December 12, 2022, at BIGC and November 21, 2022, at TECR. Routine access to both sites was cut off from the end of December until early May for BIGC and early June for TECR. Both sites' power-generating Stirling engines ran out of propane while they were inaccessible, which stopped all data collection. Propane delivery remains prevented by a road washout near BIGC and several feet of snow on the road to TECR.  
During a large storm that began on January 9, 2023, several inches of water fell. This warm storm - raining on accumulated snow up to about 7000 ft. - caused BIGC to flood over its banks (Figure 4), damaging both S1 and S2 sensor sets. At this site, the sondes are suspended from an overhead cable on downriggers to accommodate variable flows. Staff were able to access the site on January 31 for an initial assessment and found both S1 and S2 downriggers intact but pushed up on the bank and out of the water. The cables to S1 instruments had been severed, the S1 LevelTroll that measures water depth washed downstream, and one ground water well was compromised by water intrusion due to a failed snorkel cap. On the next visit on February 6, the S1 sonde was put into logging mode to continue data collection in the face of network outages and a full field calibration was completed. The remainder of the damage from the January 9 storm was repaired on February 22, including relocating the S1 LevelTroll and placing it in logging mode.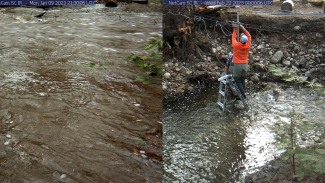 Another series of storms occurred in late February, and we lost access to BIGC due to snow accumulation. Communications were lost with BIGC on February 24 and TECR on February 28 due to snow compromising the communications equipment at both sites. We assume both sites continued to collect data until they ran out of propane to fuel the Stirling engines but will be unable to confirm what data were stored, until we can download the data from the sensors.  
During subsequent storms, two washouts occurred on the road to BIGC. The first washout was somewhat repaired, and staff obtained a road permit for the closed road and drive within a half mile of the site on May 3. On arrival, they discovered that the downrigger that deploys the S2 sensors from the overhead cable had been crushed by a large fallen tree and cables severed, but the sensors were undamaged. The sondes and LevelTrolls were put into logging mode and field calibrated on May 15, and the SUNA will be put on battery power when external battery pack is available. 
Staff were finally able to access the TECR site to assess damage on June 6. Damage so far appears to be limited to on shore infrastructure bent or shifted under the snow: the intermediate power posts and solar panels at both S1 and S2 are leaning downhill, and the met station is bent over (Figure 5). Due to incredibly high flows preventing in-stream work, it is currently impossible to tell if sensors are still present, calibrate them, or put them in logging mode, and a large stump has lodged on the S1 in-stream infrastructure. We will continue to visit the site at a minimum of biweekly intervals until flows have decreased sufficiently to access the sensors and check whether the fiber optic cable has broken, as it has during past heavy snows.  
Terrestrial Instrumentation System (TIS) Data Impacts 
The SOAP and TEAK flux towers experienced minimal damage from the storms, but lack of access and efforts to remove accumulated snow from the instrument hut roof prevented staff from conducting routine maintenance and delayed corrective maintenance. Both towers did experience multiple power outages: longer than usual outages occurred at SOAP from December 30 to January 8 and February 25 to March 1, and at TEAK from January 10-12 and April 28-30. As the towers, unlike the aquatic sites, are connected to line power, inability to deliver propane was not an issue for these sites.  
At SOAP, staff made their last routine site visit on December 28, 2022. They were able to briefly access the site again from January 30 to February 21, 2023, for high priority corrective maintenance, including replacing the Li840 infrared gas analyzer that had failed in mid-December and a mid-level rotary vane pump that failed in mid-January. After that, snow accumulation and the later washed-out road prevented access for the next two months, during which the LI7200 turbulent exchange gas analyzer failed and was remotely disabled on March 14. Staff regained regular access to the site on May 8, when they repaired and restarted the turbulent exchange system and started work on the maintenance backlog, including replacing very wet desiccant and cleaning out through-falls. 
At TEAK, staff removed or disabled the lowest measurement level sensors in late November, as both those and the soil plots are buried by snow every winter. Staff made their last routine visit on December 19, 2022, and snow accumulation prevented their return until January 23, 2023. Although the tower-top CSAT 3D wind sensor began malfunctioning intermittently during precipitation events in early December and the below-canopy phenocam failed due to water intrusion on January 8, staff prioritized removal of the >2 meters of snow accumulation on the hut roof on this visit to prevent damage to the hut infrastructure. Staff were only able to replace the failed sensors on February 15. 
Starting on February 23, storms dropped several more feet of snow, with snow accumulation and avalanche danger preventing staff from returning to the tower until March 27. On February 27, snow accumulation surpassed 3 meters and buried both measurement level 2 and the below-canopy phenocam. The snow eventually compromised the buried sensors, bent the buried boom and boom arm, and pulled the upper winch partially off the tower (Figure 6).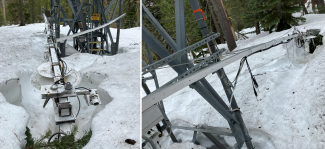 On March 21, the LI7200 turbulent exchange gas analyzer failed, and the Cimel sun photometer cable became caught, preventing the instrument from tracking the full arc of the sun. Staff regained routine access to the tower on March 27, but road conditions limited time at the site. The first task on arrival was to again remove accumulated snow from the hut roof and shovel stairs down to the hut (Figure 7). Once sufficient snow was removed, staff were able to replace the failed LI7200 gas analyzer on April 17 and repair the Cimel on May 1. As the snow has melted, damage to the hut and walkways has been discovered, and the soil plots have yet to melt out and be visited. We will continue to visit the site at least biweekly to perform preventative and corrective maintenance, as needed.