A Change Is Gonna Come: NEON Highlights from ESA/CSEE 2022
September 7, 2022
This summer, more than 3500 ecologists from across North America (and around the world) gathered in Montréal for the 2022 joint meeting of the Ecological Society of America (ESA) and the Canadian Society for Ecology and Evolution (CSEE). Taking place August 14-19, the event was the first in-person annual meeting of ESA since 2019. We were thrilled to participate and have the opportunity to meet NEON data users (and prospective data users) face to face.
The theme of this year's meeting was "A Change Is Gonna Come"—and change is certainly an urgent concern for ecologists. From climate to community composition to ecosystem function, data collected by the NEON program is helping to document ecological change on a continental scale. Several NEON staffers attended ESA/CSEE this year to see what's happening in the ecology community and spread awareness of the NEON program and resources.
Zoe Gentes, Sr. Communications Specialist at Battelle for NEON, reports that the energy at the meeting was vibrant. "People were really excited to be back together in person at ESA for the first time in quite a while. It was great to see so many young people there getting involved, along with more experienced data users."
The NEON booth had lots of traffic, and many were interested in learning about NEON data—especially remote sensing data, plant phenology and structure, small mammals, and more. Others were making connections for future job opportunities. Perhaps we'll see some of them in the field next sampling season!
NEON staff and STEAC members participated in several contributed talks, short courses, and workshops. Here are some highlights.
Building Community Science Partnerships
Marie Faust, Outreach Specialist at NEON, gave a talk highlighting NEON success stories in building community science partnerships ("Building Partnerships and Community Connections Through Integrating Large-Scale, Open Environmental Data and Community Science").
Over the last several years, the NEON program has conducted outreach programs aimed at connecting local community groups to scientists, data, and resources. One of these is a partnership with the American Geophysical Union (AGU) Thriving Earth Exchange (TEX). TEX Fellows at NEON have worked with local communities to develop unique, community-informed uses of NEON data and resources, such as forecasting berry crop futures in Alaska. Other community outreach programs have included providing training resources and data for volunteer restoration efforts, and collecting data on well water quality for Puerto Rican villages. As a result of TEX and other outreach efforts, the NEON program saw a more than 50% increase in community outreach activities over the last year. Faust's talk focused on best practices for developing collaborative community science projects with large-scale open data networks, along with challenges and future directions.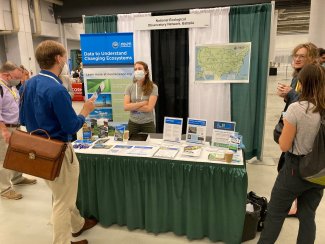 Spreading Awareness for the NEON Biorepository
The NEON Biorepository makes biological samples and specimens collected from NEON field sites available to researchers for checkout. Dr. Kelsey Yule, Project Manager for the Biorepository at Arizona State University (ASU), shared information about the growing natural history collection ("The NEON Biorepository: A Developing Community Resource for Accessing Organismal and Environmental Samples and Data Collected at a Continental Scale").
Since 2019, researchers have been able to check out a wide range of samples and specimens, including bulk frozen mosquitos, prepared small mammal vouchers, aquatic sediments, identified aquatic macroinvertebrates, and surface water and benthic microbes. Yule introduced attendees to the range of taxa and sample types available and provided tips for navigating the data portal for sample discovery, sample data and derived data products. Researchers can use a wide range of terrestrial and aquatic samples and specimens including bulk invertebrates, pinned insects, small mammal vouchers and tissues, microbes, and genomic and environmental samples. She also shared some examples of research conducted using Biorepository samples, which span a variety of themes including macroecology, population structure, microbiomes, microbial ecology, biogeochemistry, ecosystem ecology, and species interactions. Available samples can be explored and requested in the NEON Biorepository data portal.
Results from the EFI-NEON Forecasting Challenge
The Ecological Forecasting Initiative Research Coordination Network (EFI-RCN) NEON Ecological Forecasting Challenge invited participants to make ecological forecasts using NEON data. Dr. Michael Dietze, a NEON STEAC member and professor of Earth & Environment at Boston University, presented findings from an investigation of forecasts submitted for the vegetation phenology challenge ("Multimodel Community Forecasts of Vegetation Phenology: Results from Year 1 of the NEON Forecasting Challenge").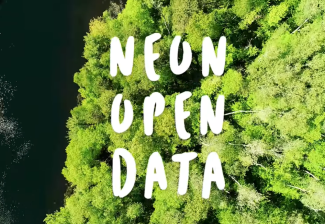 Dietze and his coauthors assessed the predictive skill of forecasts submitted in year one of the challenge, using more than 770,000 submitted predictions from 17 different forecasting models. The models were evaluated using the Continuous Rank Probability Score (CRPS), which accounts for both accuracy and precision. The community-submitted models were compared to random walk and historical means null models. The results suggest that building forecasting models that beat the historic mean remains difficult, especially for iterative models; however, including weather forecast covariates improved predictions. Analyzing the results of the forecasting challenge will provide insights into how different models perform and how ecologists may want to adjust models in the future to increase accuracy and precision.
Using Flux Tower Data to Calculate Carbon Credits
Stefan Metzger, NEON Science Lead for Surface-Atmosphere Exchange, gave a talk about the viability of using flux-tower data to calculate carbon credits for nature-based climate solutions and other carbon sequestration efforts ("From Flux Tower to Carbon Credit – Strengths, Weaknesses, Opportunities, Threats").
Flux towers, like those at NEON terrestrial field sites, provide direct measurements of net carbon, gas, and heat exchange between ecosystems and the atmosphere. Metzger and coauthors have been working towards development of a turnkey Emissions Observation and Data Analysis System (EODAS) that leverages flux towers to measure, report, and verify the climate benefits of decarbonization initiatives. Flux towers could potentially be used to quantify the net carbon sequestration benefits of a variety of nature-based and abiotic mitigation strategies, such as reforestation, land conservation, soil amendments, cover cropping, and Carbon Capture and Storage (CCS). The presentation aimed to start a productive dialogue between the science community, industry, and policy makers to inform future measurement, reporting, and verification strategies for carbon credit programs.