Measuring the Impact of Nature-Based Climate Solutions with Flux Towers
April 20, 2022
Interest in Nature-based Climate Solutions (NbCS) is growing, in large part due to carbon markets that provide incentives to landowners. But how do we know whether a change in land management is producing the anticipated results?
A new paper published in Global Change Biology explores the use of eddy covariance flux towers—such as NEON's—and other measurement methods to get a better understanding of the impact of leveraging nature for addressing climate change: Informing Nature-based Climate Solutions for the U.S. with the best-available science.
What is a Nature-based Climate Solution?
NbCSs are strategies to address climate change that use natural—as opposed to engineered—methods to sequester carbon or reduce greenhouse gas (GHG) emissions from ecosystems. Reforestation—either actively planting trees to replace those cut down in an area or simply allowing nature to reclaim cultivated land—is one well-known example. Other examples include forest and grassland conservation, cover-cropping on agricultural land, restoration of wetlands or other degraded lands, soil amendments, and implementation of traditional indigenous land management practices. Most of these strategies are designed to either increase the amount of carbon stored in biomass or the soil or to protect existing natural carbon stocks, such as intact forests, grasslands, and wetlands.
Image

NbCS can be contrasted with engineered climate solutions such as carbon capture and sequestration (CCS), direct air capture of carbon, or ocean alkalinization. In CCS, for example, carbon emissions are captured from a large industrial point source (such as a power plant), compressed into a liquid, and injected into deep underground formations for permanent storage. Compared to these engineered solutions, nature-based climate solutions are seen as methods that are immediately accessible and extensively applicable to reduce net GHG emissions, though accompanied by generally shorter carbon storage durations and complex accounting. One big advantage of NbCS is that most of the strategies can be implemented by individual landowners with minimal risks and startup costs—and with less technological complexity compared to many engineered solutions. Individual farmers can change their grazing practices or institute cover cropping in the winter. State or local conservation groups can put NbCS strategies in place on the parklands and refuge areas they manage. Many researchers and policymakers believe that using both types of solutions is necessary to meet targets set by the Paris Agreement.
Sustainable Solution or Greenwashing? Measuring Climate Impacts of NbCS
In carbon markets, carbon credits allow large landowners to earn money by implementing restoration or conservation activities on their land. The money may come from government programs aimed at helping the country meet national targets for net GHG reduction set by treaty agreements or law. Alternatively, private companies may purchase carbon credits through various programs to offset their own emissions. In theory, the carbon credit market reduces net emissions by incentivizing landowners to plant trees, restore wetlands, or make other land management changes (often NbCSs) to soak up a portion of the carbon produced by credit buyers.
However, could a landowner who states they are using NbCSs just be posturing as being environmentally conscious, but not actually making any notable impact (known as "greenwashing")? To make a carbon credit system work, there needs to be a method of valuating different NbCS strategies. How much additional carbon would be sequestered, over what time period, by reforesting an acre of land versus developing it—or simply doing nothing? What is the comparative benefit of cover cropping on agricultural land versus turning it into pastureland? How durable is a given NbCS strategy over extended time periods and with a changing local climate? And how do the carbon benefits of a particular strategy vary across site types or regions? These are complex questions, and different accounting methods may produce different answers.
Dr. Kim Novick, an associate professor at Indiana University, NEON STEAC member, and the lead author for the paper, explains, "There has been an explosion of interest in both the public and private sector for nature-based solutions, and there is every reason to expect they will be part of our climate response moving forward. The problem is that we don't actually have a good handle on the realizable potential of these solutions. The success of these strategies very much depends on having a way of quantifying and monitoring the realized climate benefits."
Dr. Stefan Metzger, a co-author on the paper and science lead for Surface-Atmosphere Exchange at the NEON program, says, "Right now, one can pretty much pick the carbon accounting protocol that maximizes financial profit. In some cases, the financial profit may by far outpace the actual climate benefit. Evidence from observations that have not traditionally been used to quantify NbCS, but are rich in information and widely available, promises a path to raise awareness and promote climate effectiveness. Eddy covariance flux towers are a prime example of such untapped potential which can inform attractive yet sustainable return on investment rather than engaging in greenwashing."
Using NEON and Other Flux Towers to Monitor Carbon Cycling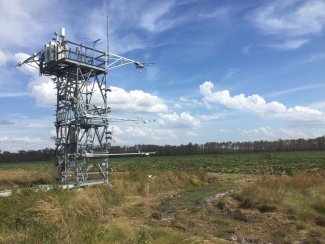 The two most common methods for estimating carbon stored in an ecosystem are tree surveys and soil samples. In forested areas, tree surveys are used to estimate the amount of carbon stored in vegetation; likewise, carbon sequestered in soil is commonly used as a proxy for total carbon sequestration potential for grasslands and agricultural lands. While these methods are useful, they do have some drawbacks for NbCS measurement, reporting, and verification:
They do not look at all of the potential carbon sources and sinks within a landscape; instead, the change in what is usually a single carbon stock (e.g. in relatively shallow soil layers or in aboveground tree biomass) is used as a proxy for carbon storage potential as a whole.
They do not look at other impacts of NbCS, in particular impacts on biophysical processes such as energy and water cycles that create the temperature and precipitation regimes that we live in. These impacts may be positive or negative and provide a broader context in which to weigh the potential benefits or risks of a particular NbCS strategy.
The information provided by these surveys is most useful at the local site level, rather than the landscape, ecosystem, or regional scales more relevant to policymakers. Without additional data points to put the information in context, it is difficult to determine whether a NbCS strategy that has worked on one site is appropriate for another.
In their paper, Novick, Metzger, and their co-authors investigate the use of eddy covariance flux towers to address some of these data gaps. Unlike soil and tree surveys, the flux towers provide direct, real-time measurements of carbon and energy fluxes in a landscape. Instead of waiting several years to compare soil carbon content or tree growth, the flux tower allows researchers to monitor carbon cycling between the landscape and the atmosphere as it happens so they can directly monitor how it is changing over time.
The NEON program operates flux towers at 47 terrestrial field sites across the U.S., representing many different kinds of landscapes, including forests, grasslands, and agricultural lands. NEON also submits the data to AmeriFlux for interoperability alongside several hundred flux towers across North and South America that are maintained by individual investigators. Together, these towers provide critical data about carbon and energy fluxes in different kinds of landscapes and how they are changing over time and in response to changes in climate or land management decisions.

Novick explains, "Flux towers measure most of the components of the water and energy budgets, which makes them exceptionally well-suited for helping us understand the integrated sources and sinks as well as the biophysical impacts. And historically, they have played a really important role in helping to validate and develop mathematical models that can help predict carbon fluxes into the future."
Flux tower data from the NEON program may be especially valuable for building those models because data are collected in the same way at every site. Carbon and energy flux data are collected in parallel with many other types of data at NEON sites, such as meteorological data, vegetation surveys, soil chemistry, and remote sensing data from the Airborne Observation Platform. That allows researchers to compare flux data across sites along with other variables to tease out differences in the way carbon cycles in different climate zones or ecosystem types. Novick says, "The NEON sites are perhaps exceptionally well-suited to function as 'gold standard' datasets for carbon accounting because a lot of that biometric data that is needed for comparability is already being collected."
Flux towers also provide ground-truthing data that can be used to calibrate remote sensing data products and validate carbon cycle models. Satellite remote sensing data could provide data needed to model variations in ecosystem function at the regional and continental scales of most value to policymakers. Metzger explains, "Flux towers could be part of a robust observation system that blends data collection methods, including satellites, airborne remote sensing, human observation and physical sample collection."
Data for Science-Based Climate Mitigation Decisions
A better understanding of how different landscapes respond to different management practices can help policymakers make decisions about the utility of various NbCS strategies at both regional and local levels. For example, large-scale forest regeneration and restoration projects may provide greater net carbon reduction in eastern ecosystems that were originally forested than they do in other parts of the country.
Metzger says that Mobile Deployment Platforms (MDPs)—mobile flux towers—could be used to measure carbon fluxes at a specific site over time, or between "control" and "treatment" sites. When efficiently integrated with other observations, mobile flux towers could even provide a more economical and robust way to measure, report, and verify the impact of carbon credit projects. They could further be used to monitor the impact of engineered climate solutions such as CCS, thus creating cross-disciplinary context for carbon accounting protocols. The NEON MDPs can be requested (at cost-recovery) for specific projects through the NEON Assignable Assets Program.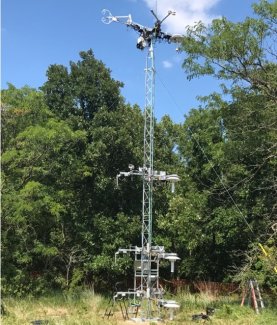 The authors lay out a number of recommendations for closing the data gaps in carbon accounting methods. These include synthesizing data from existing flux tower networks, deploying new flux towers strategically in underrepresented biomes, creating "gold-standard" datasets from representative sites, and using multi-scale data integration to tap carbon information more fully across flux towers, remote sensing, and other observations. Novick says, "If we're going to implement natural climate solutions, we need to inform them with the best available science. We want to use a full set of state-of-the-art measurement and prediction tools to know when and where to implement different strategies and determine which strategies have the greatest overall climate benefits."