AOP Releases Analysis Ready Data to Investigate Scaling
April 22, 2021
Are you interested in investigating spatial and spectral relationships between high resolution airborne hyperspectral data and satellite observations? Using its Airborne Observation Platform (AOP), the National Ecological Observatory Network (NEON) collects high spatial and spectral resolution optical remote sensing data at the NEON field sites. Further details on NEON's AOP and sensors can be found here.
For each acquisition, the AOP collects data over a minimum area of 100 km2 that encompasses observational plots where NEON also conducts intensive field sampling. The AOP collection parameters are designed to allow relationships to be modeled between point scale observations made through the in-situ field samples and the regional landscape observed by the AOP. Regions covered by AOP will also overlap pixels from Earth Observing Satellites (EOS), such as Landsat. As such, the AOP provides an intermediate scale to transfer models derived from detailed point scale field measurements to satellite observations with global coverage.
Timing of AOP flights are constrained by local peak greenness, clouds, and sun angle in addition to local weather conditions. These constraints drive the timing and duration of AOP acquisitions at each of the NEON sites. AOP surveys are conducted during periods when vegetative greenness is greater than 90% of historical maximums, and deployment duration allows a higher likelihood of collection in clear weather conditions. Given these constraints, it is not typically feasible to specifically plan for a co-acquisition with an EOS. Simultaneous coincident collections with EOS may occur, but exact timing and weather conditions may not be ideal.
To address the need for an ideal data set for investigating relationships between the high spatial and spectral resolution AOP data and EOS, NEON conducted a dedicated flight campaign in September, 2020. This resulted in a successful collection of a portion of our CPER field site on Sept. 12th in conjunction with a Landsat7 overpass and on Sept. 13th with both a Landsat8 and Sentinel 2A (Figure 1) . All acquisitions were successfully collected within our normal acquisition criteria and without presence of cloud cover. The AOP overlap with Landsat 7 is sparse due to the scan line corrector malfunction on Landsat 7 (Figure 2); however, a large number of coincident pixels do exist for comparison. In addition to the airborne collections, NEON deployed a ground team to the site each day to collect high accuracy field spectroscopy with a portable Analytical Spectral Device (ASD) field spectrometer over common land cover types including calibration tarps.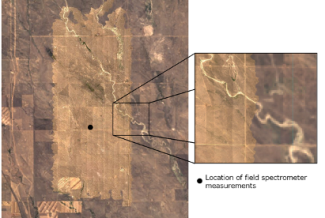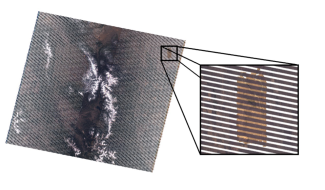 The AOP data for this acquisition are currently available on the NEON portal and can be found together with the AOP data products available in September 2020 at CPER. Note that there was also a regular AOP acquisition of CPER in June of 2020 that occurred during the peak greenness period. The June 2020 acquisition should be used when comparing to previous and future AOP acquisitions of CPER or when comparing with AOP collections from other NEON sites.
To ensure proper identification of the AOP and EOS co-incident collection, the acquisition date can be identified in the filename of the AOP L1 and L2 data products. For example, a surface directional reflectance flight line (DP1.30006) will follow the naming convention NEON_D10_CPER_DP1_20200913_170936_reflectance.h5 where 20200913 (YYYYMMDD) indicates the date it was acquired: September 13th, 2020 and corresponds to the data that overlaps the Landsat 8 and Sentinal2A EOS overpasses. A date identifier of 20200912 will correspond to the Landsat 7 overpass. If L3 data products are of interest, they cannot be similarly identified by date in the filename as mosaic data in L3 products are usually generated from collections that span multiple days, precluding a date from being included in the filename.
Additionally, there were two mosaics created, one from the September 12th data, and one from the Sept. 13th. To access the AOP data that corresponds to the separate dates, the data must be filtered by 'Visit Number' in the data portal prior to download. For this field campaign, visit number '6' and '7' are assigned for co-incident data collections dated September 12th, and September 13th, respectively (Figure 3). Once downloaded, more information on working with AOP data can be found at our data tutorials page. We have also identified the co-incident data collections from EOS, where the corresponding Landsat 7 product ID is "LE07_L1TP_034032_20200912_20201009_01_T1" and scene ID is "LE70340322020256EDC00", while the Landsat 8 product ID is "LC08_L1TP_033032_20200913_20200920_01_T1" and the scene ID is "LC80330322020257LGN00". Similarly, the corresponding Sentinel 2A identifier is "S2A_MSIL2A_20200913T174941_N0214_R141_T13TEF_20200913T221906".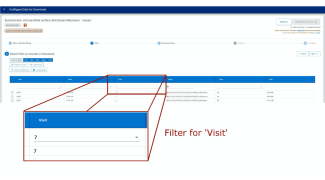 Please contact us if you have any additional questions regarding the data or to access the field spectroscopy data.