SciTeens: Data Science and Ecology for Gen Z
February 10, 2021
Know a teenager interested in ecology and data science? Check out SciTeens – an online learning community created by teenagers for teenagers.
SciTeens is the brainchild of founders Carlos Mercado-Lara and John Sutor, who started the organization in 2018 when they were high school seniors. Their mission is to make free STEM resources – including data science resources – accessible to all students through online curricula, outreach, and mentoring. They leveraged ecological data from the NEON program to create their first data science projects.
Bringing Data Science to Underserved Communities—With NEON Data
John and Carlos went to high school together in West Palm Beach, Florida, where the idea for SciTeens was first hatched. John says, "What we do at SciTeens is promote science to students, especially those who are from traditionally marginalized communities and may not have access to resources for great science fair experiments. Carlos and I were privileged enough to go to a magnet school with great mentors and resources. A lot of high school students don't have access to these resources to make their ideas come to life."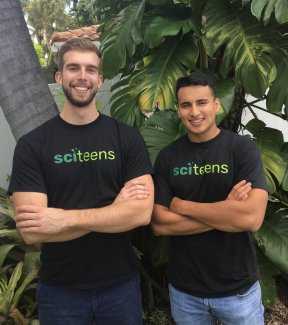 With SciTeens, they are seeking to change that. The site is aimed at high school students ages 14–18 who are interested in developing data science skills. They create data science projects in Jupyter Notebooks, an open-source platform for data analysis, numerical simulation, statistical modeling, and data visualization. Students can download different projects that the SciTeens team pre-populates with data and instructions.
NEON provides a stream of real-world data that students can explore in different ways. John initially ran across the NEON program through a Young Scholars program he participated in during his senior year of high school. Carlos and John developed their first pilot project with the help of Dr. Donal O'Leary, a Research Scientist and Science Educator at the NEON program. They initially rolled out the curriculum to 15 high school students in the summer of 2018.
Carlos says, "So far, we've worked pretty much exclusively with the NEON data in developing the Notebooks." Students use the NEON data to test hypotheses, manipulate data in different ways, and derive information. Population and community composition data are especially well suited to the kinds of data projects students are completing. John explains, "If you're trying to learn data science by just working with pre-engineered data sets, you're not going to learn much, because there is no ultimate purpose to exploring that data. Using data from NEON gives students something real and meaningful to work with. They can learn something about ecology and apply data science skills at the same time."
Virtual Learning Opportunities at SciTeens
Since that initial summer pilot course, SciTeens has grown. They now offer three data Notebooks exploring different aspects of ecology and data science. In 2020, more than 300 students participated in SciTeens projects. The team has expanded to 16 high school and college students who are working together to create new Notebooks and develop additional resources and curriculum materials. SciTeens has also received support from the MIT IDEAS Grant Program, the Yale TSAI CITY Accelerator, and Florida State University.
Carlos and John, now both undergraduates, still provide leadership for the program. Carlos is studying biological engineering at MIT, and John is majoring in mathematics and computer science at Florida State University. They have worked hard to recruit and develop new SciTeen team members. Carlos says, "SciTeens is something that was developed by and for teens. Diversity of thought is really important to us. We're actively bringing on other students, especially younger students, to help. But we'll always be there to support. We love doing what we do."
Image

The SciTeens virtual projects proved to be especially valuable in 2020, when in-person instruction and extracurricular activities were disrupted by the COVID-19 pandemic. SciTeens provides an avenue for students to continue to learn using real-world data in a virtual environment.
For Spring 2021, SciTeens is partnering with Florida State University to offer a virtual Data Science Camp for high school students in Florida. Students will learn how to manipulate and analyze data in the Python computer language and present data at a college level.
In Ecological Data Science Camp, students will explore ecological data from the NEON program and learn data analysis techniques for importing and analyzing ecological data.
In Biological Data Science Camp, students will explore COVID-19 data and learn how to analyze and process open-source data to derive key insights into the spread of the virus.
Moving forward, they hope to get more involved with developing core curricula in data science for high school students. John says, "We want to be part of the curriculum, not an extracurricular. We want to get as many students data literate as possible. Going forward, having data science skills will be so important, regardless of the career path students choose. Students can learn so much by working with the NEON data, even if they are not interested in pursuing ecology. They are still learning how to record, clean, plot, analyze, and build models using real data."
Get Involved with SciTeens
If you or a high school student you know are interested in getting involved with SciTeens, here's how.
Florida high school students can sign up for the SciTeens Spring Data Science Camps through Florida State University. Biological Data Science will run from March 15–19, and Ecological Data Science will run from March 22–26.
High school students across the country can also sign up for SciTeens at any time at sciteens.org. Once students create an account, they can download the Jupyter Notebooks projects, share their projects, and find virtual resources and events. SciTeens is also working on a Mentor Matching program for members.
In the future, they plan to offer virtual data science workshops to students across the country. Check their website for details in coming months.
Carlos says, "It's virtual, it's free, and it's fun. We just want to invite any high school student interested in learning more to sign up."