Pushing the Frontiers of Remote Sensing Science with NEON
December 9, 2021
One of the hallmarks of the scientific method is that when new evidence comes to light, previously held assumptions must be reassessed. That is true of the NEON program, as it is for any scientific endeavor. That's why we work closely with scientific experts in the community, continually examining methods with the goal of maintaining the high standards of data quality, continuity, and repeatability required for good science.
Maintaining such standards sometimes requires making changes to our protocols based on new information provided by our user community or our own scientists. Users were notified of an example of this evolution last year, when previously existing methods that were used to create several data products from NEON's Airborne Observation Platform (AOP) were found to not meet the quality expectations of the scientists at the NEON Observatory and expert users in the community.
Airborne Observatory Platform Complements Ground Data
The NEON AOP provides regional-scale maps of NEON's 81 sampling sites and surrounding areas. The AOP comprises a full-waveform lidar, imaging spectrometer, and high-resolution RGB camera, all mounted in an aircraft that flies at low altitude, allowing the landscape to be captured at very high resolution (\<= 1m2). These sensors acquire very precise data for characterizing the three-dimensional structure and chemical composition of surface features. In particular, the AOP is designed to enable understanding of changes in vegetation composition and function over the 30-year lifespan of the NEON program. In conjunction with field data collected on the ground at each NEON site, AOP data provide unprecedented insight into how our environment is changing in various unique environments across the continent and through multiple decades.
What makes the NEON AOP data so novel? These data are unique due to the breadth of ecosystems sampled, the regular repetition of collections of the same areas through time, the exquisite detail obtained through a low-altitude airborne platform, and the high accuracy of observations attained through rigorous annual sensor calibrations. This is the first project of this scope and scale in the world, and all data derived from the NEON Observatory are freely available globally through our data portal. This unique sampling strategy and attention to quality—combined with an active and engaged scientific user community—foster an environment for transformative science.
The NEON Imaging Spectrometer collects measurements of sunlight reflected from the Earth's surface in hundreds of narrow (typically 5 to 10 nm) spectral channels covering a range of wavelengths from 380 to 2500 nm, well beyond the capabilities of the human eye. These hyperspectral data can be used to identify plant species and communities, map vegetation health, detect disease or invasive species, and map drought and its impacts. To do so, scientists first need to understand how the raw measures of reflected sunlight from the surface translate into more useful information like nutrient concentration. The details of these translational algorithms are an active area of scientific inquiry and, combined with novel datasets like those provided by NEON, are primed to evolve rapidly. We expect that the availability of such a novel dataset will inevitably transform current paradigms, accelerating the scientific community's ability to describe how our planet is changing. Our challenge is in how to respond to new information as the scientific consensus evolves.

Evolving the NEON AOP Data Products
We faced the challenge of incorporating scientific advances into NEON's data products in 2020, when the AOP Data Quality Technical Working Group—a volunteer community of external experts—recommended that NEON suspend delivery of several data products derived from the imaging spectrometer, including total biomass, canopy nitrogen, and canopy lignin products. Their recommendations reflected the first-hand knowledge of these experts from their active research projects and best practices within the environmental remote sensing research community. These recommendations reflected the concern that the existing algorithms could not be reliably applied to the scale of the AOP measurements and across the diversity of NEON sites. Therefore, with concurrence from the National Science Foundation, we suspended publication of these data products a year ago (17 November 2020).
The suspension of these data products does not indicate issues with the quality of the underlying data, but in the application of the available published formulas that represented the current state of the science. The data products will be reinstated once NEON staff are able to leverage community-improved algorithms that apply cutting edge techniques and leverage calibration and validation from NEON-collected field data.
One year after their suspension, these suspended data products were used in a recently published article (17 November 2021), purportedly showing poor relationships to field measurements at a NEON grassland field site. These discovered poor relationships validate our decision to suspend them. It also serves as an unfortunate alert to the ecological community that vigilance is required when using big data, including NEON data. Authors must be aware of the standard data notifications that NEON publishes in all cases like this. This is standard practice across the many scientific communities whose data quality relies on complex data processing and algorithms, which themselves are the products of research. We look forward to the development of new methods for treatment of the raw AOP data to generate the best quality data products, and, once available, we encourage these scientists to reanalyze their ground-based data. There are over 65 peer-reviewed publications that use the NEON AOP data. We encourage researchers to use these data to further explore novel methods and algorithms to tackle the complex environmental challenges the NEON program was designed to explore.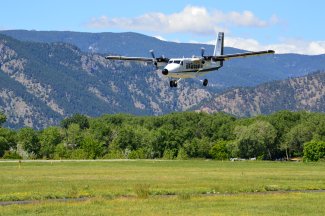 A Continued Commitment to Data Quality
At NEON, we welcome the ebb and flow of scientific advancement and consistently strive to adapt to the rapid evolution across scientific fields. We will continue to work with and collaborate with the user community to integrate exciting new advancements, even if it means changing traditionally held methods and revising data products. Ultimately, this collaborative effort will maximize the utility of the NEON dataset and serve to accelerate answers to the grand challenge questions in ecology.