NEON Remembers Jianwu (Jim) Tang
January 19, 2023
We are deeply saddened by the passing of Dr. Jianwu (Jim) Tang this January. He was a respected senior scientist at the Marine Biological Laboratory, Ecosystems Center (University of Chicago), Woods Hole, Massachusetts. Tang was a creative thinker who always had ideas on how to push our scientific understanding forward. He had a natural ability to discuss complex science and to enthusiastically engage those around him, whether it be an elementary school student or expert. He possessed a gentle spirit and listened to and respected everyone around him. Tang was always eager to help in any way he could, and he saw the value in collaborations from individual research projects, to networks, to the global context.
We want to honor and remember Jianwu by recognizing some of his contributions to the National Ecological Observatory Network. He…
led working groups that envisioned the original NEON design and scientific concepts.
was a leader in characterizing NEON soils across the continental U.S., water release curves through the soil profile, and (novel) diffusivity constants as a function of soil water for >60 sites that span the U.S. and 12 soil orders.
initiated early discussions among Integrated Land Ecosystem-Atmosphere Processes Study (iLEAPS), Cooperation EU/US (CoopEUS), and the World Meteorological Organization (WMO) on the scientific interoperability of data.
led the first discussions on extending NEON- and Long Term Ecological Research (LTER)-like approaches to observe the coastal biogeochemistry and ecology.
was an active community member that acted as a liaison between NEON efforts and those of Fluxnet, AmeriFlux, LTER, and the emergent coastal biogeochemistry communities.
envisioned a global ecological observatory by federating the data from all the large-scale (continental) ecological networks and facilities to advance macrosystem ecology, and by training and mentoring new cohorts of scientists that will tackle unknown ecological issues that will challenge our future societies. This effort is ongoing today in the Global Ecosystem Research Infrastructure (GERI) initiative that Tang was instrumental in creating.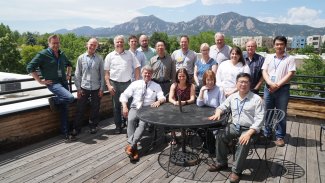 Jianwu Tang's character exemplified the best attributes found in the human spirit and continues to be a yard stick by which others should aspire to. We will miss you, and rest in peace.
By Hank Loescher
Director of Strategic Development, Battelle – Environment and Infrastructure