Getting to Know the NEON Domains: The Taiga
January 3, 2020
This blog series explores each of the 20 NEON ecoclimate Domains and the field sites within them. Watch for news from our other Domains coming soon!
Cold winters, remote locations and plenty of mosquitos—welcome to the Taiga (Domain 19), the largest of the NEON program's ecoclimate Domains. Encompassing the vast interior of Alaska, D19 rewards researchers who venture there with beautiful vistas and plentiful wildlife.
Defining the Taiga Domain
Also known as the Boreal Forest, the Taiga is the largest forested biome on Earth. It is a continuous circumpolar biome that rings the Northern Hemisphere just south of the Arctic Tundra. Covering 17 million km2 (6.6 million mi2) globally, it contains roughly one third of the Earth's total forestland.
The NEON Taiga Domain includes 773,763 km2 (298,751 square miles) in the interior of Alaska, or roughly 50% of the total land area of the state. The northern reaches of the state and western coast are part of the Arctic Tundra (D18) and the southern coast is part of the Pacific Northwest (D16).
This is wilderness area, covered in large stretches of land with no human habitation or agricultural activity. The largest city is Fairbanks, located in the middle of the Domain and home to 31,000 people. There are few roads and most of the other scattered settlements support just a few hundred people. The eastern part of the Domain is transected by the Trans-Alaska Pipeline, which carries crude oil down from drilling locations on the North Slope.
Much of the land is protected national or state parkland or wilderness preserve. Denali National Park and Preserve encompasses 24,464 km2 (9,446 square miles) of parkland and wilderness area in the Alaska Range, including Denali (formerly Mt. McKinley), the highest mountain peak in North America.
The Taiga is notable for its vast spruce forests, which cover roughly one third of the land area of the Domain. Birch, poplar, and aspen also grow here, along with willows, alders, tamarack, and many species of mosses and lichens. Forests are interspersed with grasslands and wetlands where tussocks of grasses and sedges make hiking treacherous. Like the Arctic Tundra, much of the land is undergirded with a layer of permafrost (soil that never thaws), though here the permafrost is discontinuous. The permafrost and layers of thawing and freezing soil allow water to pool and accumulate, creating many wetland areas. Large peat bogs, where slowly decaying organic matter traps huge stores of carbon and methane, have formed over the millennia. At upper altitudes, the ecosystem more closely resembles that of the Arctic Tundra.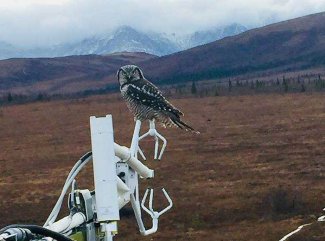 Wildlife is abundant in the Taiga. Moose live here year round, and caribou mostly winter here before heading to their Arctic Tundra breeding grounds. Predators include grizzly bears, black bears, wolves, and foxes. There are also many small mammals, including snowshoe hares, marmots, beaver, arctic ground squirrels, and various voles, shrews, mice, and lemmings.
Winters here are long and very cold, with lows averaging -17°F (-27°C) in Fairbanks in January and frequently reaching -40°F (-40°C) or below. Snows typically start in September and cover much of the Domain through March or April. Temperatures can fluctuate dramatically over the year, with summer highs occasionally reaching the mid 90s F (33°C-35°C). Precipitation is relatively sparse compared to the coasts, with Fairbanks averaging 10.8 in. (275 mm) per year and Denali averaging 15.1 in. (383 mm).
The Taiga Field Sites
Domain 19 has four NEON field sites, including one aquatic site and three terrestrial sites:
Caribou-Poker Creeks Research Watershed and Caribou Creek
The Caribou-Poker Research Watershed hosts a set of co-located terrestrial and aquatic field sites on land owned by the University of Alaska–Fairbanks and the Alaska Department of Natural Resources. Just 35 minutes outside of Fairbanks, the sites are easy to access from the Steese Highway. Poker Flat Research Range, a rocket research range operated by the University of Alaska Geophysical Institute to support research for NASA, is located across the street.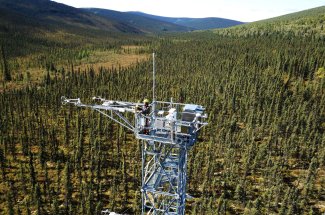 The watershed is a classic boreal forest ecosystem with spruce forests, wetlands, and discontinuous permafrost. BONA takes its acronym from the nearby Bonanza Creek LTER entity, which supports a range of ecological research activities. At 63.6 km2 (24.5 mi2), it is the largest terrestrial field site in Alaska. The land here is fragile, and researchers have built an extensive network of boardwalks to avoid disturbing the moss of the forest floor and melting the permafrost underneath. The CARI aquatic field site is located on a stretch of Caribou Creek upstream from its confluence with Poker Creek.
BONA includes a 17 m (56 ft.) meteorological/flux tower and an instrumented soil array of five soil plots. For observational field sampling, there are 20 tower base plots located in the tower's airshed and 30 more distributed observation plots, along with bird and mammal grids and tick and mosquito collection plots across the field site.
Healy
The Healy (HEAL) terrestrial field site is located on public land managed by the Alaska Department of Natural Resources and surrounded on three sides by Denali National Park and Preserve and just outside the tiny town of Healy, Alaska. This is an Upland Tundra ecosystem positioned above the tree line in the foothills of the Alaska Range. As a result of the elevation, the ecosystem is more similar to the Arctic Tundra, with a few stands of spruce in an otherwise treeless environment and continuous permafrost. The location is most noted for its proximity to the Stampede Trail, where Christopher McCandless died in an abandoned school bus deep in the wilderness—the subject of the book and film, Into the Wild.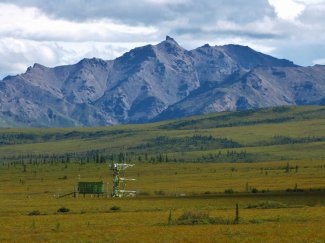 HEAL's nearest research neighbor is Schuur Lab at Eight Mile Lake, where Ted Schuur and his team study permafrost and carbon cycling. The NEON team maintains friendly relations with the Schuur lab team and occasionally pitches in to help with labor-intensive research activities.
HEAL covers 54.2 km2 (17.5 square miles) and includes a 7.9 m (26 ft.) meteorological/flux tower and in-ground soil sensors. For observational field sampling, there are 30 tower base plots established in the tower's airshed, and 30 more distributed base plots, and several bird and mammal grids and tick and mosquito collection plots across the field site.
Delta Junction
The Delta Junction field site is located 161 km (100 mi.) southeast of Fairbanks on land owned by the Federal Bureau of Land Management and surrounded on all sides by Fort Greely, an active U.S. Army base. Fort Greeley is a launch site for anti-ballistic missiles and home to the Cold Regions Test Center (CRTC), where military systems are tested for performance in extreme cold conditions and soldiers conduct training exercises.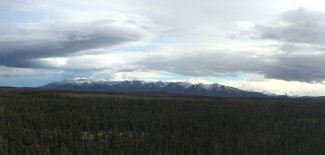 This is the only Taiga field site that does not have an underlying permafrost layer. Tall spruce trees grow here in a thin layer of soil that lies overtop a gravel bed left behind by a prehistoric river. In contrast to the tussocks that characterize most Taiga landscapes, the ground here is flat and easy to traverse. Part of the land has been burned by lighting strikes.
DEJU covers 29.9 km2 (11.5 square miles) and includes a 21.9 m (72 ft.) meteorological/flux tower and an array of soil sensors. In the tower airshed, field scientists have established 20 tower base plots, 30 more distributed base plots, and several bird and mammal grids and tick and mosquito collection plots are positioned throughout the field site.
An Ecosystem on the Edge of a Thaw
Rising temperatures could soon result in dramatic changes in the Taiga. Much of the permafrost throughout the region is now on the edge of thaw in the summer months, with temperatures hovering around 30°F (-1°C). If average soil temperatures continue to rise, many areas of permafrost will soon be lost.
The loss of permafrost is likely to have consequences both for the local ecosystem and for global climate. Permafrost imposes limitations on plant rooting and animal burrowing that influence the species distribution in the Taiga; one of the primary reasons that spruce are so dominant is because they grow well in the shallow active soil layer over the permafrost. As the permafrost disappears, it will create opportunities for other species to move into these areas, which will disrupt the current ecosystem balance. Rising soil temperatures also increase microbial activity and decomposition rates. The net effect of these changes could result in significant changes to fragile Taiga ecosystems.
Many climate scientists are also concerned about the impact that losing permafrost will have on the rate of global climate change. Billions of tons of carbon (CO2) and methane are currently locked in permafrost globally. As soil and peat bogs thaw and decomposition takes place, these greenhouse gases will be released into the atmosphere.
Invasive insect species are also changing the Taiga. These insects and the pathogens they bring put boreal forests at risk for major tree die-offs. Because the Taiga does not support much biodiversity, a pathogen that targets spruce, for example, could easily wipe out large tracts of forest.
Wildfires are another growing concern. Warmer, dryer summers and dead plant matter resulting from tree die-offs create conditions in which forest fires can start and spread more easily. These fires also release large quantities of greenhouse gases into the atmosphere.
Climate in the Taiga is changing much faster than the global average. Data from the NEON project will help researchers monitor these changes and study their impact on Taiga ecosystems. NEON data will also provide added context for other research projects in the Domain, such as permafrost monitoring.
Check out the accompanying ArcGIS Story Map