Getting to Know the NEON Domains: Central Plains
February 4, 2020
This blog series explores each of the 20 NEON ecoclimate Domains and the field sites within them. 
In the middle of the country, you'll find a land of windswept prairies, cattle ranches and enormous fields of wheat, corn, sorghum, hay and alfalfa. This is the Central Plains (Domain 10), where agriculture rules. At the D10 field sites, colocated research and partnerships with site hosts, including the U.S. Department of Agriculture (USDA), are providing new insights into the impact of agriculture and land management practices—especially when it comes to cattle ranching.
Defining the Central Plains Domain
The Central Plains stretches across eastern Colorado, western Kansas and parts of Texas, Oklahoma, New Mexico, and Nebraska, encompassing 402,080 km2 (155,240 square miles) east of the Southern Rockies and west of the Ozark Plateau.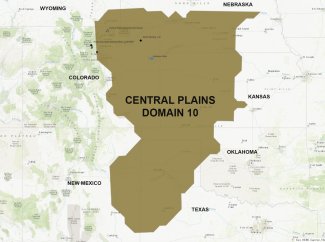 The landscape is mostly flat, transitioning to gently rolling hills in central Colorado. The climate is dry and temperate and can experience great extremes in temperature across the seasons. Historically, this area was covered in shortgrass and mixed grass prairie, characterized by vast expanses of perennial grasses and wildflowers, including drought-tolerant plants such as blue grama and buffalograss, prickly pear cactus and mesquite, a shrub that is native to the southwestern U.S but is now considered invasive in the Central Plains habitat. These grassland ecosystems provide habitat for wildlife such as pronghorn antelope and deer along with numerous small mammals, reptiles and a high diversity of grassland birds. These prairie ecosystems were historically maintained as grasslands through large herbivores such as American bison and elk interacting with periodic fires.
Now, most of the Central Plains has been converted for agriculture and human development. Less than 5% of the native prairie ecosystems remain, and the bison have been replaced by cows. A large percentage of the U.S.'s small grains come from this region. But it is cattle that may have had the greatest impact on the landscape. Both the dairy and beef industries have a huge presence here. Large areas of land are devoted to cattle ranching and grazing. Many of the field crops—such as hay, alfalfa, millet and corn—are grown to provide feed to cattle.
Cattle grazing and large-scale row farming both have significant impacts on the local environment. All of the field sites in D10 are on lands impacted by agricultural activities. USDA and other researchers are investigating land management practices to identify the most sustainable way to produce the dairy, meat and grain crops we all depend on.
The Central Plains Field Sites
Domain 10 has two terrestrial and one aquatic field sites. (Note: Rocky Mountain National Park (RMNP) is also administered within D10, but is part of the Southern Rockies ecosystem.)
Central Plains Experimental Range
The core terrestrial field site at Central Plains Experimental Range is hosted by USDA. The northern Colorado site has been used for agricultural studies since the 1930s, when the Dust Bowl drove many farmers out of the region and created a new urgency for understanding sustainable agricultural practices. It is now a Long-Term Agroecosystem Research (LTAR) site for USDA, part of a network of sites investigating sustainable agricultural practices. USDA programs here are focused mainly on cattle ranching, with plots subjected to different land management practices and varying grazing intensities and strategies. It was previously an International Biological Program (IBP) site, representing the North American Grassland in the network from 1964-1974, and a Long Term Ecological Research (LTER) site from 1982 to 2012. These prior long-term research programs provide an excellent historical base for the ecological data collected by the NEON project.
North Sterling
North Sterling, 100 miles to the east of CPER, is hosted by a private landowner with a strong interest in soil science and sustainable agriculture. The family farm has been in operation for nearly 100 years. Currently, the farm supports a mix of cattle grazing and field crops, primarily wheat, millet and hay. The site provides a contrast to CPER, which is only used for grazing. Active tilling, planting and harvesting create quite a bit of ecological disturbance, leading to a more abundant population of small mammals and greater diversity in beetles than is found at CPER.
Arikaree River
The Arikaree River was once a major waterway flowing through the plains of northeastern Colorado. Large water withdrawals for agriculture have now reduced it to a stream, with highly variable flow rates across the growing season. The Arikaree is also impacted by agricultural runoff and cattle grazing. The NEON field site is hosted by The Nature Conservancy, which conducts extensive research at the site on invasive weed management, sustainable grazing practices and native landscape management. Cattle graze freely on surrounding pastureland and also have free access to the stream here, providing an opportunity to investigate their impact on the aquatic ecosystem.
Long-Term Partnerships Explore Sustainable Ranching Practices
Together, these sites provide three different windows into the impact of cattle ranching on Central Plains ecosystems. The long-term partnerships that the NEON project has established at each site deliver synergies that advance the research aims of our hosts and create added value for the data collected at the NEON field sites.
The partnership with USDA at CPER exemplifies these benefits. Dr. Justin Derner, Research Leader for the USDA Rangeland Resources & Systems Research Unit and Director of the Central Plains Experimental Range site, is excited about the potential of the collaboration. He says, "We are thrilled to host the NEON project at our site. The collaboration allows us to co-leverage each other's strengths and take advantage of complementary streams of data. NEON provides foundational long-term meteorological and biophysical data, and we focus on applied land management research. Together, this will give us a better understanding of the ecosystem as a whole and how different grazing practices impact the environment."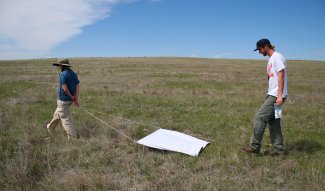 USDA and the NEON project will be working together at CPER for decades to come. Two other NEON field sites, Jornada (JORN) in New Mexico and Northern Great Plains Research Laboratory (NOGP) in North Dakota, are also hosted by USDA.
At CPER, USDA maintains defined pastures and plots that are subjected to different grazing and management practices, including high-intensity to low-intensity grazing. USDA already uses eddy-covariance monitors to measure the exchanges (fluxes) of energy, trace gases and carbon between biological systems and the atmosphere. They also measure soil moisture and soil carbon at several plots. The NEON flux tower and soil instrumentation fill an important data hole for USDA in a lightly grazed area of the facility. The NEON project also collects many data types throughout the field site that USDA does not. For example, small mammals are an indicator species for ecosystem health, but USDA does not monitor small mammal populations. Co-locating the NEON and USDA projects allows both organizations to take advantage of each other's infrastructure and data streams.
Dr. Derner says, "The collaboration between NEON and USDA at this site showcases what is possible when two programs come together to address key challenges for society. As the population grows in coming decades, there is going to be increased pressure to ensure that our lands continue to provide all of the ecosystem services we want from them, including economic value, clean air and water, wildlife habitat, recreation and aesthetic value. We need to ensure that lands used for agricultural production are managed sustainably so they enhance the vitality of our ecosystems over the long term."
Check out the accompanying ArcGIS Story Map