Domain Digest No. 3: Winter Across the Observatory
January 27, 2022
Have you ever wondered what happens across NEON as winter settles into our colder Domains? Our field staff are still hard at work to keep our open data flowing. In this blog, a handful of our field staff share their experiences and incredible surroundings. Take a look at what NEON life and operations are like during these snowy months.
Domain 01 – Northeast
During the winter, Domain 01 is busy preparing for the 2022 season: scheduling, hiring TFTs, planning trainings, and updating lab practices to improve efficiency and maintain data quality. Northeast field ecologists are also still sampling water chemistry through the ice at Hop Brook (HOPB) in MA. Our IS team is maintaining sensors at ground and tower level in MA and NH.
Our insect technician Emily Enloe is identifying and pinning beetles from the 2021 field season. She has completed pinning all of the beetles from our HARV collections in 2021 - 10 plots throughout the Quabbin Reservation, 3 pitfall traps per plot, 10 collection bouts in 2021. Each beetle has a locality label that allows the specimens to be arranged by taxon while retaining important collection information. She is currently working on beetles from BART collections.
When both sites are complete, the specimens will be sent to the NEON Biorepository at ASU. We have already shipped plant voucher specimens, and genetic archive samples from 2021 to the Biorepository. – Juliana Webber, NEON technician
Domain 05 – Great Lakes
Although the Domain 05 field sites are tucked in for winter under a thick blanket of snow, our field ecologists have been busy behind the scenes. We take turns completing biweekly preventative maintenance bouts at our three tower and two aquatic sites. This mostly consists of brushing snow and ice off solar panels and cleaning sensors.
Snowmobiling is now our mode of transportation to field sites. Lake ice continues to form and is 40 centimeters and growing. This means that water chemistry sampling will resume shortly.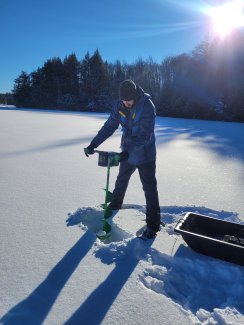 It may be hard to believe now, but in just a few short months all our snow and ice will be melted and the 2022 field season will be under way. – Aaron Schoofs, NEON technician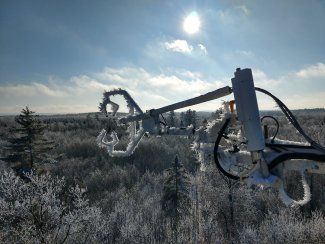 Domain 12 – Northern Rockies
Winter has settled in, and although we have less field work to complete in the Northern Rockies Domain, we are still keeping busy. Sometimes winter driving conditions prevent us from getting to the sites, but we can plan around that. Most of the traffic in Yellowstone this time of year consists of government vehicles and wildlife tours. Because elk migrate to this area in the winter, many wolf packs can be seen in the Northern Range as well. When we hear the coyotes or wolves howling, we stop and take it all in. It's been a warmer winter for us so far, which has been a treat, with only one very cold field day.
The Yellowstone tower site (YELL) is located in a Bear Management area, so we don't have access to that site from March 10 through June 30. The bear management areas in Yellowstone were established where there is high density of bison and elk carcasses and lots of bear activity. In preparation for the limited access to our tower, we are working hard to make sure the tower is working properly; we do preventative and corrective maintenance at the tower on a biweekly basis.
At our aquatic site, Blacktail Deer Creek (BLDE), we collect Surface Water Chemistry about once a month throughout the winter. This year, ice cover on the creek is a little thinner than years prior; it often can hold the weight of bison crossing. We complete some sensor maintenance at the creek if we have any issues with our Groundwater wells and meteorological stations.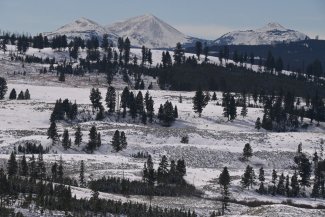 We work hard in the lab, too. Jarret Jamison, the Domain 12 botanist and entomologist, has been IDing Yellowstone 2021 beetle collections. We are all also planning out sampling for the upcoming field season. In the Bozeman office, we are working inventory, ordering, scheduling, and interviewing TFTs. We are looking forward to the spring and bringing on seasonal staff to have another wonderful field season.
If you want to check out conditions at Domain 12 sites for yourself, you can check out these phenocams: NEON.D12.YELL.DP1.00033, NEON.D12.YELL.DP1.00042, and NEON.D12.BLDE.DP1.20002. - Andrew Stimetz, Senior NEON Technician
Domain 18/19 – Tundra and Taiga
The D18/19 office in Fairbanks experiences a substantial winter season that lasts six months; there is snow on the ground consistently from October through the end of March. While our southern sites at Healy (HEAL) and Delta Junction (DEJU) are situated just north of the Alaska Range and are often very windy, Fairbanks doesn't get much wind most of the year.
Snowfalls typically stick around all winter, so locals can expect five or six months of skiing and maybe four solid months of conditions conducive for transport via snowmobiles, or snowmachines as they are locally called. We plan our fieldwork around the limited daylight, reliable from 10am through 3pm. The sun doesn't rise on our D18 tundra sites for about a month each winter.
Although January is the coldest month in Fairbanks, we are still hard at work. The TIS field ecologists Dan Pyle, Dean Lambert, and Jeb Timm – with the help of TOS Field Ecologists – visit the D19 towers often to perform regular preventative maintenance: wiping snow off sensors, collecting wet deposition sensors, replacing pumps, fixing tower hut heaters, repairing communications, and generally keeping the data flowing.
We're also still collecting Observational data. Our AOS and AIS Field Ecologists Josh Monroe and Eli Gomez conduct Surface Water Chemistry, Surface Dissolved Gas, Aquatic Stable Isotopes, and Aquatic Microbes protocols once per month throughout the winter season at the D19 aquatic site Caribou Poker Creek Research Watershed (CARI). We have studded tires on our work trucks, we trailer snowmachines to our field sites, and we regularly work in cold temperatures. We're also still working and preparing for some of our Assignable Assets projects that are upcoming.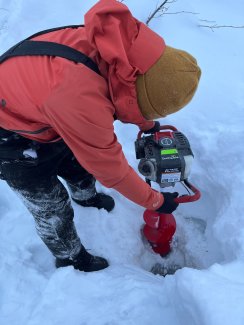 We live in an area that is especially beautiful in the winter. It is common to see dog mushers exercising their dogs when we visit our Healy tower, and we sometimes capture the local caribou herd ambling by. – Will Hendricks, Senior NEON Technician