AGU-TEX: Citizen Scientists in Wisconsin Tackle Invasive Plant Monitoring
September 1, 2021
Community members in northern Wisconsin are learning how they can help monitor and control the spread of invasive plant species in their local area. A July 2021 workshop was organized by Ashley Spink, a senior field ecologist for the NEON program, in collaboration with the Wisconsin First Detector Network (WIFDN), the Wisconsin Headwaters Invasive Partnership (WHIP), and other state and local organizations. It was supported through NEON's partnership with the American Geophysical Union's (AGU) Thriving Earth Exchange (TEX) program.
The Invasive Plant Problem: Why the Science Community Needs Volunteers
Invasive plants are a large and growing problem in northern Wisconsin, as in many ecosystems across the U.S. Non-native plants such as Japanese knotweed and honeysuckle can become established and spread very quickly, crowding out native plants and threatening habitats for native animal species. Most State Departments of Natural Resources (DNRs) have limited budgets and staff to devote to monitoring and controlling their spread.
Ordinary citizens can help by learning to recognize damaging invasive plant species, reporting their location, and taking action alongside researchers and DNR officials. Invasive species are often a particular problem in areas disturbed by human activity, including backyards, vacant lots, roadsides, and parklands. Community members can expand the reach of scientists and their state DNR by simply monitoring the spaces they already walk past or through every day. The goal is to identify areas where invasive plants are taking root before they have a chance to propagate, an approach known as "early detection and rapid response."
Spink explains, "One of the core principles of invasive species management is detecting species early, before they grow into huge populations. When they reach that point, they are much harder to manage or eradicate. The Cooperative Invasive Species Management Area groups have limited staff and resources, so they rely on volunteers to expand their monitoring efforts." Cooperative Invasive Species Management Areas (CISMAs) are partnerships between local, state, federal, and tribal organizations for management of invasive plant species. In Wisconsin, each CISMA covers several counties.
To make citizen science programs for invasive species monitoring effective, people need to have some training so they know what to look for and can make an accurate identification. That's where workshops like the one Spink helped organize come in.
Early Detection with Citizen Scientists (and a Really Cool App)
The Invasive Plant Workshop was held July 16, 2021 at the North Lakeland Discovery Center in Manitowish Waters, WI. Spink coordinated the event along with Rosie Page, Coordinator for WHIP, and Anne Pearce, Coordinator for WIFDN. Additional support was provided by the Lumberjack Research Conservation and Development Council.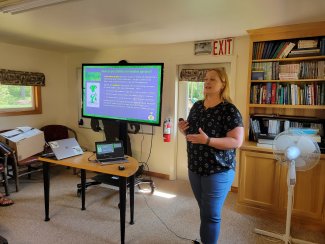 The workshop attracted about a dozen participants, including members of WHIP, WIFDN, and TEX along with interested community members. While some had some previous experience in natural resource management, others were simply interested landowners and laypeople.
Participants learned about the most problematic invasive species found in the Northwoods area, including giant knotweed, Canada thistle, purple loosestrife, and common tansy. A local landowner and WHIP volunteer, Ann Mawicke, shared her experiences with WHIP and how she is monitoring and managing invasive species on her own land.
Participants were also introduced to the EDDMapS invasive species mapping system, including the Great Lakes Early Detection Network (GLEDN) app. Volunteers use the app to report the identity and location of invasive species they discover in their communities. The data feed into a mapping program that allows researchers and land managers to monitor the spread of invasive plants in the Great Lakes region and prioritize management efforts. Participants for this event were only asked to monitor and report target invasive species, though they did also learn some control measures they could apply on their own properties. Pearce says, "We're thrilled to have new participants join WIFDN's ongoing efforts across Wisconsin, where they'll add to the nearly 5000 invasive species records submitted by volunteers each year."
Spink says, "The hope is that these data visualization tools will not only help the CISMAs, but also help to get more landowner buy-in for invasive species management programs. We're working to build awareness of the problem so more people can recognize invasive species and be inspired to take steps to manage them on their own land."
In Northwoods communities, natural resource decisions are often made by local elected officials, all with different professional backgrounds. CISMAs like WHIP help these decision-makers manage their lands by providing information about invasive species that are spreading in their area and why it's so important to control them. Page says, "if we can meet with a local town board and tell them all about a high-priority species like wild parsnip, that's great, but if we can show them on a map exactly where wild parsnip is being reported, and where it's likely to spread next, that's so much more effective. I'm looking forward to the mapping possibilities that can come from working closely with TEX and NEON."
The Thriving Earth Exchange (TEX) and Community-Based Science
Spink got involved with the project through her NEON work with the AGU's Thriving Earth Exchange (TEX). The TEX program seeks to connect communities with scientists to support community-based programs that address local environmental, ecological and climate-based challenges. Their highly local, community-driven approach brings non-scientists and scientists together in "community science" projects with real-world impact.
Spink is one of nine TEX Community Science Fellows at the NEON program. Community Science Fellows act as liaisons between local communities and scientists, working with communities to understand what issues they would like to solve and then finding scientists with the right backgrounds to work with them.
This year's TEX-NEON Community Science Partnership was launched in February 2021. NEON Community Science Fellows are working with TEX to create community programs within their Domains. Spink's project is the first of these to come to fruition. Spink says, "I got involved with TEX because their mission of bringing scientific expertise into local communities was something that really sparked an interest in me. I am very passionate about environmental data collection, but data is only as good as the uses it is put towards. To see environmental data put to use in the local community is really exciting."
The workshop is just the first step. Spink hopes to take the project further with additional educational events over the next several months to get more community members involved. She is also interested in exploring ways to connect data collected by community volunteers with data collected at the NEON field sites.
As a long-time Wisconsin resident, Spink's interest in the project is personal as well as scientific. She has lived in Wisconsin her whole life and in the Northwoods area for the past eight years. "Our area has some pretty amazing natural resources," she says. "There are a lot of untouched wild areas, with lakes and forestlands…it's really beautiful. My research focus has been on wildlife, particularly invertebrates and small mammals, so working on this project has given me the opportunity to learn more about invasive plants. It's really gratifying to be working with a local community that is so passionate about preserving the native beauty we have here."