Women in Ecology – Shalane Frost
March 28, 2022
In the field of ecology, practical skills are just as important as the academic contributions provided through research and data collection. The NEON program enables ecologists to explore and hone the important skills needed to accelerate discoveries that advance the field.
For this month—Women's History Month—we spoke with Shalane Frost, one of NEON's assistant Domain managers for field operations in Alaska, about her unique career path and balancing her ecology studies with her athletic career. Frost believes that a career in ecology should not be one-size-fits-all, and that people in STEM—especially women—should feel empowered to explore a variety of paths that incorporate ecology into their academic and professional journeys. One of the reasons Frost enjoys working for Battelle is the broad range of technical capabilities the company has within the NEON program, and what that means for career development opportunities in both the short and long term.
What inspired you to become involved in the field of ecology?
I've always had a general interest in the outdoors and how the different components of our environment interact. Eventually, this evolved into an interest in supporting science.
Please tell us a little about your career path.
I grew up in Canada and moved to the United States after being recruited by the University of Virginia on an athletic scholarship. I had my sights set on the Olympics at the time – rowing was my sport. Because of Title IX, the scholarship opportunities in the U.S. eclipsed those in Canada for female NCAA sports. I didn't originally see value in selecting a prestigious university because my plan was always to return to Canada. I picked the school with the fastest Division 1 team, studied ecology since I was always interested in it, and off I went.
After three misses at the Canadian national team, I completed my undergraduate program and enrolled in a field experience course in Arctic Alaska—it ultimately inspired me to stay. There were a variety of field jobs to start out with—forestry surveys, GIS, vegetation, and soil sampling. Over time, my role leaned more and more toward planning, logistics and general science support—essentially toward supporting research rather than doing it. I liked this, and eventually my role was mostly supporting researchers at the University of Alaska-Fairbanks, figuring out the logistics and resources they'd need to make their field seasons successful. This is tough in Alaska—there's a lot that goes into ecological data collection in remote locations. Now, I've been at NEON for five years. One of the reasons I enjoy working for Battelle and see myself staying is the broad range of technical capabilities the company has and what that means for career development opportunities beyond just the NEON program.
Who were your most important influences/mentors in ecological science?
I had a supervisor at the University of Alaska-Fairbanks that demonstrated the value of lateral skill-building. When most folks get into ecology, they view academia as the end game, but there are several career tracks; academia is just one of them. If you have baseline ecological knowledge and you supplement with several other relevant skills, your skillset can be way more valuable and marketable in ecology. To build that in myself, I started taking courses at the university that were available to employees. I started with computer science. After learning my first few programming languages—I felt like someone had given me the keys to the city. That combination of ecology, tech, and programming seemed powerful, and it helped me think through unique challenges like how to enable entry-level ecological field data collection through data-driven apps. My mentor really showed me a path that was different than what many people in my field envision for themselves.
I did get briefly lured away at one point; I spent a year working a private sector tech job in utility infrastructure. It was great paying, but wasn't challenging in the way I was looking for. When I reentered science support, I actually started working part-time for the University of Alaska Fairbanks again but solely doing app development, while I did other things on the side to build my skillset so I could pursue more in tech.
What challenges do you think women may face getting into STEM fields? Have you experienced or overcome any of these?
I'm struggling to give a gendered answer because I wouldn't say my own experience has been gender specific. There are many challenges and pitfalls that anyone can easily fall into. Those with really high emotional intelligence can easily get caught up in thinking about others' motivations for taking certain actions, and those who are more analytical tend to look at actions more objectively – that is, just concentrate on their outcomes. I think that a lack of either will handicap you professionally, but they'll handicap you at different times in your career. At the beginning of your career, when your contributions will tend to be more technical and centered around execution, that emotional churn can really derail you. Once you get to the point of managing people, if you're on that track, then that's when you really need to lean heavily on that emotional intelligence. It may be that people who are more emotionally keyed in to those around them fall into the first category, making it harder to get a foothold in entry-level STEM.
How can research and educational institutions inspire more women to study fields in ecology?
First, I think that academic institutions can emphasize that GPA is less important when job hunting; that's the metric in school, but not the metric in work. Second, it would be modeling alternative degree timelines and combinations. For example, if you already have a degree in communications and want to want to add science to your portfolio, you can do other things besides starting in on a 4-year degree. Maybe you'd be best served with a certificate program or even just participation in a citizen science project. Third would be seeking other methods of exposure. NEON data could be used to demonstrate data manipulation techniques in an ecological context, for example.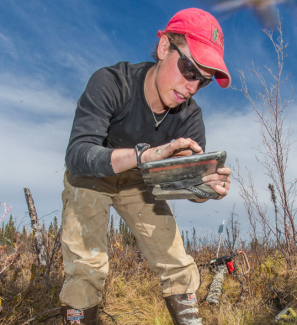 Tell us more about your current work and/or new projects?
In my current role with NEON, I'm the assistant Domain manager for field operations in Alaska, and my job is to facilitate the field ecologists' ability to collect data. Day to day, this looks like doing a lot of the administrative work, hiring seasonal technicians, making sure that different contracts are in place for our lodging and our consumables, managing budgets, and helping to develop schedules since we typically schedule over a year in advance. Ultimately, I manage field ecologists and help to make sure that everybody is shooting for the same targets.
What do you hope to accomplish in your current role?
I'm very excited to help facilitate the shift in thinking regarding what it takes to be a field ecologist. Our seasonal technicians are focused on following specific NEON protocols in the field so that any data collected is standardized and comparable, but field ecologists have a hybrid role to not only making sure technicians are following protocols, but also positioning them for success—it's a mindset shift. For example, when the COVID-19 pandemic hit we had to completely rework our operations. I'm looking forward to training folks to think outside the box and get creative with their logistics because once everyone in the field has been trained to see things from multiple angles, they can exercise better judgment in moments when you don't necessarily have to follow the established plan.
What is the most satisfying part of being an ecologist? What is the most challenging?
I'm hoping that my more meaningful professional contributions are yet to come. So far, I've derived satisfaction from using technology to allow for more entry-level exposure to ecology. For example, when I worked for NSF's Long-Term Ecological Research program (LTER) I built iPad-compatible data collection apps that can walk users through complicated collection protocols in a way that allows them to catch protocol errors. We have a lot of that capability at NEON now, but at that time 8-9 years ago it was cutting edge and allowed us to set up a rotating cast on complicated programs with minimal training. It democratized skills to less trained individuals by automating what's automatable.
What tips or advice would you share to women as they enter STEM fields?
First, and as said before, you don't need to be on the Ph.D. track. A high GPA isn't a metric of future success. Focus on gaining practical experience, then talk about that on your resume.
Take advantage of employer tuition credits and the like. A continuing education mindset will be required to advance, as will learning how to juggle extra-curricular learning on top of your day job. You'll need both to stay competitive with all the smart folks around you, but that's part of the fun.
And as with any career, I think it's important to have other pursuits unrelated to ecology that could constitute success for you. For example, at work I've participated in Battelle's IRAD program, and I received micro-IRAD funding last year to prototype a piece of arctic winter gear for military troops deployed to cold regions. Outside of work, I'm into winter endurance racing—I've been a competitive Nordic skier for the past 10 years.