Women in Ecology – Nidhi Vinod
March 29, 2023
Women pursuing STEM often find themselves pioneering their own path forward due to the lack of representation in prospective fields. As we have learned from our Women in Ecology series, scientists routinely showcase how crucial it is for women in STEM to have a diligent belief in themselves to pursue their passion and bring diverse ideas to the field of ecology.
Plant scientist Nidhi Vinod, Ph.D. student at University of California - Los Angeles, is an incredible example of what it means to be a successful scientist who has overcome barriers in her field. In interviewing her, we learned of the societal and financial pressure she faced in paving her path forward in the field of ecology, how intertwined her relationship with her ancestors and spirituality is with her love for ecology, and the work she is doing – some utilizing NEON data – to contribute to ecology worldwide.
Can you tell us about your career path? What inspired you to become involved in your current research/field?
My career path was not linear. I grew up in India, raised by my family who were farmers for many generations. With my family's lives based upon ecology and growing up surrounded by plants, nearly every conversation revolved around plants and the forest, so studying ecology felt like the most natural thing to pursue.
There was little opportunity in India to study ecology, as there was societal pressure to focus on different career paths such as medicine and engineering. However, I have always been drawn to studying plants and how humans use them. Subsequently, I spent two years traveling across Central America and Asia, learning about other cultures' relationship with ecology.
I found it fascinating how one can travel anywhere and talk to people about plants. This travel reaffirmed my want to gain an education geared towards ecology. Thus, I worked many hard jobs throughout college to be able to navigate higher education in the U.S without access to funds, scholarships, grants, or financial aid, as I wasn't a resident at the time and many people around me believed that I should give up on this dream because "it won't even pay in the long run."
What keeps you motivated in your ongoing dedication to this field?
My profound passion for wanting to pursue ecology is connected to my ancestors, family, and people worldwide whose lives revolve around plants. These things have kept me motivated throughout my time pursuing my Ph.D.
What research are you currently working on?
Right now, I am focusing on connecting the micro-scale of plant physiology to the macro understanding of how ecosystems function. My research combines plant physiology, eddy covariance data, and remote sensing. I am using flux data from NEON sites to link forest level plant physiological traits to ecosystem influxes of carbon, heat, and water to understand how forests are responding to climate change.
What is the most fun part of being an ecologist?
Traveling to various NEON sites to see the diversity in plants and how different all the states are. My favorite state I have visited so far is New Jersey because, the pine oak forest is beautiful and is filled with many blueberries that I would add to my breakfast each morning. I am curious to see Colorado and Tennessee sites this year.
What is the most challenging part of being an ecologist?
The most challenging part of being an ecologist has been receiving funds to make it through schooling during undergrad, and finding internships that were willing to accept non-citizens, and willing to pay. I am grateful for advisors such as Drs. Jake Grossman and Kristina Anderson-Teixeira who gave me the opportunity to gain research experience despite my status.
Additionally, the ecological lineage we study in university is very much colonizer-based, through a western mentality lens. Therefore, it can be challenging for students from different cultural backgrounds to dive deeper into their studies, although they have a passion for ecology.
Consideration and acknowledgment of ecology's role on a global scale are lacking in the education system. If we all share the same love for ecology, the curriculum must improve and expand to include all realms of ecology. Conversations about indigeneity, spirituality, and other cultural perspectives provide an opportunity for students from different backgrounds to connect and relate more to ecology. But being an ecologist in the broader sense is a beautiful thing because of how embedded ecology is within many of our cultures across the world.
What struggles do women face getting into STEM, and what is your advice for them?
For women in general, there is this stigma that you have to impress the board, keep up with games, and make a mark in science and ecology to prove that we are intelligent and worthy to do these things. We must work harder to prove ourselves, while balancing other priorities. In general, people from different backgrounds struggle in this field because of the intimidation they face, resulting in insecurity.
My advice would be to be bold – it is essential to stand true to yourself because only when you make a path can others follow it. Additionally, learn – but don't give up on who you are – to fit into the framework created for what an academic, a researcher, and a scientist looks like; you don't have to let go of your traditions or practices to be a scientist.
How have you been able to find and identify mentors in the field?
I have mentors in and outside the field. In the field, I love my advisors. They have been a source of inspiration for me to continue my path forward. Outside the field, I have many mentors including my mother and grandmother who inspire me protect our forests.
The forests I grew up surrounded by are all sacred forests, such as Vrindavana and other forests of Vraja. Mentorship and conversations with my community have taught me to use what I am learning to protect these forests and forests all around the world that are close to people's hearts. Through the mentorship of my field advisors, and family, I am not just fulfilling my desire to become a professor and a researcher, but also helping communities that heavily values these forests.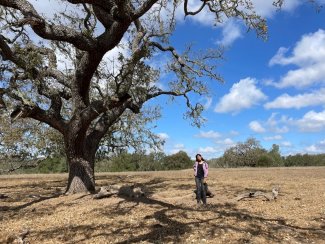 Are you confident that the scientific community will be able to solve the world's issues, and what barriers do we have to overcome?
Although prediction, observations, and finding solutions to protect forests are important, I don't think we as scientists studying ecological systems will be able to solve world's issues alone; ecological dynamics are not separate from human and social dynamics. The most significant ecological issues are also social issues, and social issues require changes in practices and values. It is certainly a collective effort to solve world's problems, that is in one sense tied to our values, habits, desires, and practices on the micro-scale and how action gets taken and protected on a macro-scale by countries and states.
I don't think science, or the ecological community alone, can solve all the problems. The barrier that is keeping us from actively solving issues is mindset. The ecological community needs to be more interdisciplinary and have conversations with people outside our realm, from different disciplines and backgrounds, etc. We expand our knowledge when we acknowledge how ecology involves other disciplines and communities.
What do you hope to do in your field in the future?
I hope to expand my research to include ecosystems from other countries and places. I enjoy the work I am currently doing connecting the plant and tree level plant physiology at a micro scale to ecosystems at a macro level. My future hopes are that I can expand my research (field, eddy covariance and remote sensing) to tropical forests in India/Asia, South and Central America and collaborate with people in other disciplines and areas of the world, as most of my research thus far has been in the U.S.
###
Nidhi Vinod is using data from NEON sites (SJER, WREF, HARV, OSBS, SCBI, SERC, GRSM, SOAP, TEAK) and the Ameriflux sites (New Jersey Pine Barrens, Missouri Flux Site) for her research. Her most recent publication used data from all NEON forested sites to investigate forest-climate feedback and forecasting models.