Women in Ecology – Nancy Glenn
January 30, 2020
In recent years, the persistence of gender disparities in STEM fields has become a concern for educators, research institutions and commercial firms. Efforts to encourage girls and young women to pursue STEM education is improving the situation, with women earning half of all science and engineering bachelor's degrees since the late 1990s. However, retention and promotion of women in the STEM workforce remains a challenge—women still only comprise 28% of the science and engineering workforce, according to the National Science Foundation.
As an ecological science research program, NEON presents a variety of research opportunities for women to pursue across scientific disciplines. Female scientists are carrying out groundbreaking research under the auspices of NEON, which can inspire younger generations to further their interest in studying science, as well as pursue it professionally.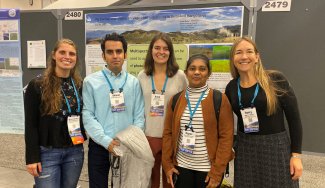 One such scientist is Dr. Nancy Glenn, Professor at Boise State University (currently at University of New South Wales). Dr. Glenn's research focuses on remote sensing of the environment, dryland ecology and geological engineering. We asked Dr. Glenn about her experience as a woman in ecology and how the field can continue to encourage gender diversity:
Q: What inspired you to become involved in your current research/field?
A: My field of research is an interdisciplinary blend of environmental science and engineering, and my inspiration comes from the students and colleagues that I work with, coupled with the problems we are trying to solve. I appreciate the opportunity to work on emerging technologies with remote sensing, while also applying these technologies to real-world problems. Working with scientists and land managers on the ground, working alongside agencies overall, and placing students at the center of the work is extremely rewarding.
Q: Please tell us a little about your career path.
A: I started out in math and then engineering. I worked as a civil engineer for a short time and was drawn to the remote sensing discipline about 25 years ago, as this was when remote sensing was emerging as a useful tool in both geoscience and ecology applications. I have an entrepreneurial nature, and I saw the opportunity to apply remote sensing to a range of problems and disciplines. This led me to a diversified portfolio of projects that I could apply my remote sensing skills towards. I have worked in academia for the past 20 years, primarily in Idaho. I am currently in Sydney, Australia, to gain an international perspective in remote sensing and environmental science and engineering disciplines. I am interested in promoting international earth observation efforts by strategically connecting people, projects and opportunities. 
Q: Who were your most important influences/mentors in ecological science?
A: Most likely my parents. My father was my go-to quantitative expert and taught me persistence and that we can do anything we set our minds to. My mother always had the entrepreneurial spirit. She was a teacher and a botanist who worked in restoration, and co-founded a novel seed company in the 1980s that brought many of the 'exotic' lettuces and other vegetables that we consider common at our tables today.
Q: What challenges do you think women may face getting into STEM fields? Have you experienced or overcome any of these?
A: I think all genders in STEM face many universal challenges like self-doubt, a lack of non-technical training (communication, interpersonal skills, goal setting, etc.), and everything else that goes with being human. That said, I think women are presented with interesting structural and cultural challenges that are very different depending on the field, institution and other factors. For example, two women may be in the same STEM field but have completely different experiences based on the institution and its culture. I've overcome some of these challenges by reminding myself how far our society has come. In 1967, my mother became the first female agriculture teacher in the state of California. News articles were published about her such as the "War of Sexes Strikes Vo-Ag Education" in which a colleague states, "I'm unequivocally opposed to having women in my department." I am so grateful to all who have forged a new path for women today.
Q: How can research and educational institutions inspire more women to study fields in ecology?
A: I think when we put humans at the center of the story, it's more interesting. Telling relevant stories and showing opportunities will help inspire women to study STEM fields. I also think we could improve on making it culturally acceptable to have a different professional path (especially in academia) than the person next to us and still be in STEM. Fostering more positive mentor-mentee relationships will help inspire more women to study STEM.
Q: What work are you most proud of at this point in your career?
A: I am most proud of my work in LiDAR and imaging spectroscopy (hyperspectral) in dryland ecosystems. These ecosystems cover much of the globe and are critically important for the livelihoods of over 2 billion people, not to mention the flora and fauna that they host. There were not many efforts in remote sensing of drylands 25 years ago, and I'm proud to have helped, alongside many others, develop the field of remote sensing of drylands. Demonstrating how both LiDAR and imaging spectroscopy can be effectively used for quantifying aboveground carbon, invasive species monitoring and, more recently, foliar traits have been rewarding.
Q: What do you hope to do in your field in the future?
A: I hope to take a leadership role in international coordination of earth observation and promote opportunities for the use of remote sensing to improve the livability of our planet for future generations. We have an amazing suite of remote sensing instruments and data available to us, and the potential exists to utilize these resources in unique ways to help improve people's lives now and in the future.
Q: What is the most satisfying part of being an ecologist? What is the most challenging?
A: The most satisfying parts are the students I work with, the interdisciplinary nature of remote sensing of environmental science, and the problems we work on. The most challenging part is having diverse interests and not enough time to dig in properly. Being a good mentor and collaborator while keeping up with rapidly changing technology, understanding the needs of land managers and following changes to the environment are a lot to balance! 
Q: Tell us more about your work in geological engineering.
A: My practical work in geological engineering is in landslides, soil strength and foundation design. I have utilized my engineering background in a systems approach to my work, and secondly through understanding the technology and physics of remote sensing for an application to ecology. I value my engineering background very much and highly recommend it to others!
Q: What is the most alarming discovery you have made? What is the most promising?
A: The most alarming discovery is the continued large-scale alteration of the native plant communities by a range of disturbances in the semi-arid ecosystems of the western US. These are not my discoveries nor are they new, but the remote sensing tools we developed for semi-arid ecosystems have highlighted these challenges. On the flipside, we have built a foundation to effectively monitor semi-arid ecosystems in a meaningful way, and we can build on this foundation with new and upcoming earth observation sensors. Most promising, we are energizing and mentoring students who will be our next generation of scientists with all kinds of effective skills and knowledge!