Women in Ecology – Kyla Dahlin
February 7, 2023
Although STEM fields are growing in diversity and inclusivity, it can be a frustratingly slow growth. Many young scientists of underrepresented groups who want to make an impact in academia or other fields find that lack of representation and mentorship can be a huge obstacle, and often feel disconnected and unsupported.
We interviewed Dr. Kyla Dahlin, an associate professor at Michigan State University and member of NEON's Airborne Remote Sensing Data Quality and Remote Sensing Algorithm Design Technical Working Groups, who shares her experiences with these obstacles. She says support networks and mentors have helped her pursue a career researching landscape and plant ecology, remote sensing, and Earth system modeling. From making management plans for city parks, to thinking globally about ecology, she has seen a lot in her STEM journey.
Currently, Dahlin is on sabbatical at NASA's Jet Propulsion Lab in CA. Even when not working, she spends a lot of time thinking about plants, as well as riding bicycles, crafting, and hanging out with her spouse, dog, and two children.
What inspired you to get involved in your current field?
My work is really inspired by a combination of questions I started thinking about in grad school, work done by my colleagues, and my general enthusiasm for complex, systems-oriented questions. Most of my current research is focused on trying to understand the relative importance of plants' functional and structural diversity in determining how much carbon they can take up. My group does this using field data, airborne remote sensing data­—mostly from NEON's Airborne Observation Platform (AOP)­—and computer models. Most global-scale models of carbon uptake assume that vertical variation in forests, and differences among similar trees in forests (all temperate deciduous trees, for example) are not very important. Yet, at the local scale we know that older, structurally diverse forests take up more carbon than younger, simpler forests, and we know that oaks, maples, and hickories are all very different in their physiology. The question is, then, at what scales do these differences matter more, versus at what scales do these differences matter less?
Please tell us a little about your career path.
First, an important thing to note is that at every step on my career path there were many, many, many rejections—for grad schools, jobs, postdocs, faculty positions, and of course grants and papers. Looking back, it might sound like a smooth road, but it definitely didn't feel like it at the time!
Without going too far back, in my junior year of undergrad I took two classes that changed my career trajectory: Patterns and Processes in Terrestrial Ecosystems and Introduction to Geographic Information Systems (GIS). A classmate and I combined these two courses to work on a project where we tried to map individual trees in a Connecticut forest using GPS. The GPS wasn't very accurate so the project was a total failure. But I've basically been mapping trees ever since!
In 2003 I was part of the second cohort of Yale undergrads who were able to earn a Master's degree in Environmental Management (MEM) from the Yale School of Forestry and Environmental Studies (now Yale School of the Environment) with just one extra year of training. My Master's project was to develop a forest management plan for Crotona Park in New York's South Bronx based on GPS-mapping of all the trees in the park. I've also mapped trees in New Zealand, west Texas, New Hampshire, California, Michigan, and now many NEON sites in the eastern United States.
After finishing my MEM, I briefly worked for the NYC Department of Parks and Recreation, then moved back to California and worked for the Golden Gate National Parks Conservancy for a few years. There I used GPS and GIS to map invasive plants and species of concern for projects around the Golden Gate National Recreation Area. Hiking up and down the hills of northern California, I was inspired to start thinking about easier ways to map plants—namely using airborne remote sensing to get fine spatial resolution information about plant distributions. I also met my now spouse while doing this work.
With airborne remote sensing in mind, I started looking for Ph.D. programs where I could work with these data, and eventually I landed at Stanford and the Carnegie Institution's Department of Global Ecology (DGE). There I worked with data from the Carnegie Airborne Observatory (now 'Global Airborne Observatory') to map trees and other plants and ask questions about controls on plant distributions across California landscapes.
Working at DGE inspired me to think about truly global ecology, and so for a postdoc I wanted to work with Earth system models to think about larger spatial scales and longer temporal scales. I was fortunate to receive an Advanced Study Program Postdoctoral Fellowship at the National Center for Atmospheric Research (NCAR) in Boulder, Colorado, where I worked with the Terrestrial Sciences Section to think about how plant seasonal cycling (phenology) is represented in models.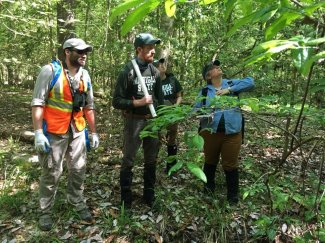 I also began applying to faculty positions and eventually accepted a job offer from Michigan State University (MSU) to start in January 2015. My first child was born in 2014, so I had a lot going on. But I've been at MSU since then. My second child was born in 2017, and I was awarded tenure this past summer (2022). Building a research lab while teaching classes and starting a family was survivable thanks to my supportive spouse, to the awesome group of mom-professors I was introduced to when I first moved to MSU, and to the fact that central Michigan is relatively affordable and easy to navigate.
Who were your most important influences or mentors in ecological science?
The course I mentioned earlier, Patterns and Processes in Terrestrial Ecosystems (TerrEco, for short) was taught by Tom Siccama, who had a huge influence on my career. I don't come from a family of scientists, and so before TerrEco I thought all of science was narrowly focused on single topics, and that in order to be a scientist I would have to pick one tiny topic and study it for the rest of my career. Before TerrEco I thought I wanted to be a science writer because I liked science but didn't want to have to focus so narrowly on a single topic.
Tom provided an introduction to systems thinking in the context of ecosystem ecology and showed that ecologists get to think at spatial scales from a single soil pit or leaf to the entire globe, and on temporal scales from seconds to millennia. It was also through Tom that I got to spend a summer working at Hubbard Brook Experimental Forest in New Hampshire where I fell in love with field ecology. Tom was also a kind, student-focused scientist who cared as much about people as he did about research.
What challenges do you think women can face getting into STEM fields? Have you experienced or overcome any of these?
There are a huge number of hurdles faced by women, as well as anyone else who does not fit the stereotypes associated with STEM fields. The power structure of academia, in particular, makes career timelines much less flexible than in other fields. There are so few academic positions, and most of them require being geographically flexible. So, it is almost impossible to 'take a break' from academia and then return. Whether that break is to start a family, care for someone, weather a health crisis, or try out a different career, there are lots of offramps to academia—and virtually no onramps—once you are a few years post-PhD. I have the privilege of being a white, cis-gendered woman born in the U.S., and I have been fortunate to have a spouse with a flexible career and a family that is financially stable enough that they don't expect my support. Without these elements, staying in academia would have been much more challenging.
At this point in my career, what I have found challenging is that because there is less overt discrimination in academia, it's hard to know whether someone's nasty behavior toward me or someone else is due to bias or something else. When I am the only woman on a committee or working group (which still happens fairly often), are my suggestions sometimes met with ridicule because they are bad ideas? Or because of my gender? Or because of something else about me personally? If most research groups in my field are led by white men, and most of the members of their labs are men, and most of their collaborative publications are written by groups of mostly men, is that because they are sexist? Most of the people who do fit the "STEM stereotype" do not think that they or their colleagues are sexist, racist, ableist, or biased in any way. Yet our system keeps producing, supporting, and promoting a fairly homogeneous group, and we keep having conversations about the lack of diversity in STEM.
How can research and educational institutions inspire more women to study fields in ecology?
Support the women (and folks from other minoritized groups) already doing ecology, especially in education! I don't think the problem is the pipeline or the lack of inspiration in young people. The problem, or at least a problem, is that young women (and others) look around for role models and can't find them. Of all the science courses I took, from high school through PhD, only a tiny number were taught by women; almost all were white. This lack of representation is slowly changing, but many of the barriers to women continuing on careers in academic ecology still exist.
On the parenting front, childcare is expensive and difficult to find, and institutional policies towards parenting are opaque and/or non-existent. Many university administrators raised their children decades ago with a stay-at-home spouse, and therefore are completely unable to relate to modern parenting challenges. For everyone pursuing an academic career, parents or not, in many places faculty salaries do not meet local housing costs. The expectation that you will be able to relocate every few years for a decade or more prevents you from building a community, and there are much more attractive opportunities outside of academia. I love being a professor, but the path from being a high school or college student who loves science to being a tenured professor is unreasonably challenging.
What work are you most proud of at this point in your career?
I am most proud of the students I have had the pleasure of working with, the things they have already accomplished, and the things I expect them to accomplish in the future. There are lots of great STEM jobs that do not involve working with students, but what I like most about being a professor is getting to help students figure out what they are excited about and then figure out how to turn those ideas into scientific research questions.
What do you hope to do in your field in the future?
My research sits at the intersection of terrestrial ecosystem ecology and remote sensing, and this is still a fairly small scientific community. I'm currently on sabbatical at NASA's Jet Propulsion Laboratory (JPL) working with a group of like-minded folks who are developing what will be (if approved) the world's first global-coverage hyperspectral satellite, called the Surface Biology and Geology (SBG) mission. SBG, combined with a large number of other currently operational and proposed systems, will revolutionize how we look at Earth's ecosystems. I am excited to think about how these data will be used in Earth system models and other monitoring efforts, but I am also excited to grow our ecological remote sensing community so that more people around the world can use these data and understand the opportunities they present.
What is the most satisfying part of being an ecologist? What is the most challenging?
Answer is the same for both—the people! As a fairly introverted person, I was surprised at the start of the pandemic at how much I missed going to in-person conferences and meetings. Getting to hang out with friends and colleagues from around the world and chat about ecology is such a gift, and something difficult to recreate over Zoom. Similarly, I really enjoy interacting with graduate students as they learn how to ask answerable questions and to communicate those answers via research publications.
But people can also be very challenging. Whether it's the students in my group or the faculty members in my department, everyone brings their own personality, identity, and history to their interactions with others. As I've advanced in my career, I've gotten more interested in leadership training. I think in academia most STEM disciplines behave as though good leadership is an innate quality, whereas in the business world (including many STEM businesses) leadership is taught and cultivated. Leading a research group at a university is a bit like running a small business and a bit like being a middle manager at a corporation. Yet most faculty members receive no training in management and leadership.
What is the most alarming discovery you have made?
I'm probably supposed to answer with something about my research here, but to be honest, the most alarming science-related observation I have made recently is seeing how eroded the public's trust in and respect for science truly is, as demonstrated by the COVID-19 pandemic. That so many people have been completely unwilling to adopt minor mitigation measures to protect their own future health, and the health of their community, makes me wonder how any climate mitigation measures that involve any sacrifice, however tiny, will ever be successful.
What is the most promising?
As I mentioned before, I am excited about the possibilities new remote sensing tools will present for Earth observation. We currently know a whole lot about a small number of ecosystems around the world, mostly ecosystems located near universities with multi-billion-dollar endowments. Yet a lot of the most interesting and biodiverse ecosystems on Earth are located in places that have historically been ignored or overlooked by the scientific community. Many are also in places that are difficult or dangerous to navigate, even for locals, due to the terrain, vegetation, and wildlife. New and future remote sensing tools offer the potential to pinpoint areas of high biodiversity and/or productivity for research and conservation efforts. And if the scientists doing this work focus on equity and inclusion in their research and teaching, then we have the potential to build a truly global community of researchers interested in ecological remote sensing.