Women in Ecology – Angela Strecker
May 13, 2020
If you've been following our Women in Ecology series, you've probably noticed a few common themes: the value of mentorship in STEM fields is highly important, and gender diversity in the workplace continues to be a challenge. We've also heard repeatedly about the importance of diverse representation in STEM fields to inspire and retain young scientists. By fostering a workforce that reflects many backgrounds and experiences, students and early-career scientists will be more apt to see themselves in the academic science environment, which will support diversity in STEM as a whole.  
We recently discussed these topics with Dr. Angela Strecker, Associate Professor and Director of the Institute for Watershed Studies at Western Washington University. Strecker talks about her career path into ecology, and she describes how she's learned to open up about her own experiences to help students, and the important work she does related to invasive species' impact on our environment.
Q: What inspired you to become involved in your current research/field?
A: I've always had a love of water, particularly freshwater. I grew up on the prairies of Canada where we don't have a lot of water—people are often surprised that's what I study, given where I'm from—but that's really where it started.
Q: Please tell us a little about your career path.
A: I was fortunate that I was in a smaller undergraduate program at the University of Regina, where I got to know my professors really well, and as I was looking for research opportunities, someone told me about a researcher studying algae in mountain systems. I was able to get an undergraduate research scholarship studying how warming temperatures would affect mountain ponds, and we'd hike 20 miles every day and set up experiments—it was a great experience.
Because of that work I was excited to pursue graduate school, and at Queen's University I studied invasive species, followed by a couple post-grad fellowships at the University of Toronto and University of Washington studying fish communities in large lakes and rivers. I then became a professor, and while it sounds like just another step, it was tough to find positions during the last recession. Now, I direct the Institute for Watershed Studies at Western Washington University—we support student and faculty research, and we monitor drinking water for the city of Bellingham, WA. It's been a transition but I'm happy to be in a leadership position and doing something that matters for the community.
Q: Who were your most important influences/mentors in ecological science?
A: My PhD advisor, Dr. Shelley Arnott. She was a new professor at the time, and I think that's an interesting theme because new folks are looking for opportunities to mentor people and to start research programs, and I benefitted from that. The support she gave me was so comprehensive. She treated me like a colleague, not anyone "lesser than," and she approached science from a different perspective as a woman. She emphasized supporting each other and building networks. When I was tired of being on the job market and not getting anywhere in my job search, she just wouldn't let me give up and was the cheerleader that we all need to have in our corner.
Q: What challenges do you think women may face getting into STEM fields? Have you experienced or overcome any of these?
A: It's hard when you look at people in professional careers and you don't see yourself—you don't see females and you don't see people of color, so it's hard to imagine yourself there. For example, there was only one female professor in my undergraduate department. That doesn't encourage people when they don't see someone like themselves in that role.
Another issue is imposter syndrome, meaning that you feel you don't really belong there and somehow tricked people into thinking you do. I felt that way for a long time and still deal with this. It's very persistent and there's not an easy way out of it. Also, this isn't just a women's issue and needs to be addressed more broadly.
Q: How can research and educational institutions inspire more women to study fields in ecology and then remain on this professional track?
A: Many institutions are emphasizing the importance of diversifying their workforce, but there aren't a lot of support systems available. There are scientific societies with networking groups and those are important efforts, but they need to be an integral part of our institutions. For example, I have a three-year-old and there wasn't much support for me having a child as a professor even in this day and age. If people want a balanced professional life, you have to have more support for them.
Another facet is the need to be open about these challenges. People have a tendency to not talk about how they got there or what they faced, so being open about how you dealt with challenges is important for others to hear. In my personal experience, I never told anyone I was the first person in my family to go to university, and when it came up one time, someone asked me, "Why don't you tell all your students that? It would probably help them see themselves in you." That made a big impact on me, and it's true—providing support for different types of students is really important. Essentially, inspiration isn't the issue. We see undergraduate programs with more female than male students. But along the way there needs to be support systems that women and everyone can rely on to remain in science and be successful.
Q: What work are you most proud of at this point in your career?
A: I'm proud of the graduate students and post-docs I've been able to mentor. Seeing them grow and learn and succeed is wonderful. Also, with NEON, I built large collaborative networks of people across North America, and I love working with teams and seeing how much more we can do when we work together.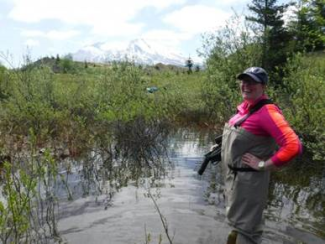 Q: What do you hope to do in your field in the future?
A: Some of the work we're doing with NEON is a good example of what I want to do, and what people at my career stage should be doing—looking at the big picture and scaling up from local levels. For example, moving from a single NEON site to studying ecosystems at larger scales over time and space to get a better understanding of what's driving changes. If that's working with data or it's experiments on large scales, there are lots of ways to do this type of work.
Q: What is the most satisfying part of being an ecologist? What is the most challenging?
A:  I'll start with what is the most challenging: In other fields like mathematics there are rules, and in ecology you don't have as many rules. So when you try to examine things there's a lot more gray area, and you have to think about how to approach questions—theoretical models, experiments, data, etc. But on the flip side, that's what makes it satisfying. You need an interdisciplinary understanding of physics, chemistry, biology, and how things integrate together to understand how systems interact and respond to environmental stressors. Working across fields is what makes ecology exciting for me, and I learn new things all the time because of the interdisciplinary nature of this field.
Q: Tell us more about your work studying how ecosystem functions and services may be affected by human activities.
A: I've studied invasive species extensively, and that's given me a lot of insight about how energy flows in systems and ways it can be disrupted. There can be energetic dead ends where one species eats a lot of what other species should be eating, and then nothing is eating that invasive species. I mostly study organisms, called zooplankton, that feed on algae so they're kind of in the middle where fish feed on them, but if you lose these species that eat the algae then we have too much algae. We're not sure if there's a link to climate change but there is a definite link to human activity.
For example, the spiny water flea has a tail with barbs that are like Velcro, so they stick to rope and fishing lines and can survive outside of water so we think they're moving with people as they go from lake to lake water skiing or fishing or whatnot. This species can also reproduce by cloning at certain times, so you don't need many to start an invasive population. Another example is the aquarium trade: let's say people have a goldfish or something grows too quickly and they release them into the wild. That's another major way invasive species get introduced, and it's directly tied to human activities.
Q: What is the most alarming discovery you have made? What is the most promising?
A: The most alarming is the spread of some of these invasive species. The spiny water flea wasn't widespread when I started my PhD work, and in the span of a few short years it more than tripled in lakes. Also, the aquarium and pet trade and how dangerous those can be—the number of species being released into the wild is concerning. Many of these fish are tropical, so if they're released in, say, Alaska, maybe it's not a problem. But if they're released in Florida that can be a big issue.
As for the most promising, I'd like to bring up the work I'm doing now with the city of Bellingham. Here and in the surrounding county we get our water from a local lake, and the water quality started declining a few decades ago. This was a good example of the city, county, water authority and the Institute coming together and reducing the nutrients that come into the lake to improve the water quality. Ecosystems are of course complex, but we all have a big part to play in providing the best scientific information we can so that management agencies can do their jobs. Working together to solve these environmental problems is really the key.