Women in Ecology – Alex Harmon-Threatt
January 20, 2021
As much of the United States and countries around the world shelter in place this year, the ability to be out in nature is even more precious. Access to clean open spaces should be a right for all; unfortunately, this is not always the case. Even among scientists who study the environment, there is an inequality of access to nature, especially for women, and even more so for women of color. We discussed this issue and what can be done about it with Dr. Alex Harmon-Threatt, associate professor of entomology at the University of Illinois School of Integrative Biology.
In addition to detailing her fascinating work with bees and insects, including a phenomenon challenging this research she calls 'honey handcuffs,' Dr. Harmon-Threatt discussed how her mentors first opened her eyes to the possibility of pursuing a career in ecology and how she hopes to provide the same opportunities to her female students, especially those of color, to increase the representation of women of color in academia and the natural sciences. As we've seen throughout our Women in Ecology series, representation and inclusion are necessary to make the field more accurately reflect the world around it. Find out more in the full interview:
Q: How did you get into your current field?
As an undergrad I loved biology, but I was unhappy as a pre-med student. One day I walked by a sign on the wall in the hallway of the biology building that said "Do you want to do ecology research?" and I thought, "That sounds like fun!" I went to meet with the faculty member that was hosting the summer program and against all odds, given I had no research experience, they accepted me.
I spent that summer exploring what intrigued me, and it was really the first time someone asked me what I was interested in. I was also very fortunate that Washington University in St. Louis had its own field station, so I got to live on campus which, as an undergrad from an underrepresented background, was important as a safe space for me. One of the challenges of programs that invite undergrads is the students have to go far away from everything they've known, so having the research center close by really facilitated my thinking that I could do this.
I developed my own project on the pollination of native and invasive plants with a faculty member, and I spent that whole summer kind of on my own. Everyone was super welcoming and helpful, and I was able to self-direct my research, while having all the resources I needed. I had to sit and watch flowers to collect data and after many hours I got really interested in the insects.
My research focus at that point was on how invasive plants produce enough seeds in non-native environments, but I was more interested in the other side of that relationship—why would the insects have any interest in invasive plants? This was an area that hadn't been explored very thoroughly, so I opted to go to graduate school to continue this research. And now I have leveled up to looking at whole insect communities and how they respond to various disturbances.
Q: What were some of the findings you discovered during your undergrad program?
The study ended up being interesting because we discovered there wasn't one path for invasive plants to be successful. Some plants are able to attract lots of pollinators, some don't attract a lot on a per-flower basis, but they make so many flowers that they're still able to make do, so there isn't a single way a plant comes here and is successful in a new area.
Q: Following your graduation from Washington University in Saint Louis, can you share more about your career path?
In my senior year at Washington University, I was fortunate to be awarded a fellowship through the National Science Foundation (NSF) Graduate Research Fellowship Program. So, after I graduated, I moved to California to attend a graduate program at Berkeley and began research on how native pollinators respond to invasive plants. I found that invasive species have become so integrated into their diet that the bees can't achieve the same nutrition without them.
After completing my graduate work, I was awarded a post-doctoral fellowship with NSF and progressed to studying bees at the community level—before I had only been working on one species of bumble bee. I got interested in learning how the whole community of bees persists in the face of certain environmental disturbances. And that is what I work on now, looking at how pollinator communities respond to various disturbances.
Q: Who were some of your most important influences or mentors in ecological science?
My first mentor as an undergrad was Tiffany Knight; she made me feel that I belonged in science. She told me, "I have to be honest; I think you'd be good at this, and there aren't many Black ecologists; you'd be one of the only ones." That conversation left me thinking, "It's 2005, how can I be the only one?"
That can be really intimidating for some students, but for me it was inspiring for someone to tell me that they thought that I could be a professor. I saw her a few years ago and she told me, "When I told you that you could be a professor you laughed and said 'That's not a real job,' even though you were working with professors every day."
I think a lot of students have that initial reaction about being a professor because it doesn't occur to them that they could pursue that career. And I think it's partly because the only place most students interact with professors is at college, during class and not in the "real world," so I think the translation of it being a career is lost. It's one of the reasons that many people who end up in academia are from academic families. That encouragement from Professor Knight was vital to me in pursuing ecology and is part of the reason that I am where I am now.
Q: What challenges do you think are faced by women, and especially women of color, looking to get into a STEM field?
We can't underestimate the representation piece. I teach conservation biology at the University of Illinois and I had a Latino student last year tell me, "You are the only teacher of color I've ever had—in my entire education." At first, I was flattered. Then I realized how sad it was, that in my student's senior year, in their last class, I was their only faculty member of color—kindergarten through college. It broke my heart to think about how many opportunities we're missing to recruit just because students can't see themselves as professors—they've never seen it before.
I grew up as a kid who was outside a lot; my parents were outdoorsy, I went camping. But those are experiences that many people of color don't have as often as others. So, if you're already underexposed to it, and then don't see any people of color in your education, it's hard to put those things together.
I've been very fortunate; I went to a university that funded their own summer program. A lot of these opportunities are unfunded or underfunded, and people from underrepresented backgrounds can't pay for it. I was able to stay on campus where I already felt safe and got paid to do research there. I can't overstate how much that facilitated me pursuing and staying in ecology. I didn't have any research experience and a professor still took me on for a funded summer internship. For someone else it may be huge task to overcome—you like the environment, but how does that translate into a job? Even my mom told my family I had moved into a field that wouldn't make me any money when I switched my major to environmental studies. She saw it as a waste of a very expensive education.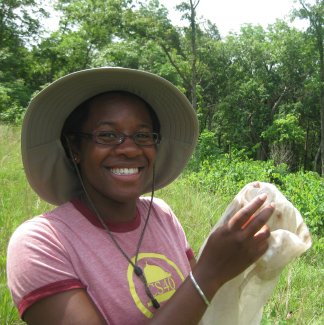 Q: What do you think can be done to get more female undergrads and undergrads of color interested in ecology?
I think it starts before college. Almost every person who's in ecology says, "I love the environment. I've loved it since I was a kid." It tends to be something that people have an affinity for. For various reasons, lots of people don't have those opportunities to connect with the environment. I grew up in a poor neighborhood in Chicago, where being outside is not safe for everyone.
I have never met an ecologist who said, "I didn't consider working in ecology until I was 25." So exposing kids, especially kids of color, to those things early on can make a difference in showing them that working in environmental science can be a potential career.
Q: What do you think can be done to increase the number of women and women of color in professor roles?
In terms of increasing faculty of color, it's about inclusion as much as it is about anything else. In academia, we do a terrific job at recruitment and a terrible job at retention—and part of that has to do with inclusion. It's not just that people need to feel included, but that you build an inclusive and open campus. For example, make sure that there are funded opportunities for students. I've had students work in my lab that have to go home for the summer because they have to work or their families need them in some way, and I tend to only hear that from my underrepresented students. So funding becomes a major barrier. Making sure that when we teach biology, ecology, and these other units we are showing photos of work done by people of color so students understand that there is not necessarily a separation between them and the person standing in front of them.
I think we have a long way to go, honestly. And I think we have a lot of barriers to break down to diversify the field. In ecology, what we study is diversity, so we "value" diversity in a biological sense, but we don't necessarily facilitate that in the representation of the field. It's gotten a tiny bit better, but we still have a long way to go.
Q: Have there been any students you've taught who were then inspired to get into ecology?
I've definitely had students who have said to me "Seeing a Black faculty member in ecology and evolution let me know that it was possible." And these aren't students that I necessarily mentored or talked to very often, so just my existence in the program made a difference to them. There are so many places in which we say we're doing something, but then unconscious bias slides in. In every panel I've served on, whether it be hiring faculty or giving grants, someone advocating for you becomes one of the biggest predictors of whether someone ends up being successful. And if people don't identify with you because you're a person of color, then they're not going to advocate for you. It's frustrating, and it's sad, and sometimes you don't even notice that's it's happening. That's why it's unconscious bias, even from people who I think are really well intentioned but don't understand they're advocating for someone because they have a similar background and therefore identify with that person. Having people of color at the table makes a real difference for recruiting and retaining students and faculty of color.
Q: What work are you most proud of in your career?
The thing I'm most proud of right now is pushing my field of pollination biology, or people who study bees, to start thinking about soils more intensively. It's work that my students and I have been doing for five or six years, but I now see more people emphasizing the importance of soils and I think that's making a big difference. I'm proud to have helped spotlight the role soil might be playing in bee conservation and survival. I was also just selected as an Early Career Fellow for the Ecological Society of America. This was the first conference I attended as an undergrad when there were so few people who looked like me and so it feels like a real accomplishment to be a fellow that other students can see and look up to.
Q: What do you hope your research goes in the future?
I'd love to build a better model system for native bees, because right now our only real model is founded on honey bees, and honey bees have a really obscure biology. They're not a good model for understanding other types of bees because their biology doesn't apply to most other bees. There are some other species that have queens, but that's pretty rare. Only the genus Apis and the 10 other species in that group have these large colonies where they make honey and have wax combs. Most bees are solitary and live in the soil, which is why the piece about soil becomes so important. Mostly there's a single female out there hustling trying to lay her eggs; there's no brood care.
So, while honey bees are fascinating, I think our obsession with them really slows down our understanding. I call them the "honey handcuffs," where it really limits our thinking and our understanding of the native species that we need to conserve. When people talk about conservation and they say, "We need to conserve honey bees," that's like saying we need to conserve cows. We don't need to conserve them. I can acknowledge that they are important to our food system and acknowledge that they are not where we need to be placing our efforts for bee conservation.