Voices in Ecology - Wilmarie Plaza-Muniz, Domain 04
September 28, 2022
Our "Voices in Ecology" blog series aims to share the invaluable contributions to ecological research from scientists who come from unusual paths and diverse backgrounds across the National Ecological Observatory Network and the U.S.
We recently asked Puerto Rican-born Wilmarie Plaza-Muniz, Field Ecologist with the NEON program in the Atlantic Neotropical Domain, to share about her work with the national project, her path into ecology, and how her heritage and passions inform her current work.
Can you tell us a bit about your work with NEON and your academic and career path?
I began work at NEON in 2015 as a Botany Temporary Lead in Domain 04 in Puerto Rico, and later became a full-time field ecologist in 2016. Since then, I have ascended in my Domain to the position I currently have, which is a technician specialist in Botany.
My job is very dynamic. One day I can be doing plant diversity analysis in the field and the next day I might be helping with the tower sensor swap. My job is divided between office work and field work with an emphasis in Botany. I also like to help other systems with field work, and I am also the outreach and safety liaison of my Domain. It makes me proud to be a part of the NEON team due to our diverse work and the importance of this research.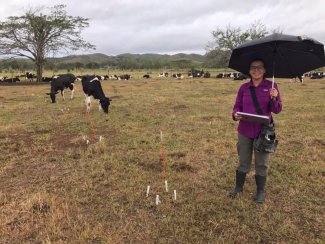 As for my background, I have a bachelor's and master's degree in Science from the University of Puerto Rico. Additionally, I earned my MBA in Human Research from Interamerican University, while working at NEON. While I was at the University of Puerto Rico, I did volunteer field work, participated in internships, and attended technical and scientific meetings. Working for NEON was my first biology related job, and I am grateful this program can provide employee opportunities to recent graduate students that may not have vast work experience. An especially important piece of my story to share is before starting my career with NEON, I worked as the sample girl for Kellogg's at supermarkets. I want other girls and women that may be in similar circumstances to know there are excellent, fulfilling, and purposeful careers available to them in ecology, and they can do it – just like I did.
How does your culture and its traditions play a role in work life at NEON?
My heritage has played an essential role in shaping me. My Puerto Rican indigenous ancestors worked and lived in the forest. The magic of the forest is interwoven in my culture, and growing up, I loved to explore and visit the many caves that have pictographs drawn by my indigenous ancestors – I feel very connected to my heritage when I am exploring nature.
Another cultural element I bring to my work is how festive Puerto Ricans are. We like to congregate and celebrate each other, so in my NEON Domain, for example, I've taken responsibility for organizing get togethers for team members' birthdays, holidays, and happy hours after work.
Third, food is another piece of my culture that I've been fortunate enough to integrate into my work life at NEON. When our team is doing field work, we like to sit and eat lunch in the field - most of our technicians bring rice and beans to heat up in a sunny area or in the car. We like to share our food with other cultures and encourage others to try it because it plays it big role in our work environment.
Who were your most important influences and mentors in STEM?
When I started college, I was a chemistry major, and I took ecology as an elective. I immediately fell in love with it because of my professor – Dr. Carlos Delanoy – and knew this was the field I wanted to pursue; I changed my major and started working towards a career in ecology.
While working to earn my master's degree, I met another professor – Dr. J. Danilo Chinea – who I later asked to be my thesis chairman. With his guidance I gained a depth of knowledge surrounding forestry and plant ecology – two disciplines I wasn't exposed to while getting my doing my bachelor's – and my passion and interest in plants grew even further.
How do you think research and educational institutions can inspire underrepresented groups to study fields of ecology?
Stemming from my own experience, I believe universities and high schools can do a lot more to introduce their students, and especially females, to the STEM fields. For example, when I was in high school, I knew I liked science but got no direction on how to pursue a career in the field. There weren't any teachers, and more importantly female teachers, that could give me any guidance. Institutions can attract more females, and students in general, to ecology by offering & promoting opportunities for students to volunteer for field or lab research, participate in internships, and get other experiences to expose and prepare them for real work.
What is the most satisfying part of being an ecologist?
Well, here at NEON the most satisfying part – and the reason I became the outreach liaison – is the opportunity to connect with scientific community, and especially with the newest generation of STEM students. Bringing science to students by exposing them to the NEON program and now being able to share both my challenges and success can really empower these students, especially females, to continue pursuing science and ecology.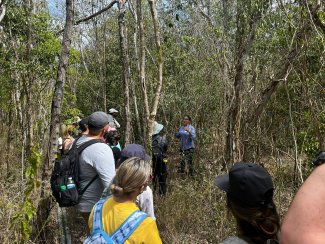 Do you have many female students?
We have a lot of female students and field technicians. It is empowering for me to see them pursuing, and succeeding in, science careers. When I was a teacher's assistant for an 'Introduction to Biology' course, I was always excited to have female students that wanted to study ecology. I had the great opportunity to take a female student under my wing when she was just a freshman; she just finished her masters and is now going to get her Ph.D. at Purdue University.
What is the most interesting or strangest thing you've worked on or seen?
I get really excited about plants; they are my babies. The forest I work in is the habitat for seven endangered plant species and the most exciting part of my job is finding these plants. When I'm walking and see one of these rare species, I am in disbelief. I get so excited to study them and discover new surprises. I love working in the forest so much that even on my free days I visit the forest with one of my colleagues to explore the caves.
What advice would you give to someone in an underrepresented group or taking an unconventional education path on pursuing a career in the field?
My advice is to not focus solely on your grades. Grades are certainly important but the connections you make with people will be the biggest tool to finding a purposeful and successful career path. Become a student member of a chapter, volunteer, participate in field work, do internships, go to conferences, help graduate students and professors with their research, and focus on obtaining skills that will give you leverage in your career pursuits. These are the elements that are important when reviewing resumes and those are the experiences that will differentiate you from others.
It doesn't matter if you got straight A's if you didn't make any connections in college. I had good grades but struggled in finding the right connections to guide me in pursuing my passion. Sometimes, people focus so much on getting good grades they miss out on opportunities to get involved in things outside of the classroom. It was because of the places I explored and the research I did that gave me the clarity to change my major from chemistry and instead pursue a career in botany.
My motto is, "Be the person that you needed when you were growing up." I try to always keep this in mind when working with colleagues or students, because you never know when someone needs a mentor.