Women in Ecology – Sydne Record
February 28, 2020
As a major research program with a 30-year time frame, NEON is committed to fostering innovative scientific inquiry not just now, but for decades to come. The program as a whole is dedicated to training and inspiring the next generation of scientists, and diversity will be a key feature of that generation as it leads the way in the democratization of scientific data.
Currently, gender diversity has improved at the undergraduate level for scientific disciplines, with over 54 percent of bachelor's degrees in biological sciences awarded to women. Yet, those numbers decline sharply when we examine professorships and the numbers of women in leadership positions—the NSF reported that just 21 percent of full professors in science and 5 percent of full professors in engineering were women.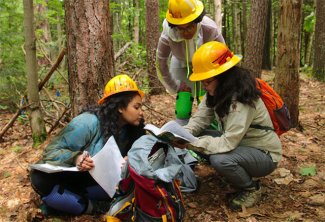 We discussed this issue with Sydne Record, Associate Professor of Biology at Bryn Mawr College (an all-women college), whose research incorporates field-based ecology, statistics and computer modeling to determine what processes affect biodiversity across a wide range of spatiotemporal scales. Record's educational and professional experience provide a fascinating glimpse into women's paths in academic science, the crucial role of mentors and advocates in a student's development, and how the field can be more inclusive going forward:
Q: What inspired you to become involved in your current research/field?
A: I had two experiences in high school that inspired me: I received scholarship funding to join an Earthwatch team in Lake Tahoe, where I worked with a UC Berkley professor. Spending time outside with her in the field looking at plant communities and realizing I could do that as a profession was exciting to me.
Next, there was an after-school program through the Utah Museum of Natural History and I interned in the herbarium, where I met one of my most influential mentors, Ann Kelsey, who was a curator. I remember this "aha" moment where we were looking at flowers under a microscope – seeing the intricacies of a compound flower opened up my eyes to looking at the natural world, and I was also interested in art at the time. She focused on my interests and I was able to create botanical illustrations along with the curation work.
Q: Please tell us a little about your career path.
A: I went to the University of Puget Sound where I was fortunate to meet a professor, Katherine Glew, who worked on plants in alpine areas and she took me on to do research the summer before my senior year. We studied lichens and plants along Mt. Rainier, and I got to spend the summer in these beautiful meadows where we hiked to the field site, and we'd camp for weeks at a time.
I wanted to explore ecology as a career, so I took two gap years and got an internship at the Berry Botanic garden. I was working in their conservation department in the seed bank, which was fun because it was a mix of lab work, where I tested the viability of seeds from the bank, and demographic field studies. After that I worked for the University of Washington and Oregon State on a study of forest management issues, and later I was able to work in Argentina with Magellanic penguins. That experience inspired me to focus on plants for grad school. All of these were important experiences in helping decide my career path, especially since no one in my family had pursued a PhD.
Q: Who were your most important influences/mentors in ecological science?
A: Along with those we just mentioned, another influential mentor I've had was Aaron Ellison, who is a senior research ecologist at Harvard Forest. I met him while in graduate school, and when I started working with him, I thought ecology was collecting data outdoors. But his stipulations were that I had to excel at programming and statistics, and it was the best thing I could have ever done. It opened up so many doors, and the hat I actually wear in my current department is computational ecologist.
Another professor who stands out is Martha Hoopes at Mt. Holyoke College. She was the only female voice on my dissertation committee and was always helping me navigate being a grad student. As a professor now, I think there are a lot of social dynamics that people learn from an undergraduate institution in terms of student support. Both she and Aaron provided that support for me, as Aaron had been a professor at an undergraduate institution before moving to Harvard.
Q: What challenges do you think women may face getting into STEM fields? Have you experienced or overcome any of these?
A: If you look at undergraduates, there's a higher ratio of women in ecology than men. At the Harvard Forest Summer Research Program in ecology, every year we get more applications from women than men. As you move to post-doc and senior positions for academics, however, you see a decline in the number of women, and there's a decision point that comes with balancing motherhood and the demands of the academic environment. I saw this in my own career in trying to juggle starting a faculty job when I had a six-month-old. If you have a child right before your faculty career, you might not accrue enough time off and it can be problematic. If you're at an institution where your trying to keep your door open to students but then have to close that door to pump breast milk, that's hard. There's also the drain of taking care of a small child and trying to teach at the same time, especially before getting tenure.
Q: How can research and educational institutions encourage and support women so they can remain on this professional track beyond undergraduate years?
A: I think of it as inclusion for gender and also diversity overall, including underrepresented groups. We're thinking of a pipeline, so institutions need to go beyond hiring and provide a support network. For women, as an example, that could be childcare to promote involvement with professional development opportunities. I spent a year as a visiting assistant professor at Smith College, and I was impressed by a fund they participated in that provided financial support for staff with dependents at the five colleges in the Amherst area, whether those dependents were children or elderly relatives.
Another aspect is the practice of evening obligations in academics, such as having special speakers late in the afternoon, followed by dinners at the end of the day. These events are important, but they can be a difficult demand for junior faculty with families. Having a good parental leave policy in place that can be supportive of faculty and grad students is also important, regardless of whether an institution is public or private, unionized or non-unionized. We need to really think about how we can raise the bar in these spaces.
Q: What work are you most proud of at this point in your career?
A: I think that would be the work I'm doing at the Summer Research Program in Ecology at Harvard Forest. I've been mentoring with this summer program since 2006 as a graduate student, then a post-doc, then faculty, and now co-directing. We have a diverse group of students we support at the undergraduate level, and I have a strong commitment to diversity and inclusion among students that stems in part from my family history. My grandparents were Japanese-American and were in internment camps during WWII, so seeing the repercussions that had on their life has really inspired me to level the playing field for others. The most important thing for me personally is building those pathways so students can meet their dreams and learn how to achieve them.
Q: What do you hope to do in your field in the future?
A: I want to keep doing fun science that can help with environmental challenges. On the people side of things, I want to remain in a position where I can be creating these pathways for others to establish their careers. Especially since the population is getting more diverse, I want to ensure everyone has access to science I like to do.
Q: What do you see as the biggest challenge in the field of ecology?
A: One of the biggest challenges is that ecologists have been working at the local plot level, but many current environmental issues are global in nature, so scaling up research of ecological processes across space and time is vital.  Also, when working with these datasets, it's interdisciplinary work—data science, which combines statistics, computer science, and ecology. Data science is important across multiple fields, and many of today's faculty don't yet have all the skills to do this work. I think the NSF recognizes this challenge, and I'm really excited for the ESA meeting this year in my hometown because it's about harnessing the ecological data revolution.
I'm also excited about NEON because it's developing standardized protocols. One issue with large amounts of data is being able to synthesize it. I've seen this since grad school, and it's hard to measure variables without standardized protocols across ecosystems. Now, we're in year zero with NEON and can scale up ecological science, and I'm impressed with what NEON is doing for the next generation of data scientists in terms of education opportunities.
Q: What is the most alarming discovery you have made? What is the most promising?
A: The most alarming was in a paper I co-wrote with my husband that was published in Ecology Letters in 2016. We looked at a tree ring database and used it to model forest growth now and into the future. What we found in our models was the sensitivity of growth to temperature and precipitation changed in surprising ways. Ultimately, our projection showed the potential for boreal greening to be less than anticipated. There are discussions about trees growing more in the north in a warmer climate and thus storing more carbon, but according to the models, the greening could be lower which would exacerbate the effects of CO2 emissions.
The most promising research I've done involves the team science dynamic. We're in the Anthropocene, so no ecological system is unaffected by humans. That means you can't really look at environmental and sustainability questions without an interdisciplinary approach. Coordinated research networks, like NEON and the Long-Term Ecological Research Network (LTER), can support interdisciplinary work through data science and crossing boundaries, and it goes even to the K-12 level. It's going to be fun to see schoolkids becoming well-versed in data.
Q: What is next in your research?
A: With NEON in particular, I'm most excited that my group is going to be reconstructing land use histories for all of the NEON sites to find out how the anthropogenic footprint influences these measurements. That data will be important because land-use legacies can have impacts for hundreds of years or more. Because of this, we can look at places and almost tell the memories from the past, and you can study the variability of data and know what's driving it.